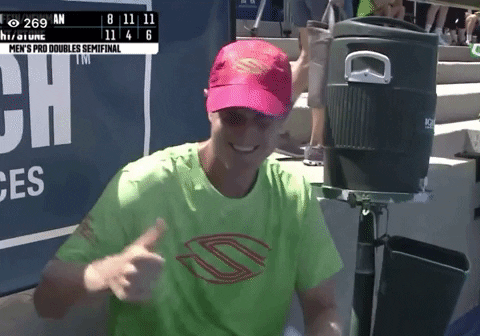 Yesterday was an extra special day for the Newman crew. Lindsey and Riley won their first ever Nationals title in pro mixed doubles which is pretty special but Lindsey did so while six months pregnant which is incredible. It's going to be real tough to find a mom cooler than Lindsey Newman. I'm assuming this will be her last tournament for quite a while and she gets to go out on top.
The Newmans powered through the winner's bracket. They went to three games in a battle against Anna Leigh Waters & Tyson McGuffin, then beat Lucy Kovalova & Matt Wright in the winner's bracket final.
Waters and McGuffin gave Kovalova and Wright everything they could handle in the bronze medal game. Waters' mixed doubles game has improved so much in 2021 and it was almost enough to get them past the number one seed in today's event. It will be interesting to see if it takes any time at all for Johns and Waters to go on a run like Johns and Jardim.
GUARANTEED TO RAPIDLY IMPROVE YOUR PICKLEBALL GAME OR YOUR MONEY BACK! GET 10% OFF WITH CODE THEDINK

Kovalova and Wright are always impressive to watch. Lucy Kovalova's two-handed backhand ends points quicker than anyone else's in the game. She and Matt do such a good job of setting themselves to get put aways. There is so much to learn from their strategy.
They entered the gold medal match needing two match wins to get the gold. They got the first with two straight game wins in the best of three. In the final game to 15, the Newmans found the same magic that had been working all day and won the final game 15-9.
They won this match in the same way they lost in mixed doubles last week in Casa Grande. Last week they won the best of three against Ben Johns and Andrea Koop and then got the rug pulled out from them in the game to 15.
It seems to be a trend that the team that takes the winner's bracket gets off to a slow start in the gold medal round. We'll see if that continues tomorrow with men's and women's doubles today.