RESULTS
Mixed Doubles
🥇 Jessie Irvine & Jay Devilliers
Men's Doubles
🥇 JW Johnson & Austin Gridley
Women's Doubles
🥇 Irina Tereschenko & Vivienne David
Men's Singles
🥇 John Cincola defeats
🥈 Zane Navratil
Women's Singles
🥇 Irina Tereschenko defeats
🥈 Jorja Johnson
Senior Mixed Doubles
🥇 Beth Bellamy & Rick Witsken
Senior Men's Doubles
🥇 Scott Crandall & Rick Witsken
Senior Women's Doubles
🥇 Jennifer Dawson & Cammy MacGregor
Senior Women's Singles
🥇 Jennifer Dawson
Senior Men's Singles
🥇 Mattias Johansson
Let's take a look at how these players and teams secured their victories along with the other players that stood tall on the podium!
Men's Doubles:
Team Gridley/Johnson defeated team Spencer Smith/Callan Dawson 11-8, 11-3. Both of those games looked just like the last 2 games they played in the winner's bracket final on Saturday. Johnson controlled the middle with his forehand and allowed Gridley to use his quick backhand when he got sped up. It also kept the erne threat alive with Gridley on that left side.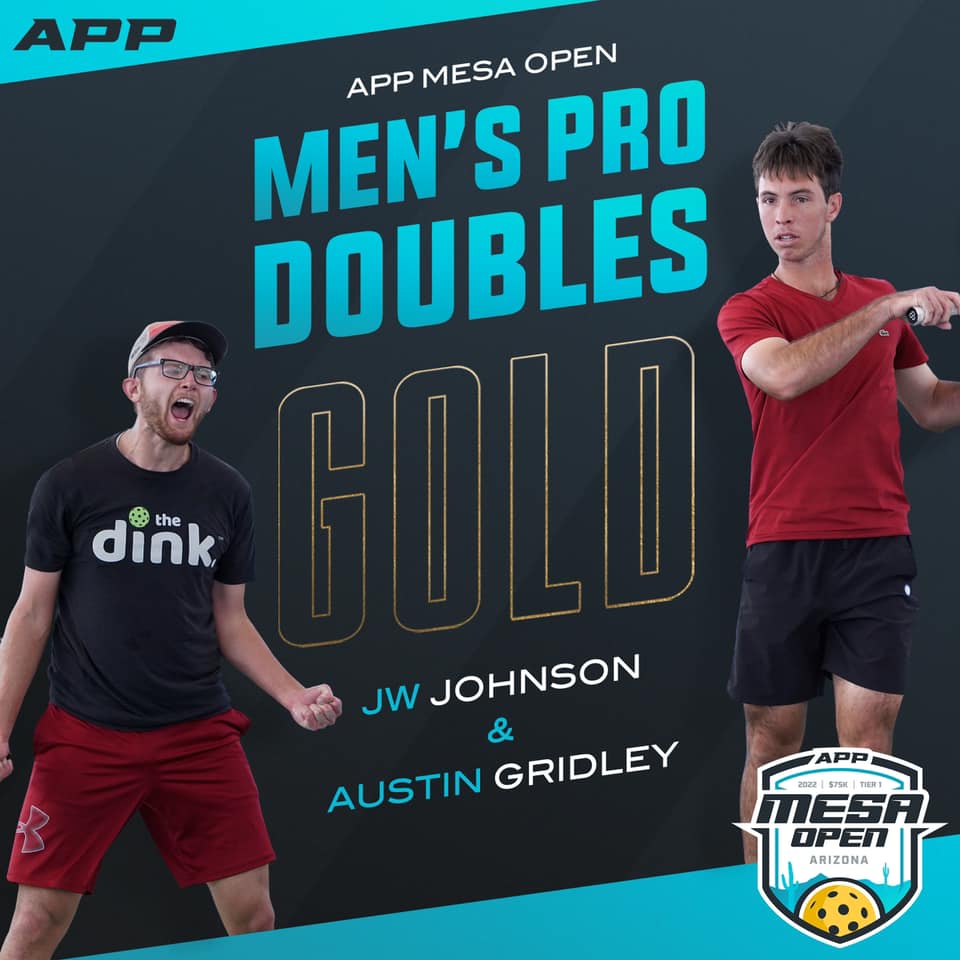 That means that Smith and Dawson walked away with a silver medal as they beat team Zane Navratil/Dylan Frazier 12-10, 4-11, 13-11. That 3rd game ended with a Dawson body bag on Frazier, after Frazier sped it up on Dawson. That match was extremely close, with the winning team winning by the narrowest of margins (2 points, in each of their wins).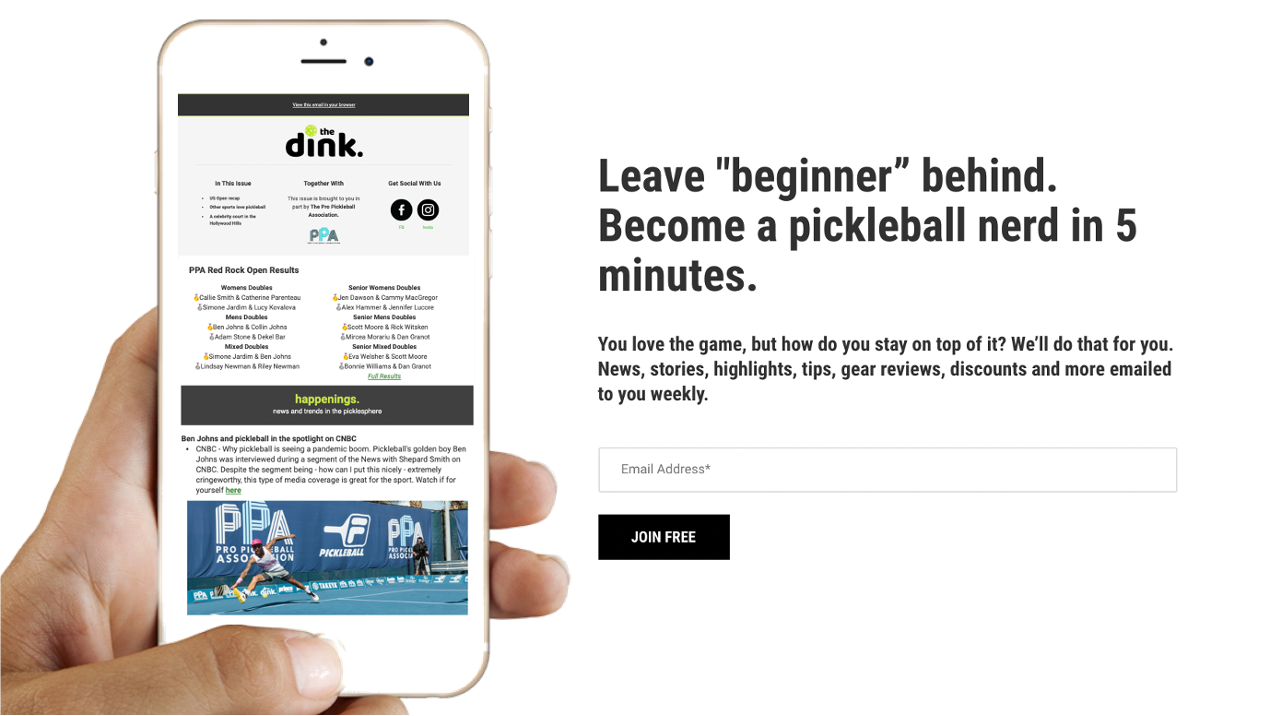 Men's Singles:
John Cincola gets his very first, and long awaited, tournament win against training partner, Navratil, 11-5,6-11,14-12,15-5. Johnson took bronze as he lost to Cincola 11-4, 11-7. The final match was probably my favorite match to watch on championship Sunday. First off, these players know each other extremely well, as they are training partners, which adds a different dynamic to the match. In addition, Cincola has never gotten a tournament win off of Navratil. So the drama was definitely heightened because of that.
In game 1, Cincola got off to a great start, taking a 6-1 lead. That early lead turned out to be just a little too much to overcome. This game featured a lot of amazing rallies. Balls that looked like they would be unreturnable were tracked down and hit over the net. The speed and athleticism both players showed was outstanding.
Game 2 was analogous to game one, just reversed. Navratil got off to an early lead that Cincola couldn't come back from. Zane was hitting angles and painting the lines he was missing earlier in game 1. That led to the epic showdown in game 3.
Game 3 was extremely back and forth with some epic pickleball play. Navratil got out to an early 7-2 lead, but Cincola stayed with it, coming back and taking the lead 9-7. From there, the game got extremely tight, both players playing outstandingly. At the same time both players didn't want  to make a costly mistake. Navratil then scored 3 points on a few serving opportunities to bring the match to match point 10-9. However, he just couldn't close out the fighting Cincola. After a few match point chances himself, Cincola got it done on an intense rally forcing the tiebreaker game to 15.
In the tiebreaker, it was all Cincola. He got out to an early lead and just kept the pressure on the entire time. He relied on his strong forehand drives in the backcourt and his reach and stature at the non-volley line. He put a lot of pressure on Navratil and didn't make it easy for Navratil to pass him. It was an outstanding match and tournament by both competitors. Finally, Cincola can say he has a win over Navratil in a tournament.

GET 10%OFF THE NEW CRBN PADDLE FROM FROMUTHPICKLEBALL.COM WITH CODE 10DINK

Mixed Doubles:
Irvine and Devilliers start their 2022 season off with a gold medal, as they beat team David/Dekel Bar 9-11, 11-0, 11-2. The first game was extremely close with team David/Bar up 10-5 before Irvine and Devilliers almost completed the comeback. The game ended with a Bar erne on Devilliers.
Somehow, in games 2 and 3 Irvine and Devilliers dominated. They came out strong and the clear adjustment between the 1st game and the next 2 were power and pace. Irvine started ripping her 3rd shots more often and put more pressure on the opposing team. In addition, she started to initiate the speedups, where usually, she prefers to get a popup from a dink, before speeding it up.
I thought it was an excellent game plan change. I think most high-level players are firm believers in not getting beat the same way. If you're going to lose twice, go out losing in a different way. That is exactly what Irvine and Devilliers did, of course with different results. They started the power game and didn't let up.
In 3rd place, it was team Lauren Stratman/Frazier as they lost to team David/Bar 11-9, 11-7. Bar's power and length mixed with David's defense, backhand power and erne threats proved too challenging for Stratman and Frazier.

GUARANTEED TO RAPIDLY IMPROVE YOUR PICKLEBALL GAME OR YOUR MONEY BACK! GET 10% OFF WITH CODE THEDINK

Women's Doubles:
Tereschenko and David beat team Irvine/Andrea Koop, as the ladder tried to complete the double dip after winning the first match 11-8, 11-7. That forced the tiebreaker, where Tereschenko and David won 15-5.
Both matches were very close, despite what the scores showed. Both of the first 2 games came down to the wire. The scores were tight going into the last few points. Irvine and Koop just made the critical plays at the critical times and got the wins for both of those games.
That forced the tiebreaker where the score was once again very close in the beginning. Tereschenko and David had a 5-4 lead early, but the match was tight. Both teams played fairly similar. They did an excellent job hitting their drops and resets to get to the kitchen and dinked their way to a popup. It didn't look like there were any extreme strategies at play. They just kind of stuck to pickleball 101.
However, the tide started to change right before the switch. Team Tereschenko/David were doing a decent job of isolating Koop a little more than earlier in the match. They didn't hit it to Irvine too much, unless they felt like she was leaning over, or if it was a hard shot to Irvine's feet/ankles. That got Tereschenko and David the lead at 8-5 on the switch.
Once Tereschenko and David got the lead, they were able to build on it doing similar things as before. They isolated Koop a little and played excellent defense. They also got a couple of net cords for points which further moved the momentum their way. With a 10-5 lead, the confidence and momentum could not be denied. David got more aggressive with her shot selection and made it very difficult on Irvine and Koop.
Just like that, the match was 15-5, with David hitting a speedup winner down the sideline for match point. The first-time partners threw it down and got the win. They played phenomenal defense that kept them in a lot of points. That allowed them to push up and eventually create a sequence for a winner.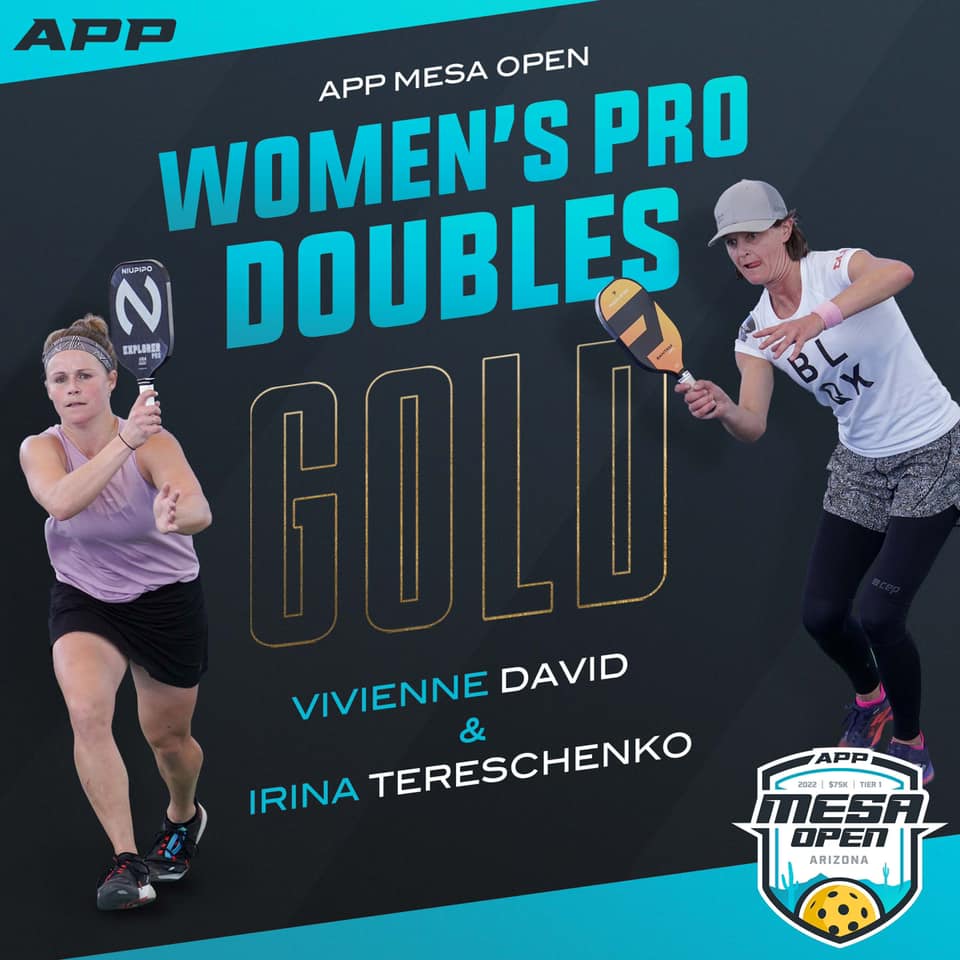 Team Stratman/Jansen took 3rd place in the event. They pulled out of their match against Irvine and Koop due to Janen's battle with diabetes. She didn't feel confident playing on Sunday and put her health first. We know she will be back in action shortly and stronger.

Women's Singles:
Tereschenko took gold in women's singles, defeating Jorja Johnson 11-4, 11-4. Tereschenko did a great job controlling the match in all facets. She thrived when she came in and set up a wall at the non-volley line. Johnson had a difficult time passing her.
Johnson did have some spectacular moments though and there is no doubt she will continue to improve at a rapid rate. However, she was just a little too inexperienced this match, struggling with when to come in and when to stay back. She also seemed to get a little frustrated at times, which caused her to hit balls long and in the net.
The bronze match was won by Johnson against Allyce Jones 11-5, 9-11, 11-4. Johnson was able to be a bit more aggressive in this match compared to the final match. Johnson did a great job at using her first shots to set up the rest of her rally. When serving, she hit a hard deep serve which helped her get a weaker return. When she was returning, she elected for a flat shot, sometimes angled which allowed her to get up to the line.
While she lost the 2nd game, her 2 wins were quite convincing. She simply made more plays, kept the ball in more and capitalized on mistakes or high balls from Jones.
Conclusion
You can rewatch all of the Championship Sunday matches on the APPTV Youtube.




That's all from the APP Mesa Open in Arizona. Shout out to all the players that came out and played and a special congratulations to the players that stood on the podium. Next week we will be in Boca Raton, Florida for the APP Master's with another $75k to be given out in prize money. We will see you there!