Who'd have thought? Takeya, our trusty hydration pal, decided to step onto the pickleball court!
They've been lurking in the pickleball shadows for the past four years, learning our moves, our dinks, our smashes.
Why? To craft a paddle that screams, "Play with me, and you'll never look back!" They've taken their love for hydration, mixed it up with a passion for pickleball, and sprinkled it with some good ol' innovation.
Water bottles to keep us cool and paddles like the Titan Elite; they're making sure you're playing at your peak.
Titan Elite Specs
Weight: 7.8-8.2 oz; mid-weight
Thickness: 14mm, 16mm
Grip Length: 5.5 inches
Core: Honeycomb Polypropylene
Face: T700 Raw Carbon Fiber
Price: $169.00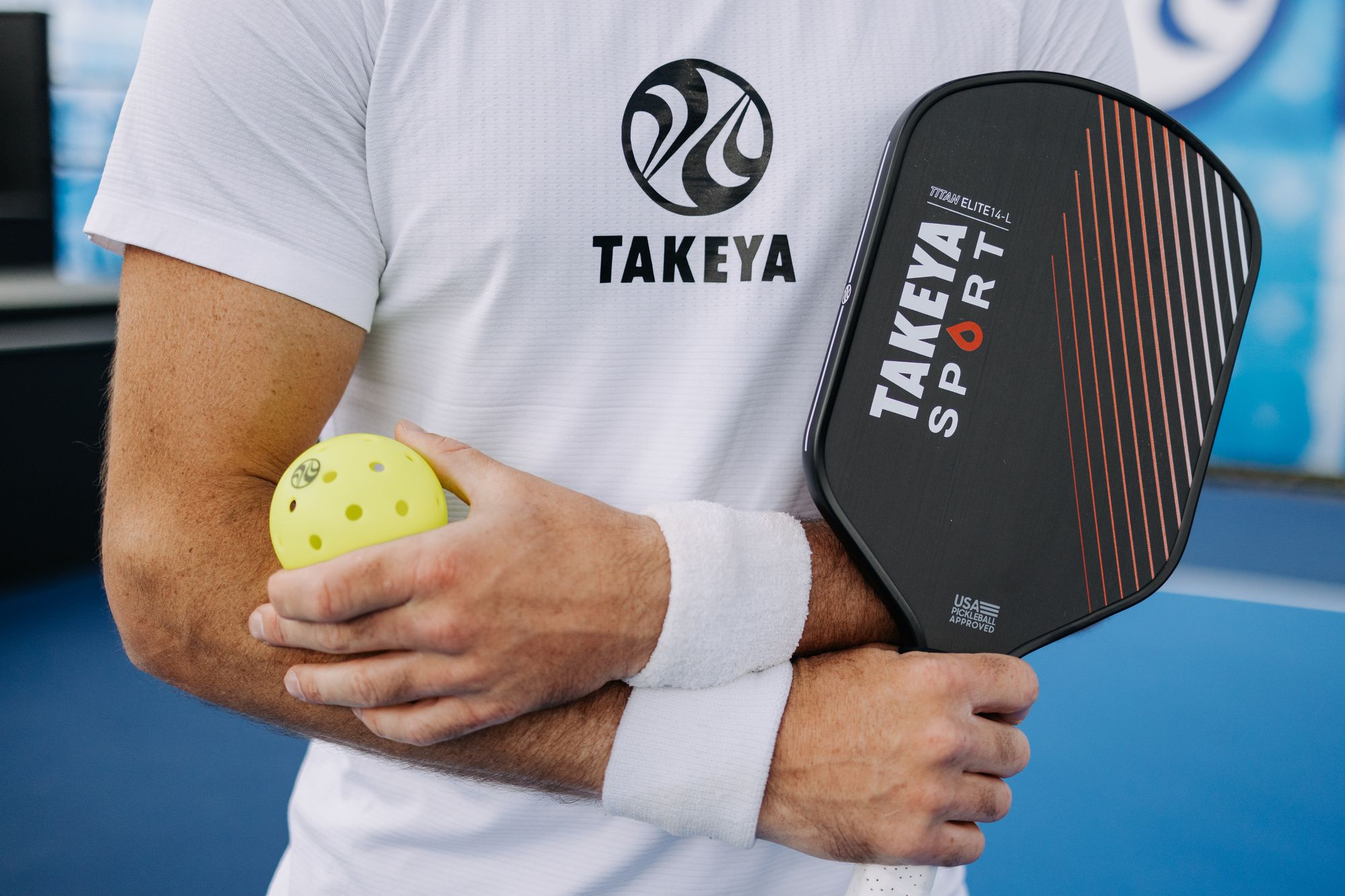 A Closer Look at Sizes
Titan Elite caters to every player's unique style. The paddle comes in:
14mm Short & Long: These are your powerhouses. If you're looking for more reach with a punch of power in your shots, then the 14mm is the way to go.
16mm Short & Long: Precision is the name of the game here. If you're aiming for finesse and control in your game, then the 16mm is your best option.
Getting a Grip
So, I took the court with the 16mm Long version. First impression? That extended handle is a dream for a two-handed backhand – no awkwardness whatsoever.
Thickness-wise, while I typically lean toward chunkier handles, a good overgrip on this one and we were in sync.
Plus, that carbon reinforcement handle is like a built-in shock absorber. Didn't buzz in my hands at all!
Having trouble with paddle grip position, click here.
The Perfect Balance
At the kitchen, this paddle's quick responsiveness is truly impressive, and it delivers ample power to elevate your game. What sets it apart is the incredibly forgiving sweet spot.
Right from the first dink, I felt in control, as if the paddle had my back, ensuring my shots were on point.
All of this is thanks to the incredible strength and stability provided by the Foam Injected Edge Wall, making it a game-changer in every sense.
Unleashing the Spin Sorcery
The Titan Elite isn't just your average paddle; it's a spin wizard! Its robust carbon surface delivers unrivaled spin potential that left me in awe.
As I warmed up with longer strokes, the spin I generated was nothing short of astonishing – I was effortlessly executing top-spin lobs for winners!
To my surprise, the Titan Elite had an abundance of spin up its sleeve.
But that's not all – this paddle is as light as a feather, making hand battles a walk in the park. While it may not have the explosive pop of higher-end paddles, it certainly packs a punch that surpasses others in its price range.
Related: Play Smarter with the 1, 2 Punch
Who is this paddle for?
The Titan Elite is versatile, adaptable, and perfect for all. Its versatility offers room for growth and experimentation, perfect for the 3.0 player who is ready to make that 3.5 jump.
The 4.0+ players will appreciate the paddle's finesse. Its balanced approach makes it ideal for anyone, whether they play recreationally or compete at higher levels.
All said and done, Takeya has truly outdone themselves. They're no longer just our hydration heroes, but they're stepping up to be our pickleball partners too.
If you're looking to have both – stay refreshed and play at your peak – look no further. Dive into the world of Takeya, check out the Titan Elite, and let's elevate your game together!
👋
Alina Leontarakis is an experienced 4.0 level pickleball player and PPR certified coach. With nearly two years of dedicated play, she brings a wealth of knowledge and expertise to the pickleball court.
---