In a press release today, USA Pickleball announced the kick-off of a five deal with the sneaker brand Skechers. Skechers is now the "Exclusive Footwear Partner and Exclusive Shoe of USA Pickleball."
If you saw the Skechers Super Bowl ad with Snoop Dog and Martha Stewart you know that Skechers wants to be everywhere.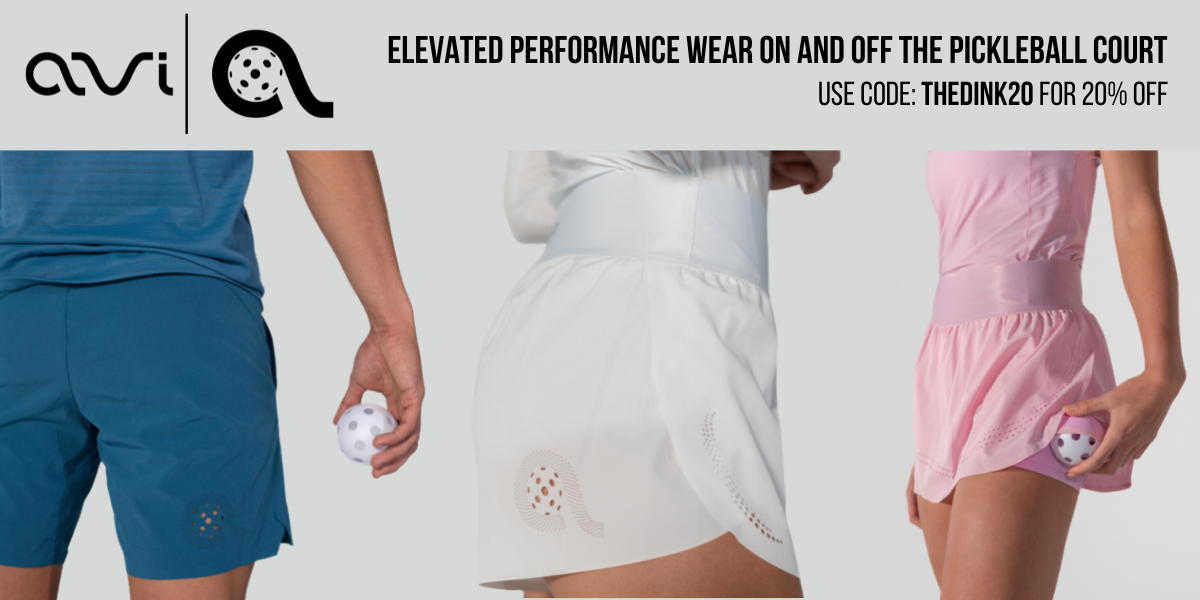 Performance wear from Avi Athletics will instantly become your go-to pickleball gear. Save 20% with code THEDINK20.
Pickleball is no exception. Skechers has official partnerships with the Carvana PPA Tour, Major League Pickleball and the APP Tour. That means if you're watching or attending a pro pickleball event in the next few years you will definitely run into the Skechers "S".
You will also see sponsored pros Tyson McGuffin and Catherine Parenteau in Skechers kicks. McGuffin has debuted a number of different color combinations since signing with the brand.
Shoes are one of the most talked about topics in pickleball. Skechers clearly wants to own that conversation with another big move like this. Read the full press release below.
---
USA Pickleball And Skechers Get Traction as Official Partnership Launches
PHOENIX, Ariz. (February 16, 2023) — USA Pickleball and Skechers, The Comfort Technology Company™, kicked off their five-year partnership at last week's National Championship Series (NCS) event in Daytona Beach, Fla. Through the partnership announced last year, Skechers has officially become the Exclusive Footwear Partner and Exclusive Shoe of USA Pickleball, the National Governing Body for the fastest-growing sport in the United States.
"With the official launch of our partnership at the recent APP Daytona Open, we are thrilled to welcome Skechers to the USA Pickleball family. Working together, we look forward to supporting our members and advancing the sport's exponential growth," said Chuck Menke, USA Pickleball Chief Marketing Officer. "Skechers has quickly established itself as the leader in the pickleball footwear category, and we are proud to align with a brand that has prioritized the specific needs of our players by delivering the industry's highest-performing product line."
Through the partnership, Skechers will activate at premier pickleball events throughout this year, including the USA Pickleball National Championships Series—also known as the "The Road To Nationals"—as part of the 2023 Association of Pickleball Professionals (APP) Tour. The next stop on the Road to Nationals will be APP Mesa Open from March 29-April 2 at Bell Bank Park in Mesa, Ariz., with stops in Cincinnati, New York City, and Newport Beach, Calif., to follow. Skechers will also support several USA Pickleball programs and initiatives at the grassroots level, including the Skechers/USA Pickleball Ambassador of the Month award.
Skechers pickleball footwear brings signature Skechers comfort and innovation to the court. The Skechers Viper Court provides responsive performance in a breathable, lightweight design. The enhanced grip and stability of the Goodyear® rubber outsole paired with a shock-absorbing Arch Fit® insole deliver comfort and support, match after match.
Set to launch in 2023, the Skechers Viper Court Pro is a lighter and faster high-performance pickleball shoe designed for and worn by pros, but also suitable for everyday players looking for stability and a secure platform in their game. A complete selection of Skechers pickleball footwear can be found at skechers.com.
###
About USA Pickleball
USA Pickleball is the National Governing Body for the sport of pickleball in the U.S. and provides players with official rules, tournaments, rankings and promotional materials. The mission of USA Pickleball is to promote the development and growth of pickleball in the United States and its territories. The association is a nonprofit 501(c)(3) corporation and governed by a board of directors and professional staff who provide the guidance and infrastructure for the continued growth and development of the sport.
About SKECHERS U.S.A., Inc.
Skechers U.S.A., Inc. (NYSE:SKX), The Comfort Technology Company™ based in Southern California, designs, develops and markets a diverse range of lifestyle and performance footwear, apparel and accessories for men, women and children. The Company's collections are available in over 180 countries and territories through department and specialty stores, and direct to consumers through digital stores and 4,537 Company- and third-party-owned physical retail stores. The Company manages its international business through a network of wholly-owned subsidiaries, joint venture partners, and distributors. For more information, please visit about.skechers.com and follow us on Facebook, Instagram, Twitter, and TikTok.
USA Pickleball Media Contact:
Melissa Zhang, Director of Communications & Content
mzhang@usapickleball.org
Chuck Menke, Chief Marketing Officer
cmenke@usapickleball.org
SKECHERS USA, Inc. Media Contact:
Jennifer Clay, VP of Corporate Communications