So much to unpack after a thrilling day of gender doubles at the PPA Championships in Las Vegas. A birthday girl got her birthday wish, some drama struck the Waters duo and a familiar rematch is in store in the men's division. Let's get into it!

Sun Gate
We know why you're here; let's talk about this Waters drama that took place in their match against Yana Newell (formerly Yana Grechkina) and Regina Franco Goldberg. Sun gate struck in the second game of this series when Newell and Franco Goldberg implemented the "lob into the sun" strategy.

It's hard to know exactly how it started, but after going down in game two, 7-6, Newell and Franco Goldberg came out of their timeout and implemented this…interesting strategy. Though they lost that initial sequence, they kept lobbing the Waters and specifically targeting Leigh.

After Leigh missed a few overheads due to the Sun, she asked her opponents something along the lines of "are you going to play us straight up?" Momma Waters also scolded her opponents saying that their lobbing wasn't a "decent strategy." Anna Leigh had to hold her mom back and tried to get refocused, but that damage had already been done. Leigh was clearly rattled and ended up losing that game, 8-11. Hey Oakley, Ria, RayBan, can we get the Waters a sunglass deal?

In the third game, the Waters regrouped and took the win, 11-6. The Waters then beat Jessie Irvine and Lindsey Newman in the semi-finals to get themselves into the championship Sunday. With daughter Waters now in Sunday's action for women's doubles, she will have another opportunity for a triple crown. If she accomplishes the feat, it will be her fifth triple crown on the year.

The birthday girl Anna Bright and her partner Parris Todd punched their way into the championship, beating the number one-seeded Lucy Kovalova and Callie Smith in a three-game thriller in the semi-finals. That third game came down to the wire, with Bright/Todd ultimately winning 12-10 on a Kovalova overhit.

Bright, who turned 23 on Saturday, once again showed how dominant she can be on that left side, as they stacked the entire match. Todd displayed her evolving defensive game in the win, by getting virtually every ball that was hit at her back. With Bright in another women's doubles finals, this begs the question: will Bright go back to playing with Irvine in the future, or will she elect for the more offensive Todd?

Bronze Medalists
After losing the game to Bright/Todd, Kovalova and Smith went into the opportunity bracket and picked up two wins, which included the bronze medal match against Catherine Parenteau and Lea Jansen.

Lindsey Newman returned to some pro women's doubles action after an almost two month-layoff to play with Irvine. This team had some great matches, but their lack of offense proved to be their demise. They lost to the Waters in the winner's bracket and Parenteau/Jansen in the backdraw.


Men's Doubles
No real surprises in men's doubles as Ben and Collin Johns will once again play Riley Newman and Matt Wright on a championship Sunday. With Ben making it to the men's doubles finals, he too, like his mixed doubles partner Waters, will be on triple crown watch.

When both of these teams have entered the tournaments, they have played each other in the last three finals matches. Newman/Wright have won the last two out of three matches, but the Johns won the last meeting. There is no doubt that this matchup is turning into an extremely heated rivalry.

Now the question is, who will be able to impose their will more in this rematch? Will it be the Johns who prefer a more tactical, drawn out game, or Newman and Wright who are going to look to push the pace and constantly speed up the ball at the Johns duo?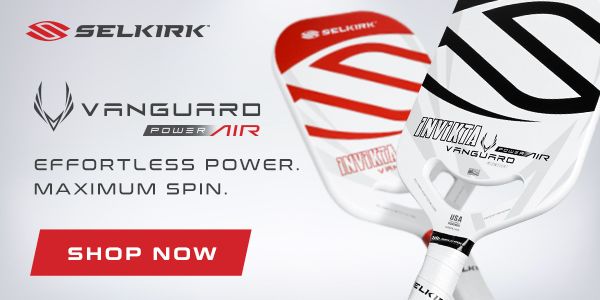 Both of these teams were taken to three games once on Saturday. Zane Navratil and Dylan Frazier narrowly lost to the Johns in the quarter-finals, losing that third game 10-12. For Newman/Wright, their toughest match came against James Ignatowich and Federico Staksrud. They survived that third game winning 11-6.

JW Johnson and Dekel Bar, some fresh APP talent entering the PPA tour, walked away with the bronze. Some fans were speculating that this would be the team to possibly break up the stranglehold the Johns brothers and Newman/Wright have on championship Sunday, but that simply wasn't the case. Johnson and Bar played Newman/Wright in the quarter-finals, only to lose in convincing fashion.

After the loss, Johnson and Bar strung together some wins in the opportunity bracket and were able to take the bronze medal over Navratil/Frazier, 11-3, 11-9. Pretty solid result for Johnson and Bar, but they are surely wishing they would have at the very least played Newman and Wright a little better. With that loss, Johnson also lost out on his triple crown bid. He will still be featured in Sunday's action for singles and mixed doubles, but men's doubles is gone from the equation now.

Credit to Navratil and Frazier who played a phenomenal tournament. It's been mentioned here before, but Frazier is currently throwing down an extremely impressive 2022. He already took bronze in singles this tournament, and he just missed out on some hardware in men's doubles. Not to mention, they were only a few points away from upsetting the Johns brothers.

Navratil has also come leaps and bounds in his doubles game and proved Saturday that he can hang with the best of them on the PPA tour. Despite losing to the Johns, they had huge victories over Thomas Wilson/AJ Koller and Collin Dawson/Tyler Loong.