Rocky Mountain Championships
Rocky Mountain High…Temps. No need for the extra pair of gloves this time of year, high 80's and low 90 are forecasted all weekend for the PPA Rocky Mountain Championships. The first PPA event ever in Denver, live from the Gates Tennis Center.
Ben and Simone don't have to wait long for a chance to reclaim the title from Matt and Lucy. Just one week after their first loss, they will be back in action. Most of the top pros from the Takeya Showcase have made the trek through the mountains to compete in this weekend's Championships. Without brackets or seeding, this is my Podium Prediction: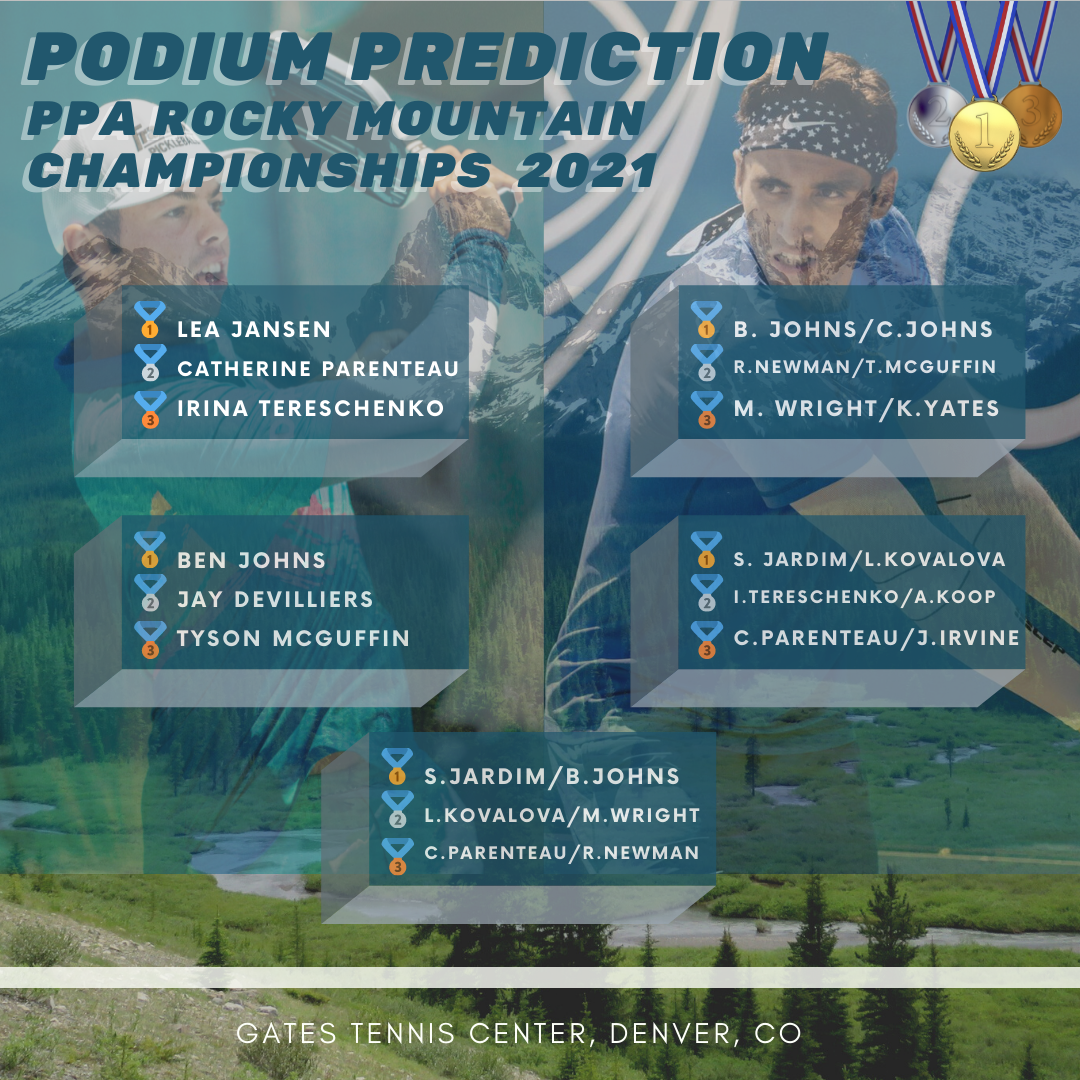 Back Draw is Back..Y'all
Just a heads up, the traditional format will be in play this weekend. Two loss elimination with a chance to reach the gold through the consolation bracket. Not sure why this decision was made but I'm sure we will find out this weekend. Check out the PPA and the dink on IG for a look behind the scenes.
Mountain GOAT
The current number one, and possibly number two singles players in the world could meet again in the finals tomorrow. If you missed this match last week, the whole thing was a highlight reel but check out the distilled version below for a quick jaw drop.
Double Dip Devilliers has been deadly with a back draw on the APP tour. He will be a tough out for any of the other players included in this draw. McGuffin and Bar will look to slide into the Gold Medal match and bump Jay down or off the podium. Bar overpowered opponents with a topspin serve in Newport. We will see if anyone has an answer for it this week. Smaller overall field with a good amount of new names included. Have to hope Abraham Dinkin can score four and seven more to see that name move up in the bracket.
Sign up for The Dink Newsletter!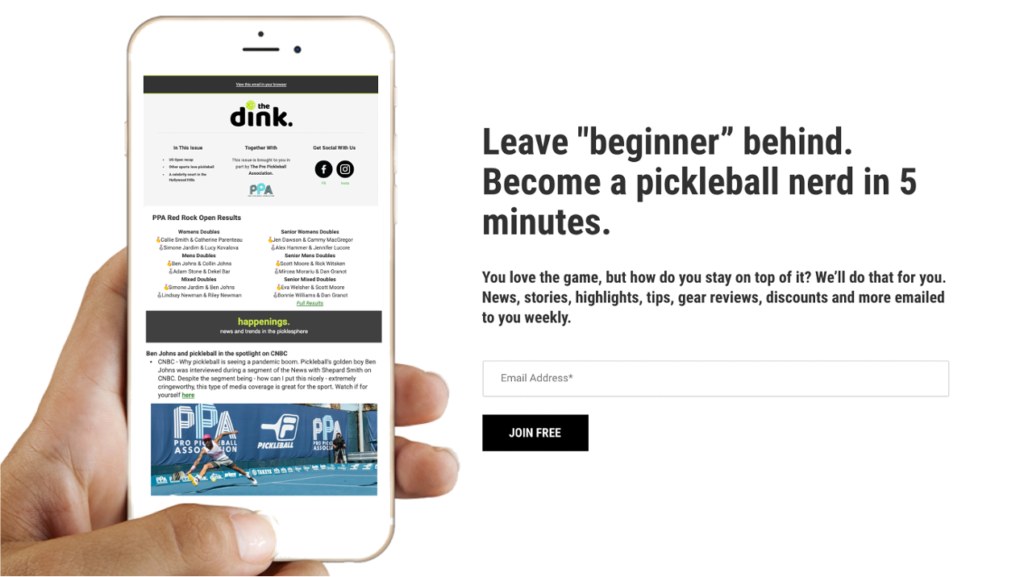 Sunshine on my Shoulders
Singles is always a grind. Combine that with a 10-player field, 90-degree temps, and high altitude, and these players are in for a long day. Catherine Parenteau played one match to advance to the finals last week and this week she will have to play at least three to make it there. Nothing out of the ordinary for the former Spartan tennis player but it makes for a long day to stay at the top of your game.
Callie Smith is back in action and no championship Sunday means no need to withdraw or even make the decision. With full focus on tomorrow, can she take a step forward in her singles game and reach a Gold Medal Match?
My money is on Lea Jansen to recover from last week's loss to Waters. I'm assuming she will have the advantage of having no losses entering the final and will be able to outlast whoever she faces for Gold. She is in the top spot for me this week.
Doubles Time
Let's start with Simone and Lucy. I don't think anyone is touching them this weekend. Second and third place will be a toss-up between Parenteau/Irvine and Tereschenko/Koop. Regardless of seeding, I think they will meet up in the Bronze Medal Round. Tereschenko was hot last week so I'm going to stick with her.
Find All the Action from the PPA on YouTube
,

and Facebook

.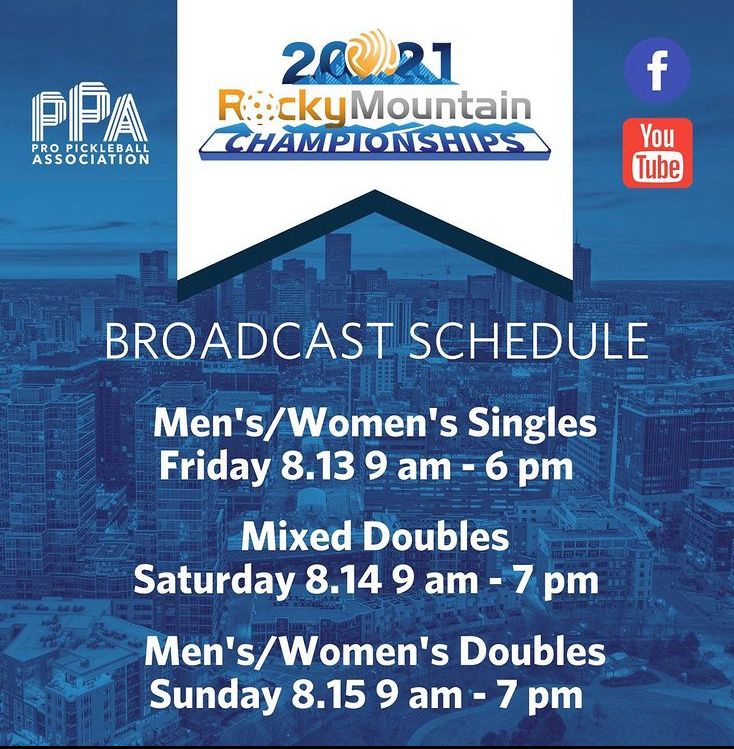 Rocky Road
In Men's doubles, the Johns Brothers are back together. I think they are open for an upset this week, especially with four strong teams closing the gap. Not getting enough love leading up to Sunday is the team of  Devilliers/Smith. They have beaten Ben/Collin before and always play them tough.
Matt Wright is coming off a stellar performance in Newport Beach. He is playing with Kyle Yates who has been sitting just outside of this Men's Doubles picture all year. If Yates can extend points against these top teams Wright has shown an improved ability to create offense with Ernes and low volleys.
Into the Mix
Do we finally have some parity at this top spot? Or will Johns/Jardim take back the title and start a new Gold streak? Honestly, I don't know, but I'm hoping we get a rematch in the winner's bracket final or Gold Medal Match. My guess is Johns is going to be playing with a renewed drive. They may have gotten complacent on their win streak and put focus into different aspects of their game/career. It will be interesting to see what game plan the world's best come up with just one week later.
I don't think Newman/Parenteau will be able to infiltrate the top two this week so look for them to follow up with another Bronze Medal.
Jansen/Devilliers have been a dominant duo on the APP tour. I am interested in where they fall in this PPA field. I have to guess it's number four, slightly ahead of Smith/McGuffin but with that new combination, it could go either way.
Check out the action on
YouTube
, or
Facebook
.