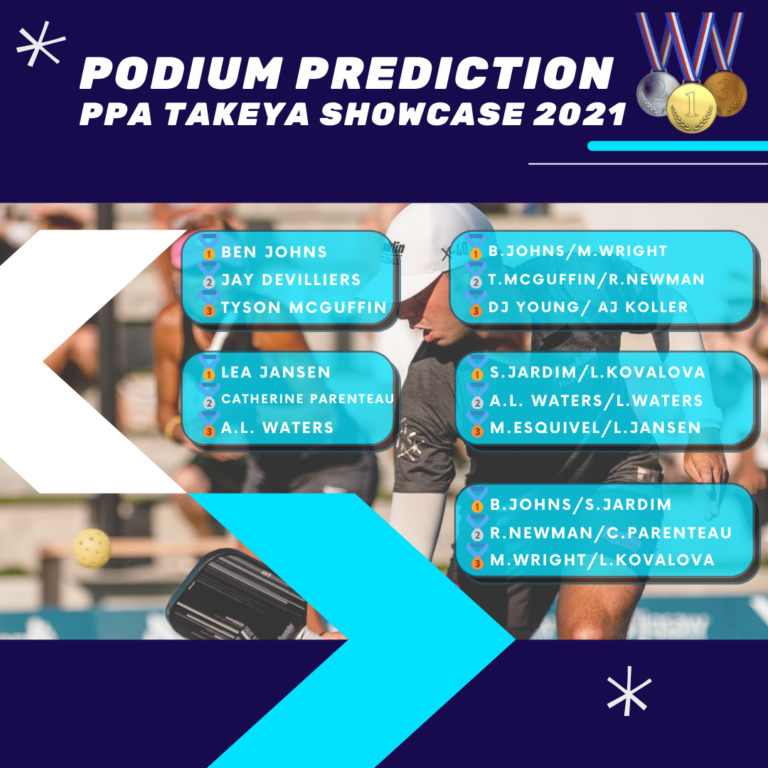 PPA Takeya Showcase Preview
PPA action is back and picking up right where it left off in Southern California. This weekend coming live from the Newport Beach Tennis and Pickleball Club. Ben Johns and Matt Wright will be teaming up for the first time in a PPA event this year. Personally, I think this duo is even more effective than Ben and Collin. I expect them to take Gold in a loaded Men's bracket. But first let's start with singles.
It Is What It Is.
In a touching IG post, Simone Jardim announced She will be sitting out the singles competition for a second straight tournament. This opens the door for all of the ladies that have been nipping at her heels. Lea Jansen, Catherine Parenteau, and Anna Leigh Waters become favorites to take the crown and have been ranked in that order for my prediction.
The most interesting player for me will be Irina Tereschenko. She has the most experience living in a Simone Jardim dominant field. Now she has a chance to move through the bracket without having to face the big boss at the end of the level. Hopefully, injury is not a concern this week and she is able to perform like the Irina of years past.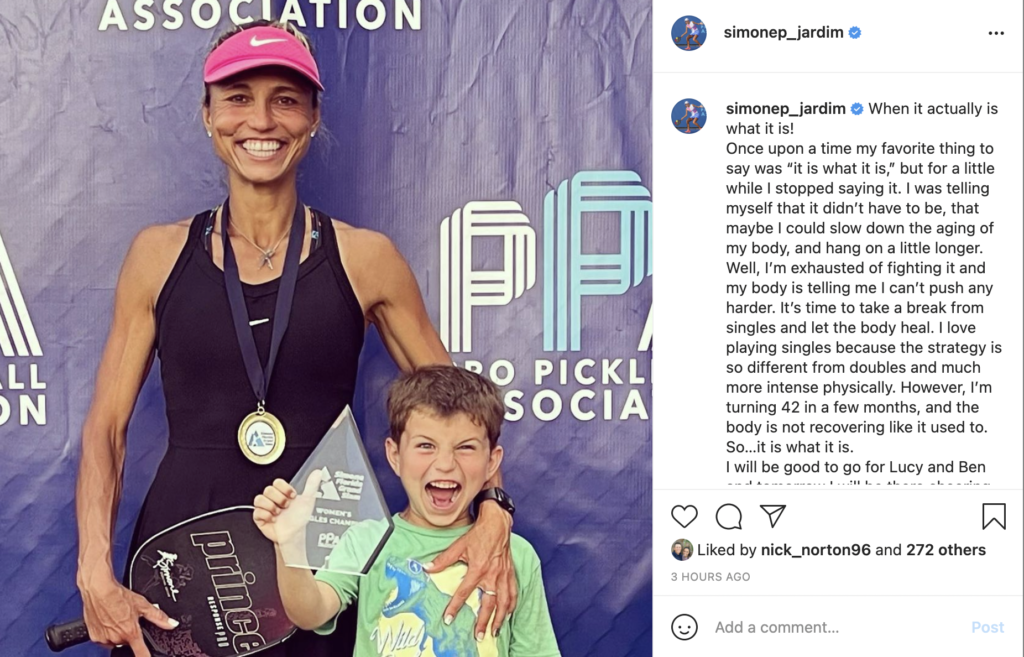 Men Who Stare at Goats
An average movie but an applicable description for the men's singles field. Ben Johns is the GOAT and has been snatching up not only Gold's, but Triple Crowns left and right. I don't see his run stopping here. With a new max grit paddle and his very own spin serve he is the favorite again this week. This makes the rest of the field,
men staring at the GOAT.
Of those included, Jay Devilliers has the best chance to reach the Gold Medal Match. He has been surfing the wave of the APP Tour and will ride it into Newport. He defeated Tyson McGuffin in the last PPA event. It is evident that all of the knock-down, drag-out battles with Zane Navratil have helped him close the gap singles. If he takes silver I expect McGuffin to take third. Honorable mention to Gabriel Joseph, not only is he a medal threat, but he is probably the most exciting singles player to watch.
Sign up for The Dink Newsletter!
Mix it Up
Ben and Simone are the obvious favorites in this field so I won't spend too much time on them. Seeding will be immensely important in the PPA single loss format. If the four seed has to run through them to get a medal, then I would rather have six or seven seed.
My team to watch in this field is Riley Newman and Catherine Parenteau. Newman is one of the most exciting players to watch and it will be interesting to see if pairing with Parenteau gets them any closer to the Gold. The duo, both sponsored by Takeya, will have all eyes on them in the Takeya Showcase.
Lucy Kovalova and Matt Wright will not give up the Silver spot easily but securing even a Bronze medal in this competitive field will be a difficult task. If they meet Newman/Parenteau in the semifinal, I think Newman/Parenteau might be able to squeak out the victory.
Anna-Leigh Waters continues to improve every week and working with McGuffin makes them dangerous against any team.
They have what it takes and could find a way to bring home some hardware. Also, be on the lookout for Michelle Esquivel and Jay Devilliers. Their APP success has shown the ability to work together when game point is on the line. They will not be an easy out in this field.
Royal Rumble
Thirty teams-three medals. The weekend can't come soon enough! Johns/Wright will still have to prove they're top of the pack against tons of hungry competitors. The teams of Newman/McGuffin and Devilliers/Smith have been building chemistry together while Johns has been playing with his brother and Wright mixing with new partners. The two certainly know each other well but will undoubtedly be tested every step of the way.
I had to pick an upset because it's fun to pick an upset. With the right path, the team of DJ Young/AJ Koller could steal a Bronze medal. They are both tall and athletic, as a team, they will be difficult to drop in front of or lob over. I'm probably completely off base but there it is. That being said, I need to give some respect to Adam Stone/Dekel Bar who will be difficult to keep off of the podium. They are another well-rehearsed duo that are only getting better every tournament. Either way, with Barr's Erne's, Stone's inability to error, or Koller's lightning hands, highlights will be pouring out of the weekend.
Wonder Women
Women's doubles matches are some of the most exciting to watch. Personally, I love the firefight style play or the Waters sisters. They are getting close to taking out Jardim/Kovalova but I don't think this is the week it happens. Look for them to finish one and two.
I have third going to Michelle Esquivel/Lea Jansen but honestly, this was one of the most difficult medals to pick. I put Jansen and Parenteau about even so it will likely depend on Jesse Irvine and Michelle Esquivel. Whoever performs better between those two will take the medal. Irvine and Parenteau would be the team I follow on Saturday. Success in this event could lead to a lasting partnership moving forward and a new Gold Medal favorite at PPA events.
Follow all of the action on the PPA Youtube channel and block off your schedule for Championship Sunday!