Men's Doubles: 🥇Ben Johns & Collin Johns 🥈Thomas Wilson & Julian Arnold 🥉JW Johnson & Dylan Frazier
Women's Doubles: 🥇Anna Leigh Waters & Catherine Parenteau 🥈Lacy Schneemann & Jade Kawamoto 🥉Lea Jansen & Allyce Jones
Mixed Doubles: 🥇Anna Leigh Waters & Ben Johns 🥈Catherine Parenteau & Tyson McGuffin 🥉Jessie Irvine & Jay Devilliers
Men's Singles: 🥇Ben Johns 🥈Collin Shick 🥉Pablo Tellez
Women's Singles: 🥇Catherine Parenteau 🥈Lea Jansen 🥉Salome Devidze

Collin Shick had the breakout performance of the year at the PPA Florida Open. From a field of 80 players, he advanced al the way from the men's singles qualifier to Championship Sunday. He fell one game short of gold but his run on Thursday will no be forgotten soon.
All is right again in the pickleball world as Ben Johns won his third triple crown of the year! Well, almost all is right. Anna Leigh Waters got upset in singles for the first time in nine months, but she did manage to grab the two other golds available to her at the PPA Florida Open.

That's right, the teenage phenom lost to her women's doubles teammate Catherine Parenteau on Thursday, which sent shockwaves throughout the pickleball world. That left a showdown for Parenteau and her growing rival Lea Jansen in the final, which Parenteau dominated in two games, 11-4, 11-2. Parenteau was just on a different level in the Sunshine State all weekend long.

Mixed Doubles
Other than that, the favorites Waters and Johns took the rest of the divisions. In mixed doubles this dynamic duo cleaned house, winning in the finals against Parenteau and Tyson McGuffin. It was McGuffin's first tournament back after taking a three-tournament hiatus due to a foot injury and he did not disappoint.

The big drama heading into the weekend was the Anna Bright and Riley Newman mixed doubles separation, which left Bright with James Ignatowich and Newman with Parris Todd in her first PPA tournament this year. Both of these teams lost in the quarter-finals, but certainly showed promise for the future.
Women's Doubles
ALW and Parenteau could not be stopped in the division as they gave up a total of 13 points on Saturday and won in three straight games on Sunday against first-time championship Sunday duo Lacy Schneemann and Jade Kawamoto. The one-seeds played a flawless and fluid style of pickleball, changing positions constantly and varying their attacks.

Though the silver medalists fell short of their goal, they had some massive wins on Saturday against Todd/Bright and Allyce Jones/Jansen. They even made things interesting on Sunday, narrowly losing the first and third games by two and three points, respectively.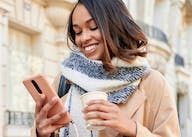 Get ready to travel, meet new people and explore the world with Babbel
Going on vacation is great, but exploring the world like a local is even better. Not speaking the language is no longer an excuse: with Babbel, you can learn to speak a new language in just three weeks. The language learning platform offers 10-minute lessons designed by real language experts, focused on conversational skills in 14 languages.
Get 55% off

Men's Doubles
With no Matt Wright in action over the weekend, that gave Ben and Collin Johns essentially a free pass to win gold. While they did face tough opposition against JW Johnson and Dylan Frazier, the favorites showed they are still a bit ahead of the fast-approaching, young challengers.

Despite Wright being missing in action, that didn't stop Newman from giving it a go on Saturday, partnering with Tim Parks, the co-owner of the MLP team Newman plays on: the SoCal Hard Eights. Unfortunately for Parks he got donuted in his first professional pickleball game at the hands of Josh Jenkins and Bill Kacergis. They lost the second game 7-11.
The men's doubles field saw a bit a drama from a quarterfinal matchup between Zane Navratil/DJ Young and Rafa Hewett/Gabriel Tardio. Navratil and Hewett are former MLP teammates who had a less than cordial run-in on Thursday where they faced off in singles.
Hewett is known for being boisterous on court, elicited a response from Navratil that is unlike any we have seen in pickleball. Here more about the scream on PicklePod later this week.
Men's Singles
While Johns won the gold, Collin Shick won the limelight and the hearts of pickleball fans and players worldwide. Shick came out of the qualifying bracket that was played earlier in the day on Thursday to eventually make it all the way to the gold medal match. After getting out of the qualifier bracket, Shick entered the main draw as the 30th seed. He then strung a series of victories against top-level talent including Julian Arnold and Dylan Frazier.

Shick was electric on the court, slipping and sliding all over the place, ripping winners and putting extreme angles on the ball. Unfortunately for him, the Cinderella story ended in the final against Johns, but he did manage to take a game off the 23-year-old.
Shick will not likely have to start in a qualifier again following this performance. Look for him to add depth to an already difficult men's singles division in future events.
The pro pickleball game moves fast. Luckily, we do, too. Subscribe to our newsletter to keep track of pro matches: