Professional pickleball couldn't possibly follow up last weekend's uber exciting MLP event with something more tantalizing, but the PPA is going to try with the Desert Ridge Open at the JW Marriott Desert Ridge in Phoenix. Here are the big storylines to look out for coming into the weekend:

Has a legitimate challenger emerged to dethrone the mixed doubles champs?
MLP's Mad Drops look to continue the hot streak
Tyson McGuffin and Sam Querrey missing in action

In typical PPA fashion, this event will broadcast on Youtube starting with singles on Thursday, mixed doubles Friday, gender doubles Saturday and all gold medal matches on Sunday. Let's break down these brackets!

Men's Singles
Men's singles is kicking off this weekend with the number two-ranked men's singles player Tyson McGuffin and former tennis pro turned pickleballer Sam Querrey absent. With the time off, hopefully Querrey will be working on his skills, because that three-month deadline of being a top 10 player he talked about is right around the corner.

The usual suspects will be in attendance like Ben Johns, JW Johnson, Jay Devilliers, Federico Staksrud, etc. The Argentinian, Staksrud, had a stellar performance at the Masters last month where he lost to Johns in the final; but until he beats the number-one player in the world, I'll hold off on predicting him to do so. Because they are on opposite sides of the bracket, I think they will meet again in the finals.

Johnson and Julian Arnold will be Johns' toughest opposition in the top half of the bracket, while the Flying Frenchman, Devilliers, will be Staksrud's. Dylan Frazier had a nice run to silver last tournament, but this time I think Johnson or Arnold gets the better of him in the consolation bracket. The dark-horse is Christian Alshon, the self-proclaimed Tweener King, whose stock has continued to rise. I still think he's got a little bit to go before he gets on the podium, but I wouldn't mind getting proven wrong.

Podium prediction: 🥇Ben Johns 🥈Federico Staksrud 🥉JW Johnson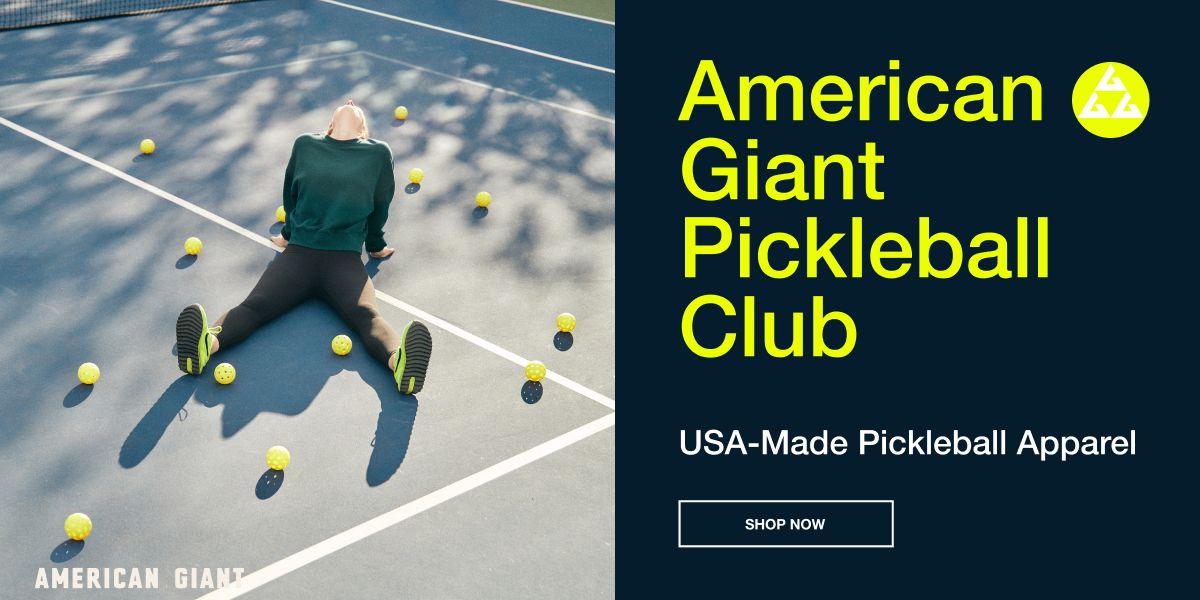 Take 20% off your first order from American Giant Pickleball Club with code DINK. Each durable, cotton piece is designed to breathe, stretch, and hold up to your hardest hits.
Women's Singles
This is going to be a three-woman race, until someone else makes us think otherwise. The three players leading this pack in order are Anna Leigh Waters, Lea Janen and Catherine Parenteau, though Parenteau flip flopped with Jansen in the official rankings based on last year's points. However, it was pretty apparent that in the latter half of last year, it was Jansen that overtook that position on court (but couldn't overtake Parenteau in points).

If a player were to materialize from the shadows, it would probably be Parris Todd, who isn't really in the shadows, she's just not playing this tournament. Or possibly, maybe, Anna Bright, who doesn't seem to be focused on singles and isn't playing singles at the Ridge.

Someone to look out for is Spaniard, Judit Castillo, 24,  who is playing in her fourth pro tournament. The former DI tennis player out of Northwestern State University of Louisiana has played some top women's singles players very well in her previous tournaments, taking victories over Tatiana Ruhl and Amanda Hendry. She has also had some narrow losses against the APP elites like Ewa Radzikowska, Megan Fudge and Lina Padegimaite. Could this be the tournament everything comes together in?

Podium prediction: 🥇Anna Leigh Waters 🥈Catherine Parenteau 🥉Lea Jansen

Mixed Doubles
Could this finally be the moment where we actually have a legitimate contender to depose the mixed doubles throne, occupied by the recently turned 16-year-old Waters and Johns? Could it actually be? Johns and AL dominated mixed doubles last year, winning every single tournament they entered in as a duo. In fact, AL did one better than Johns, by winning with JW Johnson while Johns was away.

But a new duo has appeared…drum roll please…Bright and Riley Newman! What is fascinating about this duo is that Newman prefers to play on the right side, where he is able to use his nasty two-handed backhand in the middle. Traditionally, if the right side of the court is occupied by a right-handed player, no matter how good their backhand is, it's usually not good enough to get the job done in mixed, i.e. Collin Johns and Jeff Warnick once upon a time.  

However, Bright is one of the best, if not the best left-side women in the game. She has a variety of attacks and speed-ups from that side of the court that she doesn't quite possess on the opposite side. That's why she had tremendous success alongside the lefty, Tyler Loong in mixed dubs. In addition, Newman is one of the very few guys that has beaten Johns multiple times in men's doubles and has some sort of an insight on how to replicate that.

Outside of these teams, Jessie Irvine and Callie Smith have seemingly switched men's partners from a year ago. Irvine is now partnered with AJ Koller, while Smith is paired with Devilliers. Lastly, Jorja/JW Johnson, Parenteau/Zane Navratil and Vivienne David/Thomas Wilson should all have a chance to make a big run. This pairing is a huge opportunity for Navratil, as he will play next to one of the top women in the game.

Podium prediction: 🥇Anna Leigh Waters & Ben Johns 🥈Anna Bright & Riley Newman 🥉Catherine Parenteau & Zane Navratil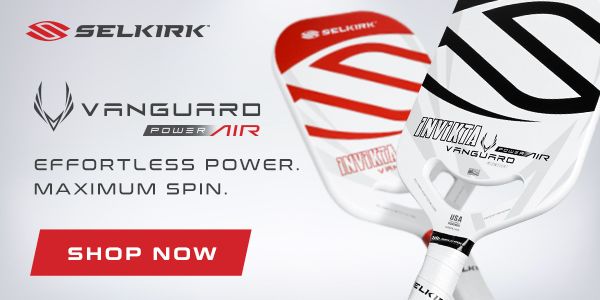 Men's Doubles
Ben and Collin Johns versus Newman and Matt Wright, blah blah blah. We've heard it and seen it, what has it been? Coming up on a hundred times by now? Well, not quite that much, but you get the idea. These teams will come in as the one and two seeds and are the overwhelming favorites to meet in the finals. But I want to talk about a team that is coming into this tournament absolutely 🔥RED HOT🔥 from last weekend.

I'm talking about Wilson and Julian Arnold, who took the Premier Level MLP Mesa championship last weekend for the Los Angeles Mad Drops. They were the men's duo on that team, while Parenteau and Irina Tereschenko rounded out the women's side of things. Arnold was an absolute menace in that MLP event, staying in attack mode the entire time and playing BIG in the middle. Wilson had a heck of a tournament too, locking down the right side of things and capitalizing on Arnold's forced pop-ups. If they are able to replicate the success they encountered last weekend, they could be standing on the podium again.

Another team that could interrupt the Johns brothers' date in the finals is Johnson/Frazier, who narrowly lost against them in the last PPA tournament. With no McGuffin in the lineup, Ignatowich, who partnered with his fellow Selkirk-sponsored player last tournament, will play with Navratil. Devilliers is running it back with DJ Young and Loong/Callan Dawson are sticking together.

Podium prediction: 🥇Ben Johns & Collin Johns 🥈Riley Newman & Matt Wright 🥉JW Johnson & Dylan Frazier

Women's Doubles
Irvine is once again on the outside looking in when it comes to top-level teams in women's doubles. It was Irvine who was dropped by Parenteau early last year, (or as they put it, "went separate ways"), which forced her to alternate between Bright, Lindsey Newman and Irina Tereschenko. She had a good thing going with Bright, coming in back to back silvers towards the end of the year; but it seems like the former Cal Bear is looking elsewhere for now.  She is teaming up with David in this tournament and partnered with the teenage sensation, Waters, last tournament, where they won gold.

That leaves Irvine with Regina Franco Goldberg for this go-round. Goldberg is a solid, gritty player, but isn't in that upper echelon of women's doubles players. But Jessie still is! So to find herself with an albeit second-tier player, must be frustrating. Help could be on the way. Just looking at the teams, it's clear there is still some high-level talent that could use a partner of Irvine's caliber. Some that come to mind are Etta Wright (partnered with Brooke Buckner), Andrea Koop (with Jorja Johnson) and Lea Jansen (with Allyce Jones). Parris Todd is also out there somewhere, waiting to make her 2023 PPA debut.

With that being said, AL and Parenteau should get the job done. It won't be as easy though, as Lucy Kovalova/Smith and Bright/David will be lurking in the background. I think if the favorites go down, it's going to be from Bright/David. As previously mentioned, Bright is an incredible left-side player, who could give Parenteau and Waters a lot to deal with. Furthermore, David does an excellent job at getting her two-hander in the middle and wreaking havoc. This team will be super fun to watch.

Podium prediction: 🥇Anna Leigh Waters & Catherine Parenteau 🥈Lucy Kovalova & Callie Smith🥉Anna Bright & Vivienne David

Weather
It should be a pretty solid weekend, considering it will be the first weekend of February. Expect high 60s on Thursday and temperatures in the mid 70s from there on out. The mornings shouldn't be too cold either, which will help the PPA's budget on duras, which seem to break after just a few hits in cold weather. Not too much wind on any of the days, so there shouldn't really be a side advantage. If there was one day to watch out for, it's championship Sunday, with the wind getting up to 9 mph.
The pro pickleball game moves fast. Luckily, we do, too. Subscribe to our newsletter to keep track of pro matches: