Introduction
GRÜVN made a big splash during the CRBN paddle ban because we saw a few pros playing with the brand and many CRBN lovers switch over.  I know many that permanently converted, so I had to give GRÜVN a try for myself. The current GRÜVN Raw Carbon Fiber lineup comes in Elongated (16E), Standard (16S), Hybrid (16H), and Round (16R).  I am reviewing the 16E and the 16S.
Right out of the box the first thing I noticed was the bold purple edge guard that accented the black 16S paddle beautifully.  Can we get more eye-popping colors like this, please?  
The second thing I noticed was the 3D Premium Perforated Cushion Grip the 16S has.  This grip has been my favorite grip by far.  It just feels so nice in your hand and the perforated aspect of the grip keeps your handle dry.  Maneuvering this paddle at the net is such a breeze.
All my observations have come after a month of playing 4 times a week.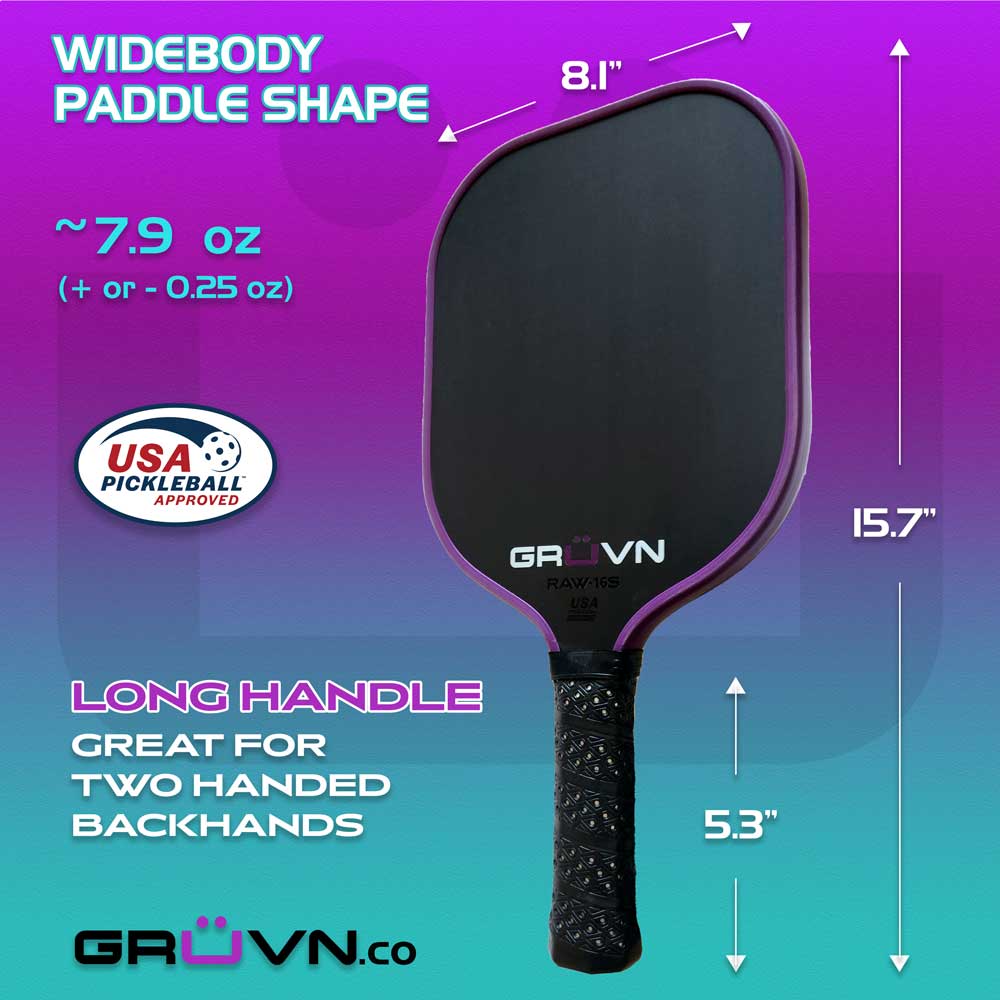 Control – 5/5 Raw-16S
The GRÜVN Raw-16S and Raw-16E have a 16mm thick polypropylene honeycomb core as the names suggest.  Going in I was expecting decent control from both and that is what I ended up finding.
The 16S had maximum control at the NVZ this paddle as placing my drives, my dinks, my third shot drops, lobs, and volleys were easy.  The control I had with my dinks combined with the spin made me very happy. Resets seem to be a strong point of this paddle as I was blocking and resetting amazingly. Blocking fast drives with this paddle was not an issue.  If you can handle putting extra weight on the paddle the GRÜVN  16S just gets better.  The stock grip helped keep me under control on blocking drives and speed-ups.
Power - 4/5 Raw 16-S
For 16mm paddles, these are lacking a little bit of power, but that can be attributed to the midweight of both paddles.  The slight power reduction might be a good thing for me as I was not hitting serves long and was keeping them deep with the freedom to swing at full speed.  
If you don't like to hold back and create enough of your own power, then this paddle is a perfect fit for you.  No rocket ships will be launched with this paddle, but your game will be under control.   The sweet spot gave a lot of room for error as I felt the power was consistent until you got to the edges.
I think the 16S gets the power edge due to the longer handle being able to generate more speed.  Usually, you would expect the elongated version of the paddle to have a longer handle than the standard version but that is reversed in this situation.  I would love to see an elongated GRÜVN with a longer handle and less paddle length.  
Spin - 5/5
The amount of spin that the T700 raw carbon fiber surface produces is in the same tier as the CRBN and Joola Hyperion CFS.  I don't think I was getting as much spin as the Joola Hyperion CFS. The surface doesn't feel as gritty as a CRBN, but I was ripping big top spin shows with this paddle. I was able to generate the great spin I have ever had on my serves and drives.  My backhand slices were spinning just as well.  My forehand and backhand rolls were diving off my paddle and causing a lot of problems for my opponents. If you love spinning, then this paddle will let you do what you love.

Aesthetic - 4/5 Raw-16S
The design may be simple, but it is a bold color that I like.  The GRÜVN Raw-16S is an all-black paddle with the GRÜVN logo in white letters (except for the Ü in purple) with an all-purple edge guard.  The purple edge guard makes this paddle stand out and I got a lot of compliments when I was playing with it from people saying "Wow, what is that beauty?"
If you haven't played with a carbon surface before don't be alarmed by the remains of the ball being left in your paddle.  After every hitting session, you will add little pieces of pickleball into the grooves of the carbon that can be cleaned with a wet cloth.
Final Conclusion - 18/20 Raw-16S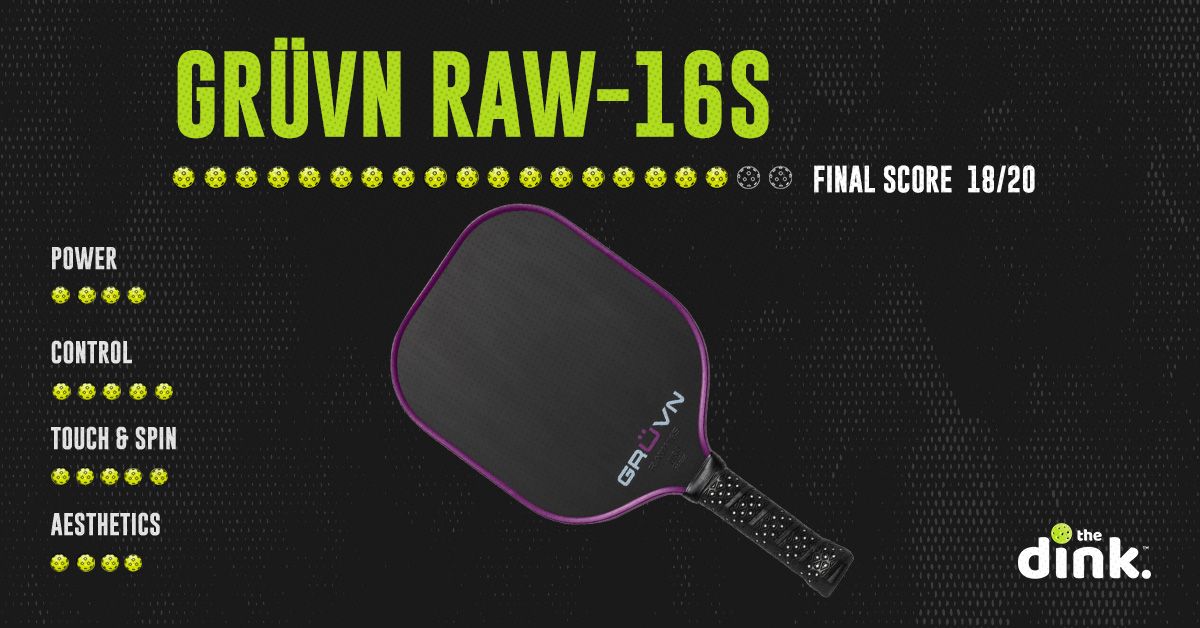 Should you buy the GRÜVN Raw-16S paddle?
If you love standard widebody paddles, want a lot of topspin, don't need maximum power and you also want to use a 2-handed backhand, I want you to try the GRÜVN Raw-16S.  Don't forget the amazing grip!
This is a well-rounded paddle that I have very few complaints about, and I wouldn't hesitate to recommend you buy this or demo it to see if it is the match for you.
The GRÜVN Raw-16S  has a retail price of $159.00. These are premium paddles at a discount compared to many of the other premium paddles on the market going for $200+. These paddles offer elite spin, the best stock grips I have used (when going with the 3D premium perforated cushion grip), great control, and adequate power for 16mm paddles.  These are high-quality paddles that will not disappoint you.
The GRÜVN Raw-16S paddle is built to fit a player that wants elite spin, prefers a wide body, loves control, and is excited by fast hands at the net.
Raw-16S
MATERIALS:
Carbon Fiber + Polypropylene Honeycomb Core
THICKNESS:
16mm
WEIGHT:
230 g / 8.1 oz
LENGTH:
398 mm / 15.7 in
WIDTH:
205 mm / 8.1 in
GRIP LENGTH:
135 mm / 5.3 in
GRIP CIRCUMFERENCE:
111 mm / 4.375 in
Want another opinion on the GRÜVNs? Check out the pickleballpirates review below.
https://www.youtube.com/watch?v=Vte1uS09nWU
https://www.youtube.com/watch?v=VEMUZ3NT71Y
Looking for more paddle reviews?  You can check them out here.
https://www.thedinkpickleball.com/tag/pickleball-paddle-reviews/