Between rep counts, proper form, macros, and that guy who won't stop hogging the leg press...there are all too many distractions at the gym, the local Y, or wherever you exercise. A gym bag shouldn't be one of them.
Get your gear in line with Haven Organized Duffels, gym bags for athletes who need to stay focused on achieving their goals (not fussing with their gear).
No more frustration or anxiety digging around for gear, wondering where you left it. Easily see everything in your bag with our structured interior and don't worry about durability with our 5 year warranty.
These gym bags force your gear into a constantly-organized state, so it's easily accessible and keeps your gym experience smooth.
There are no other bags like Haven's – even an NFL player agrees:
"...the best, most easily organized bags out there. I couldn't imagine ever going back to a basic old gym bag." — Luke Rhodes, Indianapolis Colts' Long Snapper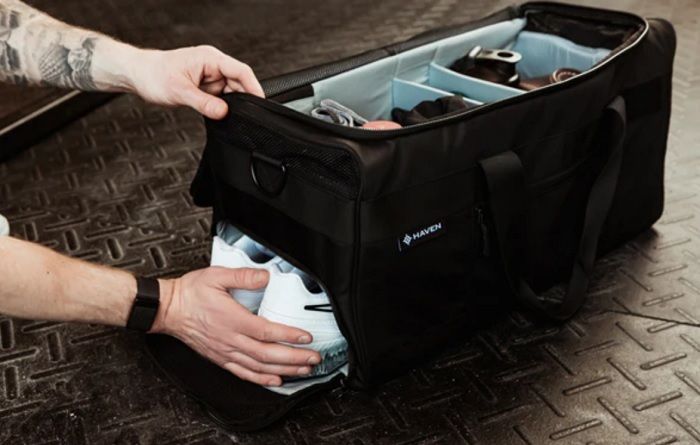 Haven Athletics Gym Bag Features:
Six to eight interior compartments separated by sewn-in dividers, eliminates the clutter
Structured exterior and interior so the bag doesn't slump anywhere
Structured area for your shoes that's also vented so they don't touch your other gear and can air out
Side mesh pocket for sweaty gear
Front zip pocket for cell phone and keys
Two zippered pockets on the inside for gear and smaller things like hair ties or jewelry
Magnetic handle clasps
Water bottle pocket that actually holds your bottle in
Learn more about Haven and compare their products here.