The BioFreeze 2023 USA Pickleball National Championships are underway in Dallas. Apparently, everyone got the memo except Mother Nature.
Rain all day yesterday moved play inside and may have played a part in the biggest upset of the weekend.
Ben Johns has been vocal about preferring to play outdoors. His 108 match win streak ended in a similar scenario when rain moved play indoors at the Tournament of Champions in 2021.
Yesterday, he lost in two straight games to the 16-seed Chris Haworth. Haworth has been steadily improving and finding podiums on the APP Tour in 2023, but this is the biggest win of his career. Can he parlay it into a Nationals win?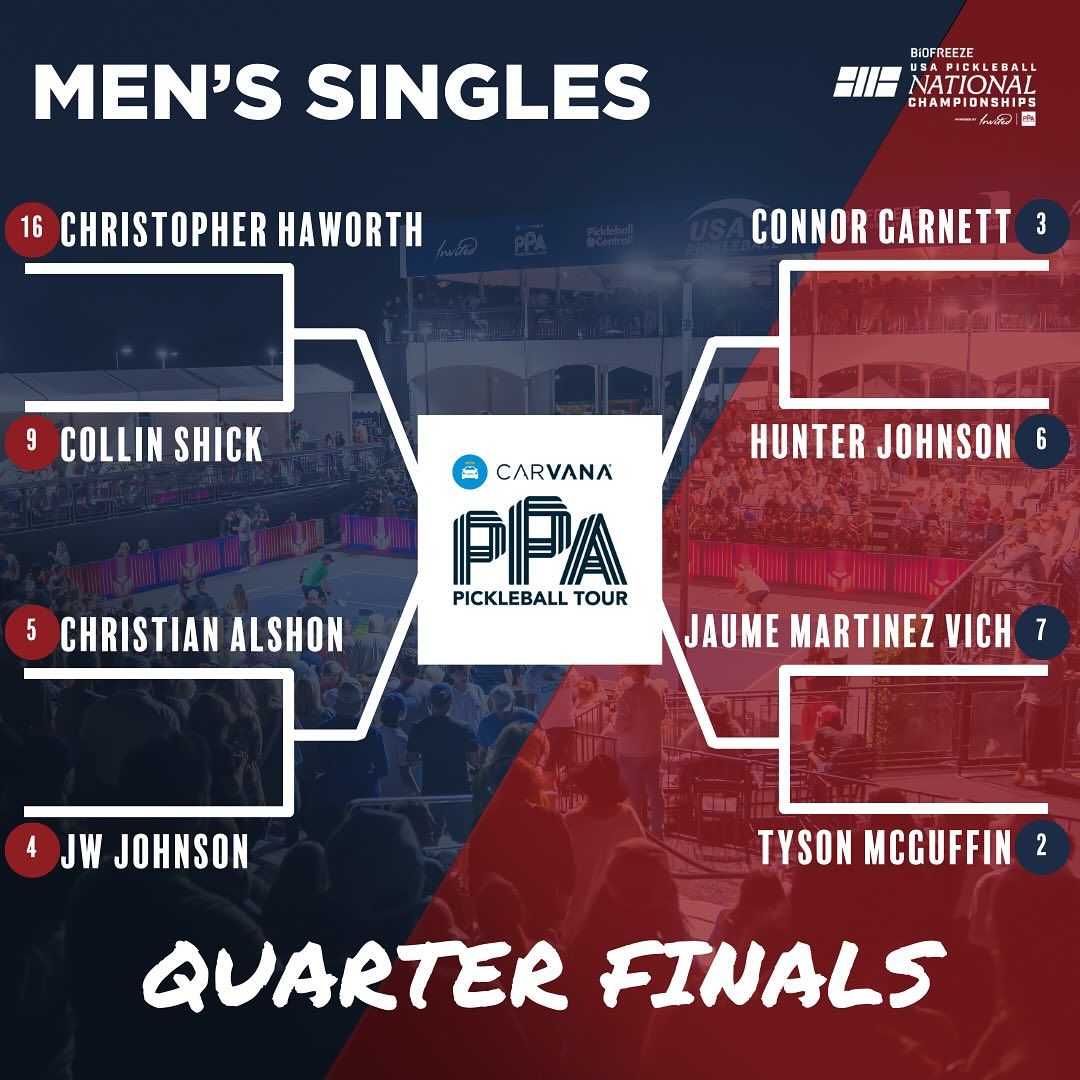 Progression Draw
This week has been the debut of the progression draw and pickleballtv.
In the progression draw, one only round of each division is played each day. Today is the Quarterfinal round. The semifinals will take place tomorrow. The week will conclude with the finals on Championship Sunday.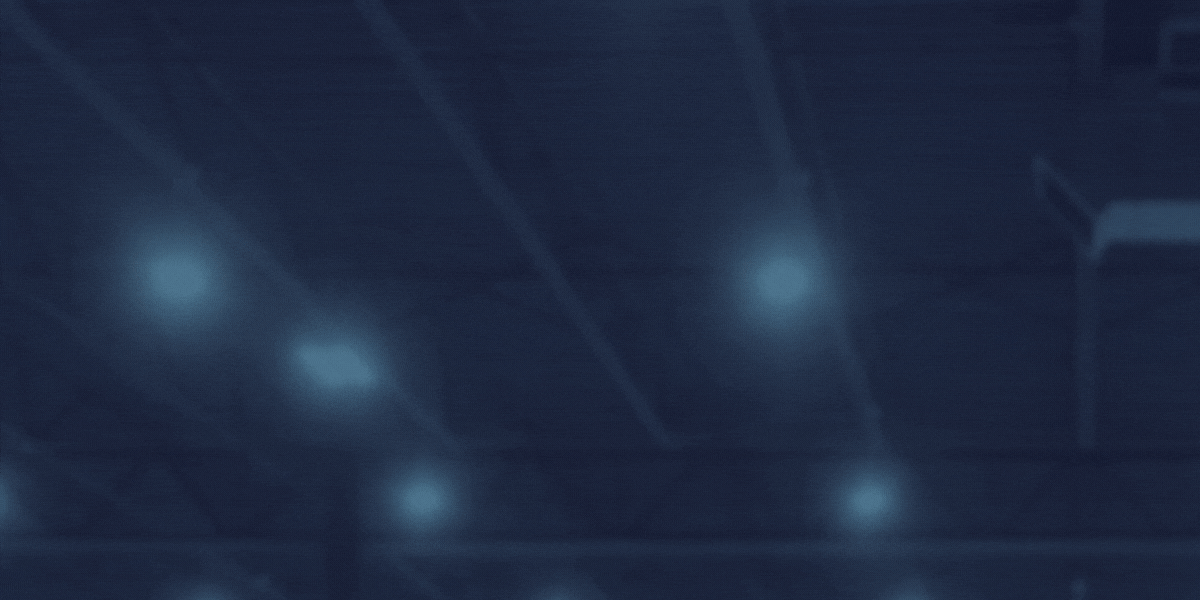 The progression model is similar to professional tennis tournaments and a change in the pickleball landscape. The decision makes sense for a couple of reasons. The first is that traditional pickleball tournaments used to be a marathon.
Players would play upwards of 7, 8, 9 matches to win gold. The implementation of a qualifier draw and Championship Sunday helped eleviate that marathon but the progression draw spreads things out to one additional day (Wednesday).
It also gives time to regroup before each round. It makes the matchups seem more exciting and allows for anticipation. If betting is going to exist in pro pickleball, the progression draw has to be in place. There needs to be enough time for lines to be created and bettors to place their bets.
Pickleballtv is the new broadcasting product of the PPA Tour and Tennis Channel. This week has featured a new look including a broadcast desk where players are interviewed after a win and features 24/7 pickleball content.
Okay back to the action.
Women's Singles
One of the most exciting matches of the weekend was a three-game battle between Jorja Johnson and Simone Jardim. Johnson prevailed in front of a packed crowd to advance to the quarterfinals.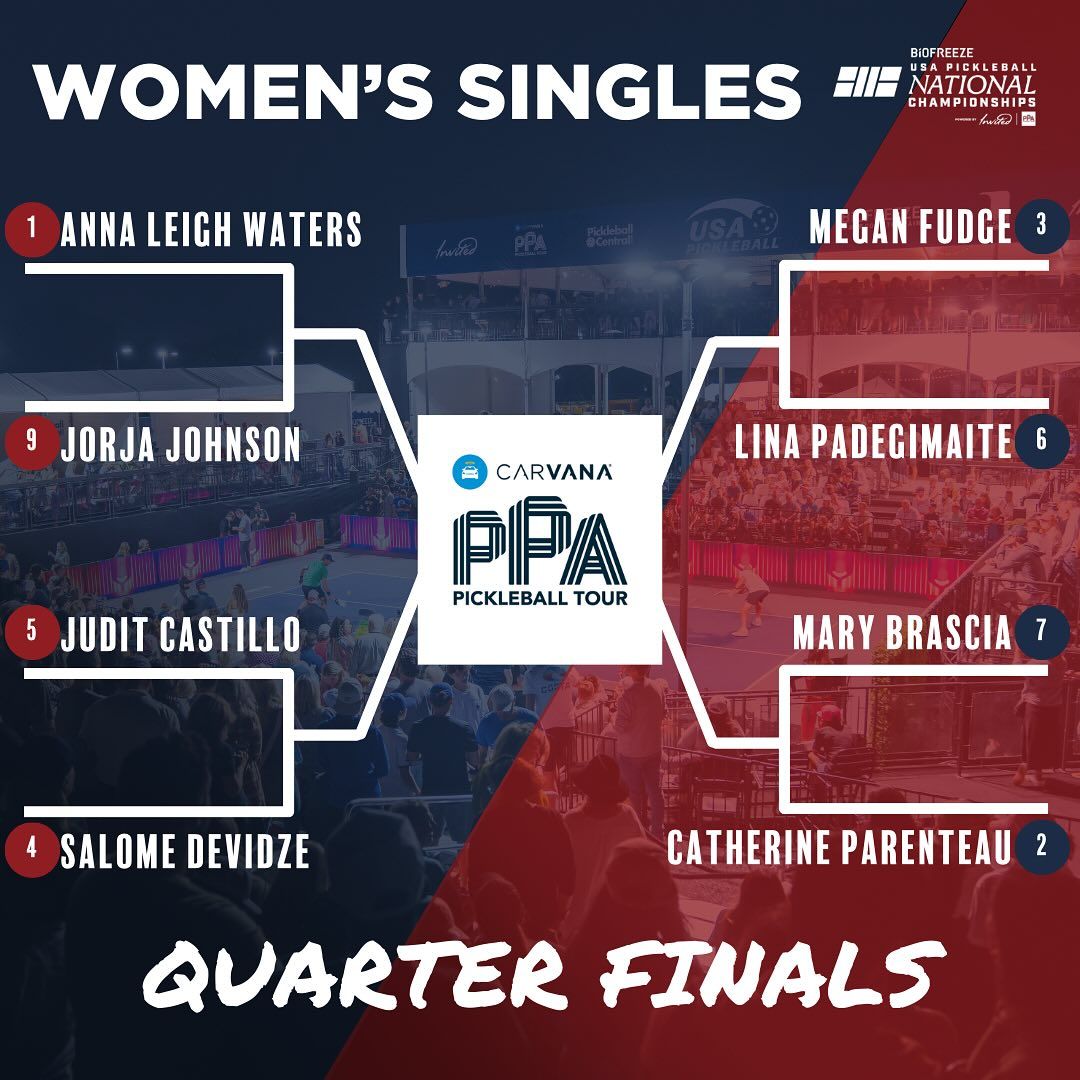 This bracket, as usual, is Anna Leigh Waters' to lose and she doesn't lose. Expect to see her with three golds on Sunday.
Women's Doubles
See above. ALW and Catherine Parenteau are heavy favorites in the field. A final with Anna Bright and Jade Kawamoto would make for a great final though. If anyone has a chance to break their winning streak it is Bright and Kawamoto.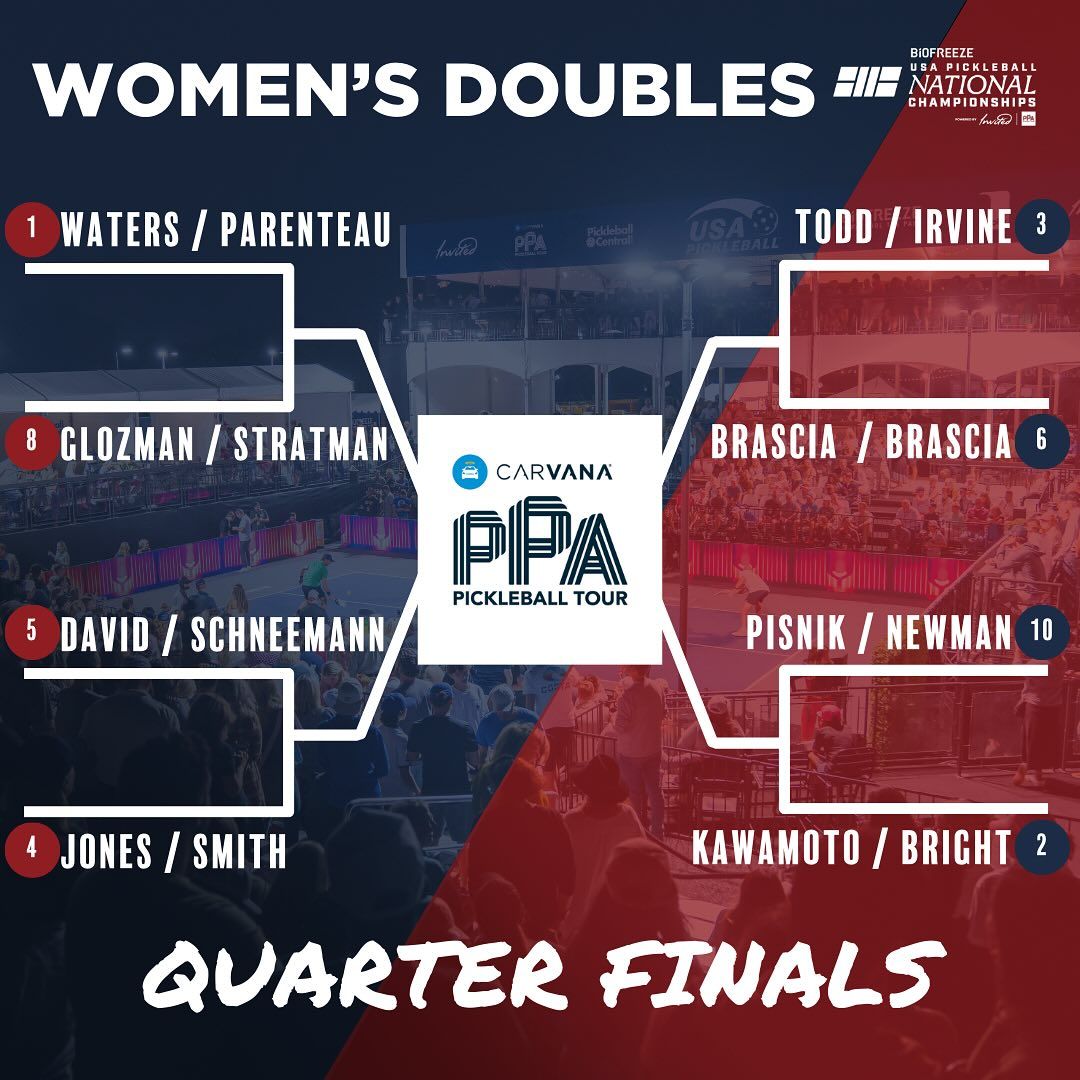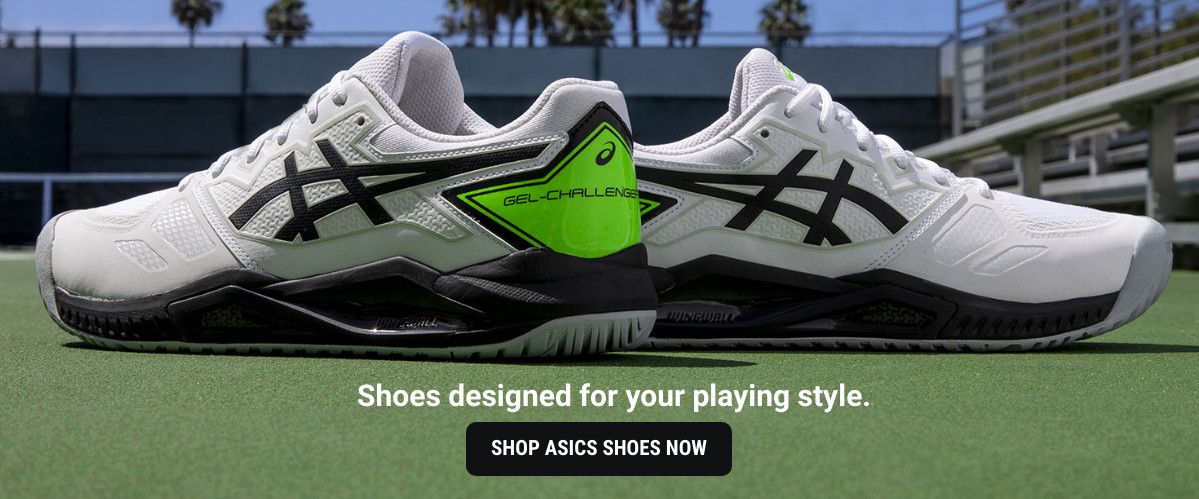 It's time to upgrade your shoes. Save 10% at fromuthpickleball.com with code 10DINK.
Men's Doubles
The other big upset yesterday was a victory for Hayden Patriquin & Callan Dawson over Tyson McGuffin & Andrei Daescu. This match thrilled the Championship Court crowd. Big H and the Lob Doctor were tossing lobs up and over the Romanian Tower with the benefit of indoor conditions.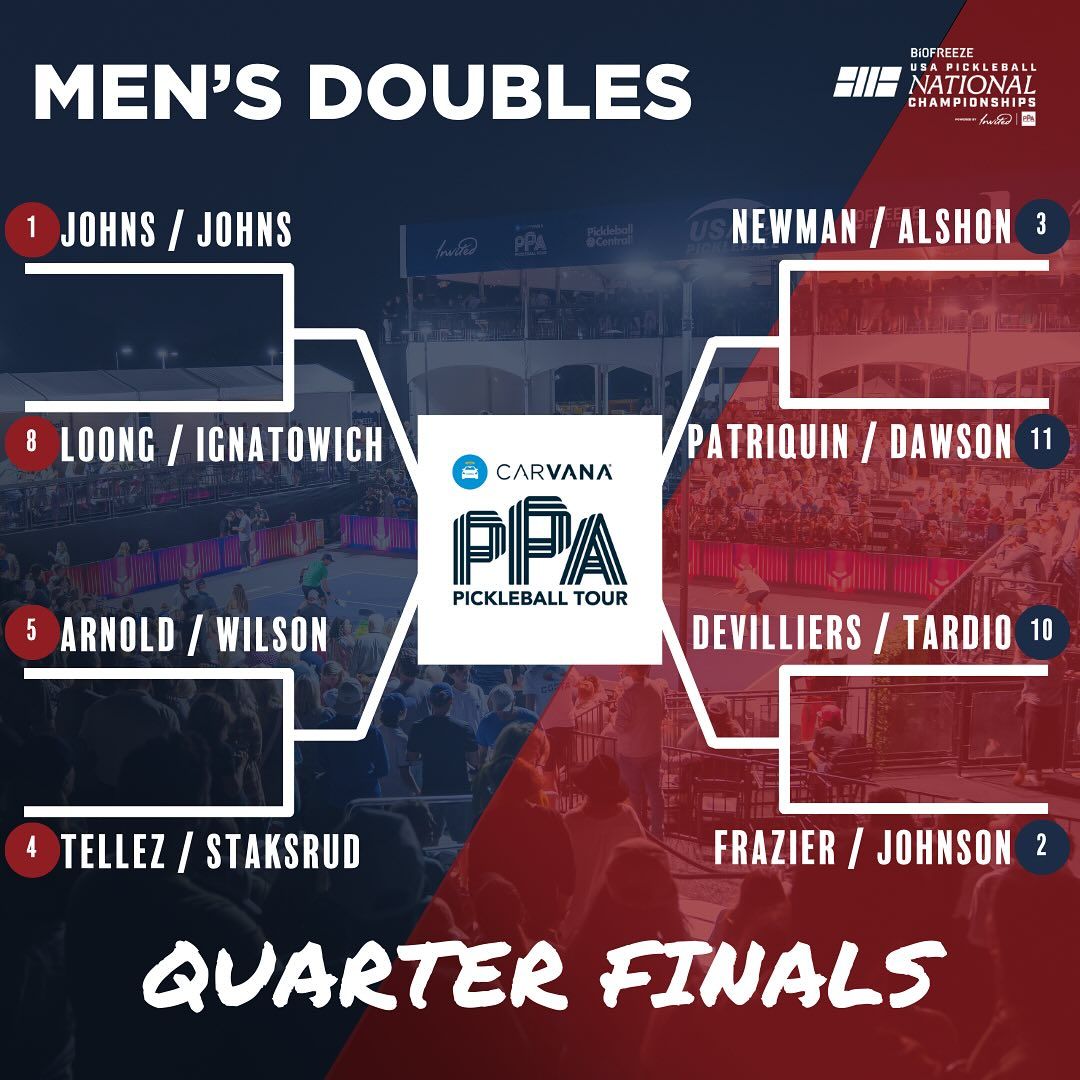 Last night featured a thriller between James Ignatowich/Tyler Loong vs Rafa Hewett & Connor Garnett. It took 5 games to decide a winner.
Side note: Best three out of five is too long for anything before the semifinals.
Loong and Big Poppa Jimmy eeked out the win and their prize?...a date with the #1 team in the world Ben and Collin Johns.
Mixed Doubles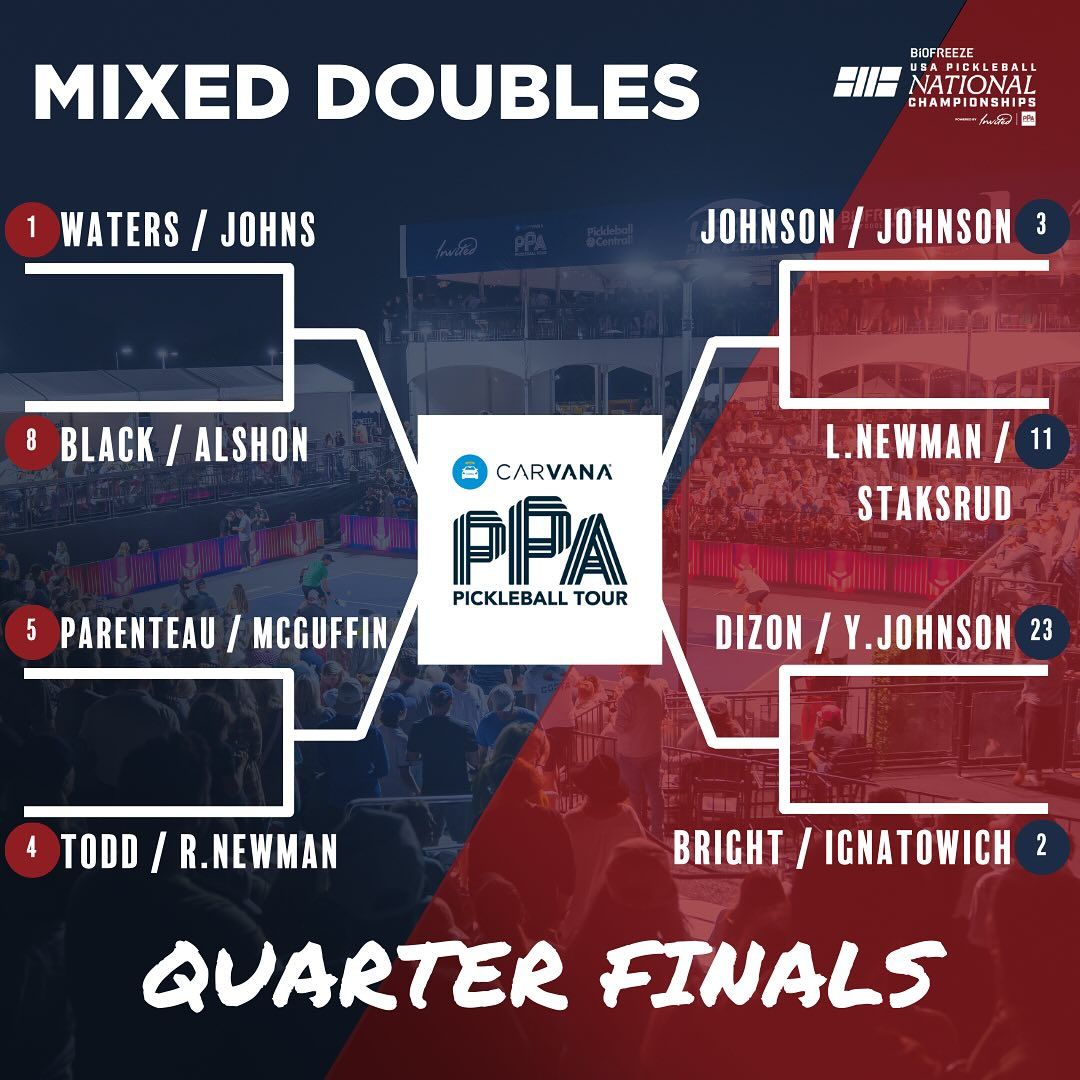 Mixed doubles has belonged to Ben and ALW this year and there are no signs that will change in Dallas. With Ben out in singles he will be even more focused on doubles. There is no more rain in the forecast and the rest of the event will likely be outdoors.
The Johnsons are back in the mix in Dallas as the three-seed. We could see another meeting between them and the top seed in the finals where I'm sure Ben and ALW would like a little revenge for their loss in AZ.
Tune into the Quarterfinals now and follow @pickleball on Twitter (X) for updates all weekend long.
Subscribe to the 3x Dink Newsletter to up your game and stay in the know on all things pickleball.