Players have been dropping left and right due to injury. First, it was Adam Stone, now Rob Nunnery and Wes Gabrielsen have both dropped out. Filling in for Nunnery is Pablo Tellez, a singles standout on the APP Tour. Gabrielsen will be replaced with a fan favorite known as 'Big H', sixteen year old, Hayden Patriquin.

Pool C
Ranchers | Lions | Hard Eights | The 5's
The Nunnery injury is a blow for The 5's who were an early favorite to win the whole event. Pablo Tellez has all of the talent you could ask for but has not been able to make a run at any doubles titles. Luckily he will be paired with Erik Lange who is big enough to cover the court by himself.
Ranchers - Team DUPR 24.194
Team Owners: Bryan Sheffield, Tim Klitch
Team Members:
Anna Bright (9, 5) Doubles DUPR 5.760
DJ Young (16, 8) Doubles DUPR 6.642
Austin Gridley (34, 17) Doubles DUPR 6.438
Maggie Brascia (39, 20) Doubles DUPR 5.354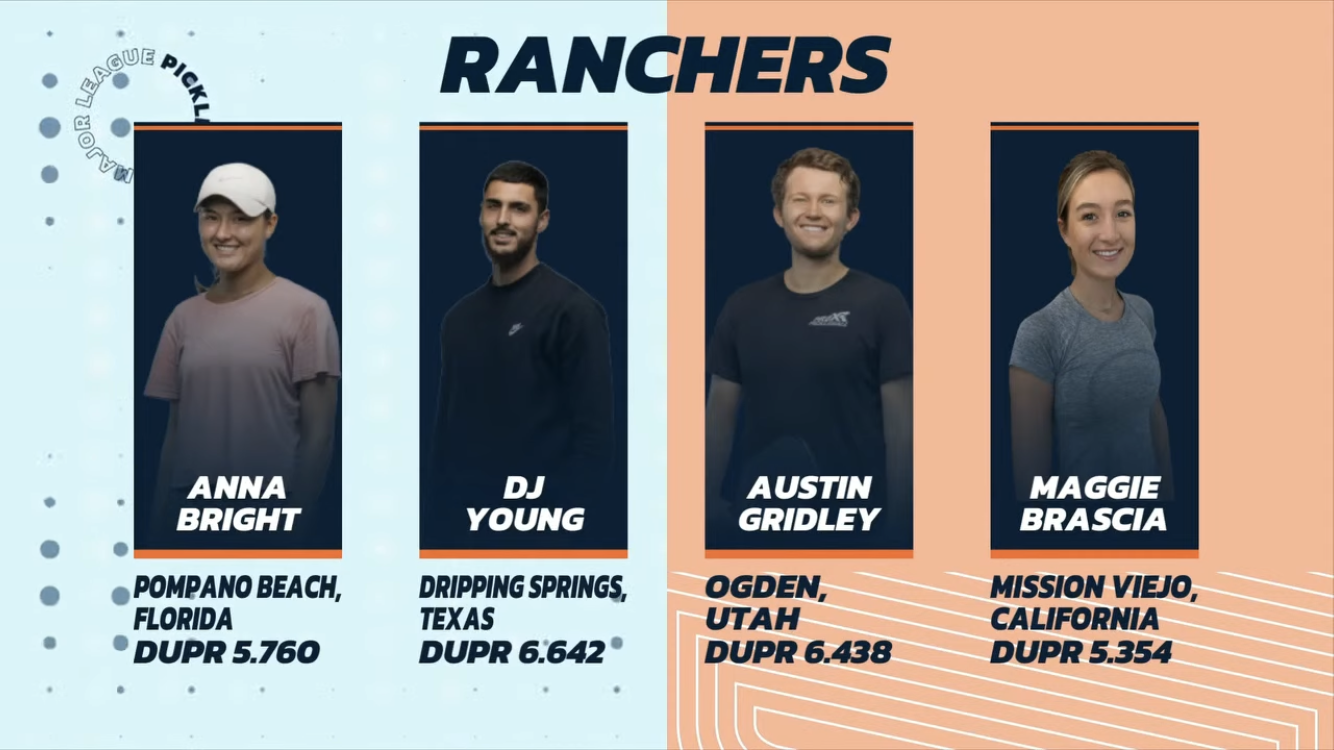 ---
Lions - Team DUPR 24.215
Team Owners: Marc Lasry, James Blake
Team Members:
Thomas Wilson (10, 5) Doubles DUPR 6.709
Bobbi Oshiro (15, 8) Doubles DUPR 5.603
Corrine Carr (33, 17) Doubles DUPR 5.459
Chuck Taylor (40, 20) Doubles DUPR 6.444
---
Hard Eights - Team DUPR 24.327
Team Owners: Rick Chan
Team Members:
Jorja Johnson (13, 7) Doubles DUPR 5.658
Andrei Daescu (12, 6) Doubles DUPR 6.689
Susannah Barr (35, 18) Doubles DUPR 5.589
John Cincola (28, 19) Doubles DUPR 6.391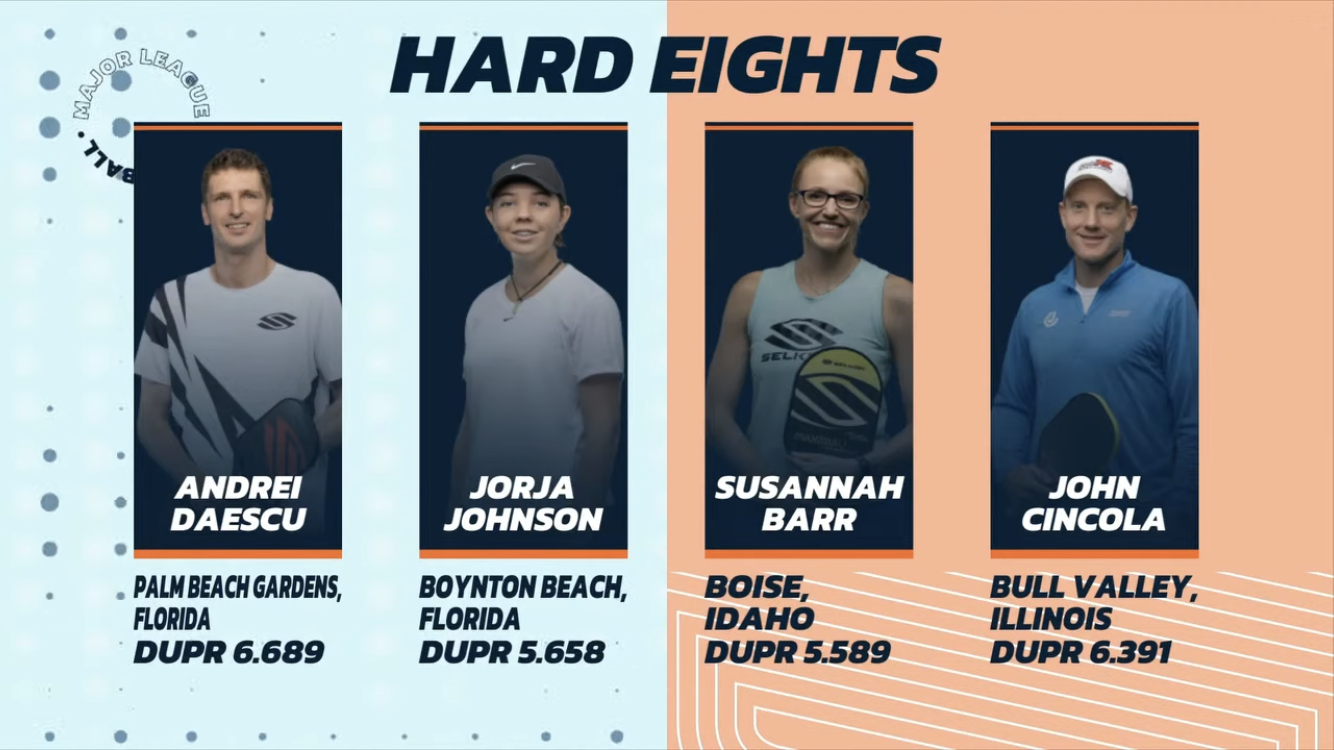 ---
The 5's - Team DUPR 23.899
Team Owner: Gary Vaynerchuk
Team Members:
Simone Jardim (7, 4) Doubles DUPR 5.834
Pablo Tellez Doubles DUPR 6.114 sub for Rob Nunnery
Erik Lange (32, 16) Doubles DUPR 6.551
Lina Padegimaite (41, 21) Doubles DUPR 5.390
Pool Play
With Nunnery, The 5's were a favorite in this pool but now it is anyone's game. The Ranchers are a team that has been attracting attention and deservedly so. Anna Bright is one of the top rising stars in pickleball and can hang with anyone on the court.
The middle round gems of DJ Young and Austin Gridley will make one of the best men's teams in the competition. We have not seen Maggie Brascia in many recent tournaments but being paired up with anyone on the Ranchers will take a lot of pressure off their 4th round selection.  I like the Ranchers to finish with the best record in this pool and advance to the knockout stage.
Also Advancing
My second pick to advance out of this pool is the Lions. Grabbing Chuck Taylor late in the draft feels like a steal. They get some veteran leadership with the Prof, Corrine Carr, and playmaking ability of the #5 men's player selected, Thomas Wilson.

One of the bigger question marks for this team is Bobbi Oshiro. Blake and Lasry must have seen something they like in Oshiro taking her as the eighth female off the board. She has good results in 2022 pairing with Anna Bright but has not had the same success in mixed doubles.
As we know from last year, MLP is a great place to prove yourself i.e. Lee Whitwell and Vivienne David last year. Maybe this year will be Oshiro's season to break out.

Simone's Debut
This is the first time we will see Simone Jardim in the MLP format. She is not only one of the best players in the game but also a top of the line instructor. In a team format like this, she will be valuable on and off the court, helping The 5's get better throughout the event.
Roll the Dice
The Hard Eights are a bit of a mystery. All four players have great tournament experience and collectively they might have the most pro medals this year. A lot of their success will come down to how well the team is able to play together.  They have the highest DUPR in the pool and would not be a surprise to run the table and go 3-0 in pool play (DUPR has a pretty solid track record).
This pool is bound to produce some of the most exciting points and closest matches in the competition.