The first-ever MLP game is live now! Catherine Parenteau and Yana Grechkina of the ATX Pickleballers are taking on Irina Tereschenko and Andrea Koop of BLQK. We have an awesome start to the event. These two teams have been battling back and forth and got as close as 12-12 late in the game. Tereschenko and Koop closed out game 1 with a couple of surgical approaches to the kitchen line. Patience and precision in the transition zone caused errors from their opponents and clinched the final 3 points of the game. We have our first ever MLP game in the books!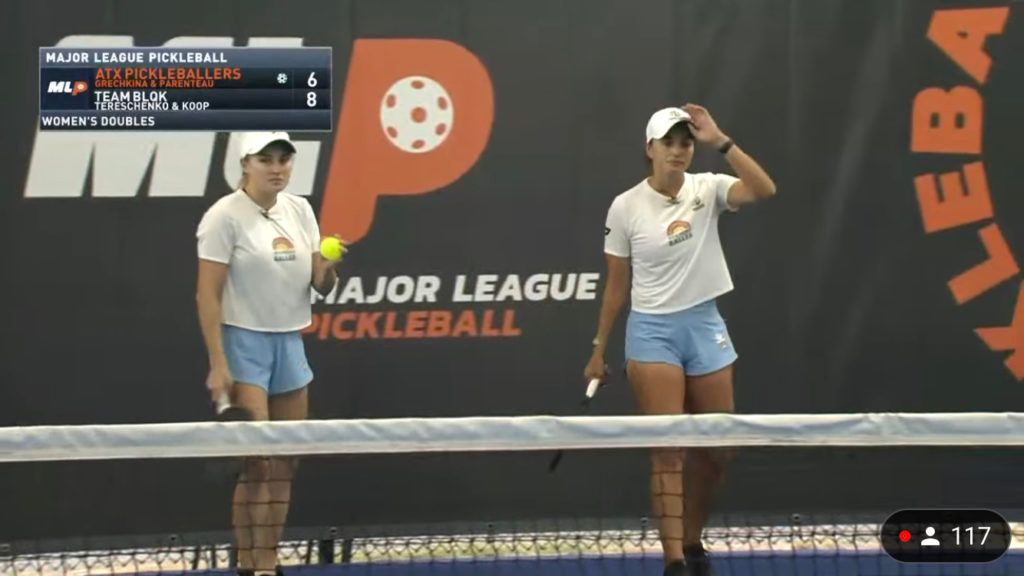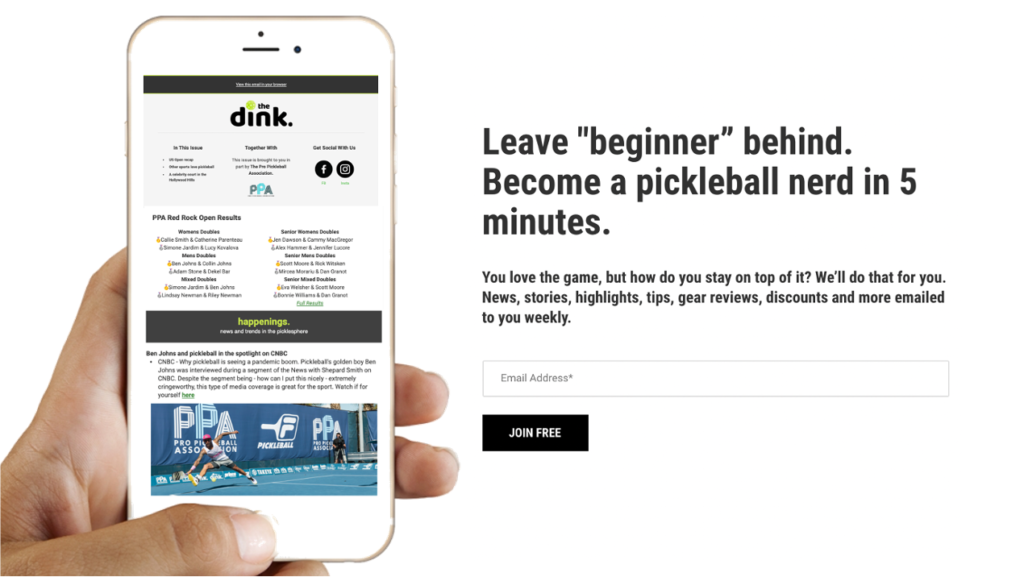 Next up is Ben Johns and Rob Nunnery of BLQK taking on Tyler Loong and Pat Smith of the ATX Pickleballers.
Ben Johns and Rob Nunnery had their chemistry on display, getting off to a hot start together. They were up all match with the biggest lead at 10-3. Pat Smith and Tyler Loong were having some trouble getting on the same page and actually had a little friendly fire. A ball that clipped the net and went over Loong's head was tracked down by Smith. In the I-formation at this point, Smith's forehand went directly into the head of his partner and ended the point. Johns and Nunnery went on to win 15-8.
Coin Flip
The ATX Pickleballers lost the coin flip and had to select their mixed doubles pairing first. They chose CP and Loong to take the court. BLQK then had the advantage to match this with their choice. Up 2-0 in the match, they only needed to win one of the remaining mixed games. Interestingly enough they selected to match CP and Loong with Johns and Koop.
This is the opposite of what I would expect, but maybe they are trying to win all four games in this match instead of just taking the best odds at winning 3 games. Johns could have his eye on an end-of-season tiebreaker where game total, not just record comes into play.
Uh Oh
The first mixed game was everything you could ask for. A big comeback from the ATX Pickleballers, neck and neck down the stretch, and a crazy finish. ATX fought off three match points and won the final three points to close the match 15-14. This keeps them alive in the match and makes the fourth game, the most important one yet.
We are going to singles!!
Pat Smith and Yana Grechkina pulled it off. They beat Irina Tereschenko and Rob Nunnery 15-12 to win game 4 and force a singles tie breaker. In the very first match of MLP we have out singles tie-breaker.
Team BLQK will have to set their lineup first and the ATX Pickleballers will be allowed to match it however they choose!
Team BLQK got all the way to 14-10 but you have to win your match point as the server. Tyler Loong was able to comeback to 13-14 before handing the ball back to Grechkina. At 14-13 we had the first video challenge. A shot from Grechkina was called wide and confirmed by video replay to give BLQK the victory in the first match of MLP!
What an insane morning and start to the event.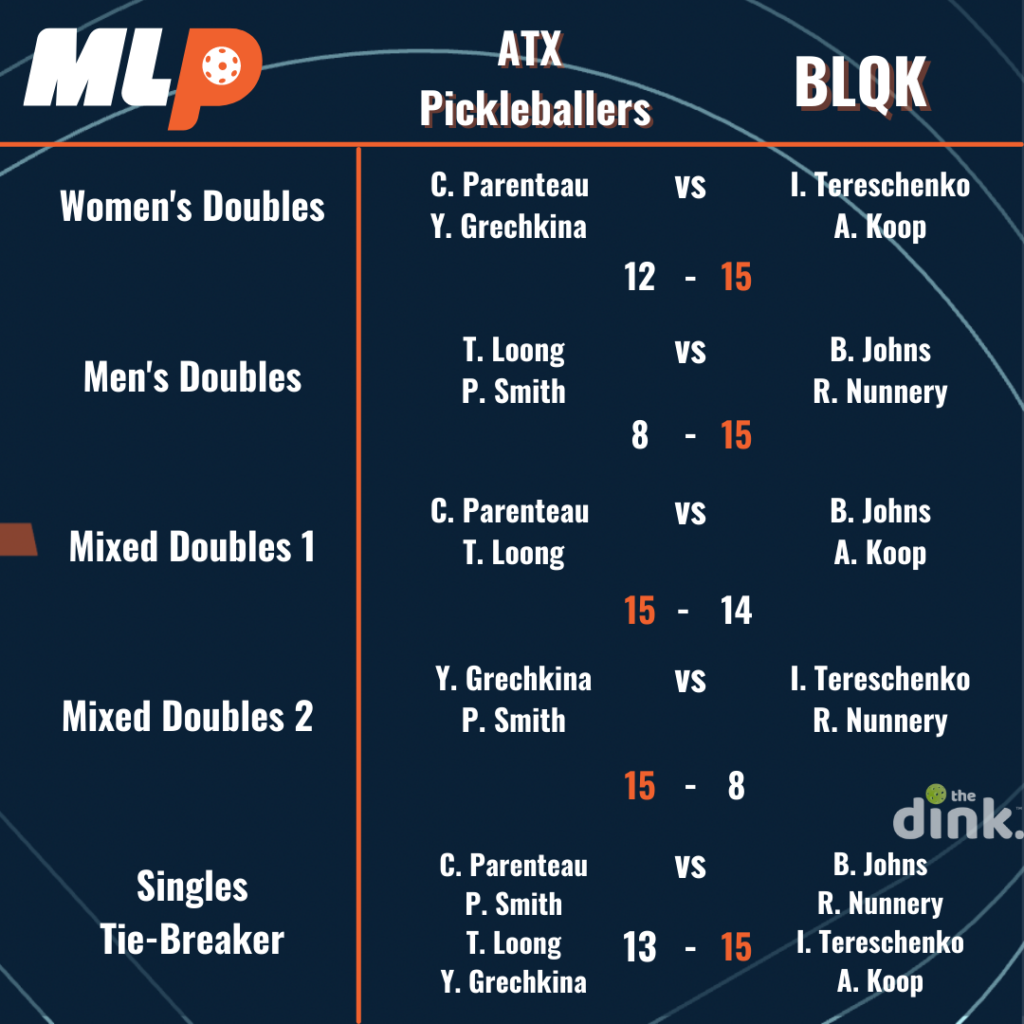 Chimeras vs Team Clean
Match two started with Anna Leigh Waters and Lee Whitwell teaming up to take on Callie Smith and Corrinne Carr. Anna Leigh rarely plays women's doubles with a partner other than her mom so this match was definitely of interest. Whitwell was a great fill in and they won the match fairly easily 15-9. Whitwell is left-handed so the middle of the court is well protected for this team.
In men's doubles, AJ 'Machine Gun' Koller and Kyle Yates of the Chimeras had a big, early lead over Adam Stone and Dekel Bar of Team Clean. They were up 12-5 before Bar & Stone started their comeback. They scored 6 unanswered points to move to 11-12. Koller & Yates made a final surge to get to 14-11 but could not close out the game. Bar & Stone refused to give up that last point and came back again to win the match 15-14.
These two teams split in mixed doubles with Callie Smith and Dekel Bar winning the first match and Lee Whitwell and AJ Koller winning the second.
For the second time in two matches, we're going to a singles tie-breaker.
Singles Tie Breaker
| | |
| --- | --- |
| Chimeras | Team Clean |
| Lee Whitwell | Dekel Bar |
| Kyle Yates | Callie Smith |
| AJ Koller | Adam Stone |
| Anna Leigh Waters | Corrine Carr |
This was another thriller and the women's players put on a show. On the second cycle of players Lee Whitwell took not 1, not 2, not 3 but all 4 points off of Dekel Bar. Then Callie Smith did the same exact thing to Kyle Yates. This left Adam Stone to try to stop AJ Koller from closing the match. While Stone is a great doubles player, there was no stopping Koller from closing out this match.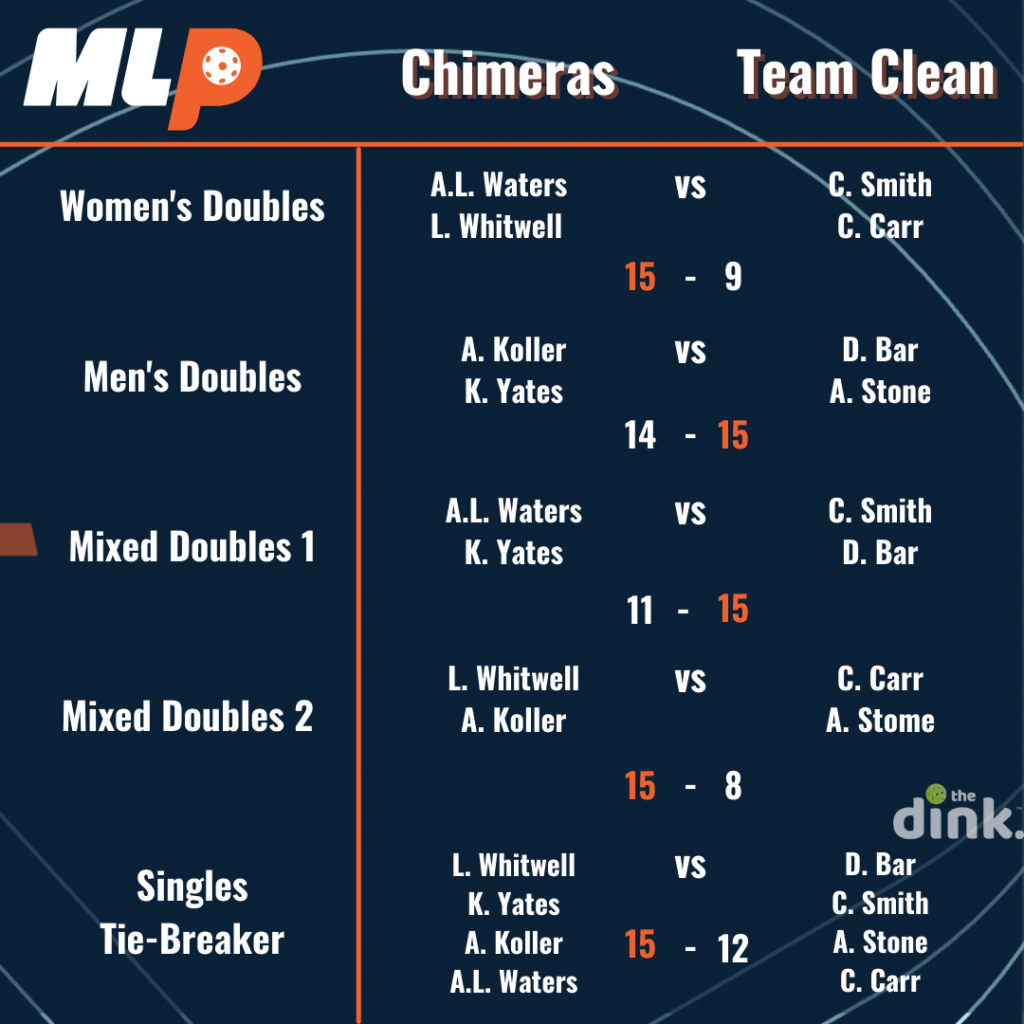 Discovery Warriors vs The Lions
This game took place on the Grandstand court. The Discovery Warriors won all 4 games in the match to start their season 1-0.
Pickle Ranchers vs Team Rally
It was a battle in women's doubles. Newman and Waters took some time getting used to each other and almost let this one slip away. They held on tight when the game when to double digits and squeezed out a tight one 15-14.
The men's match looked like a couple of older brothers taking on their younger brothers.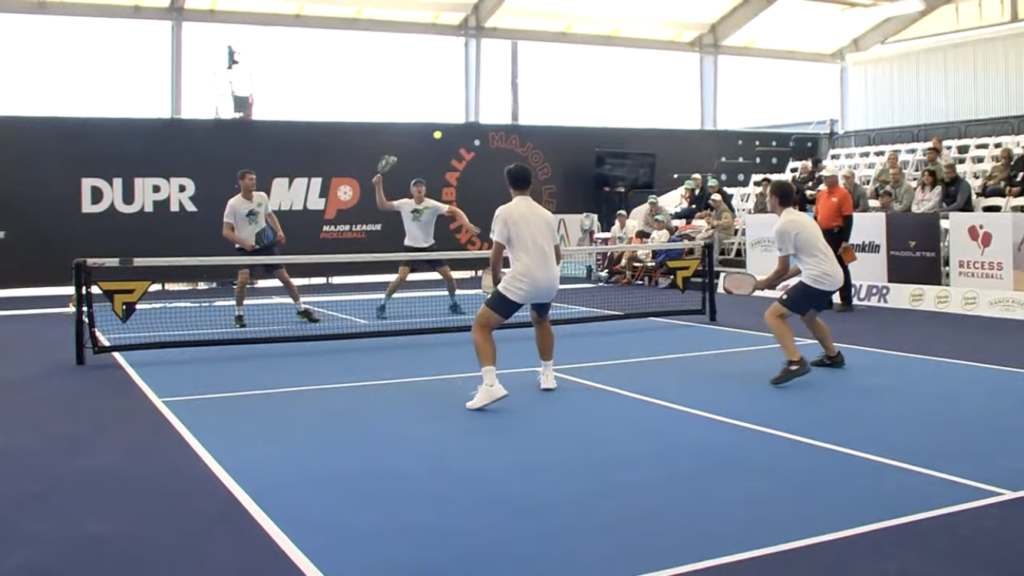 They had a competitive match but the length of the Ranchers was a little bit too much to handle.
The Ranchers were the home team and elected to save the Newmans for game four to avoid Jessie Irvine and JW Johnson. I think this is the smart play. Instead of going for all four games. Stack your lineup to give yourself the best odds in 3 games.
Irvine and Johnson got the win in game three. For some reason, they were testing JW Johnson's hands and most of the time he is going to pass that test and win the point.
The win from Team Rally put a little more pressure on team Newman in game 4. They went down 7-1 to Dylan Frazier and Susannah Barr. It was only a matter of time before the Newmans found their footing and put some points on the board. Once that started there was no stopping them. They rallied against team Rally and finished off the match  by winning the race to 15, 15-12.3212q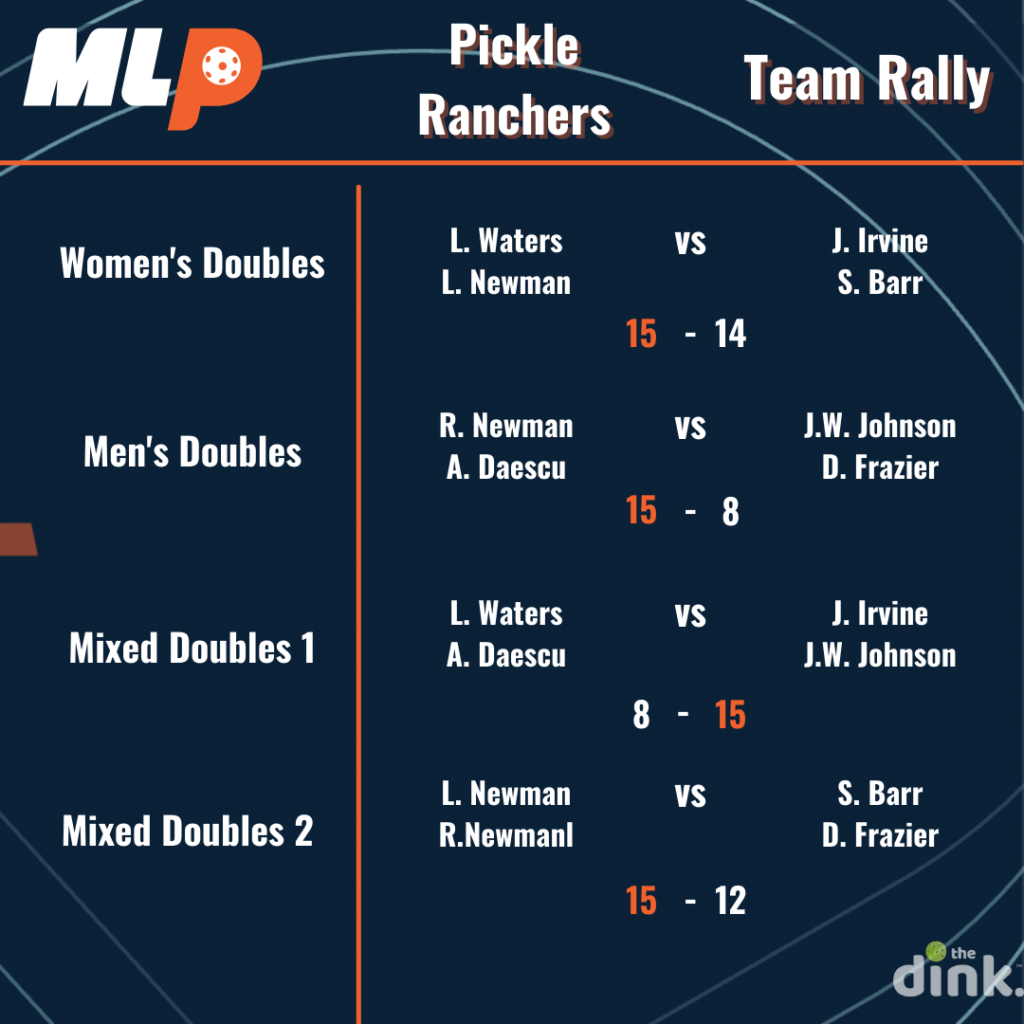 ---
Round 2
Chimeras vs ATX Pickleballers
The Chimeras were on fire in their second-round matchup. Waters and Whitwell set the tone with a 15-2 win. Then AJ Koller had back-to-back thrilling, one-point wins in men's doubles and mixed doubles. This gave the Chimeras their third win and clinched the match win. To complete the sweep, Yates and Waters won game four 15-11.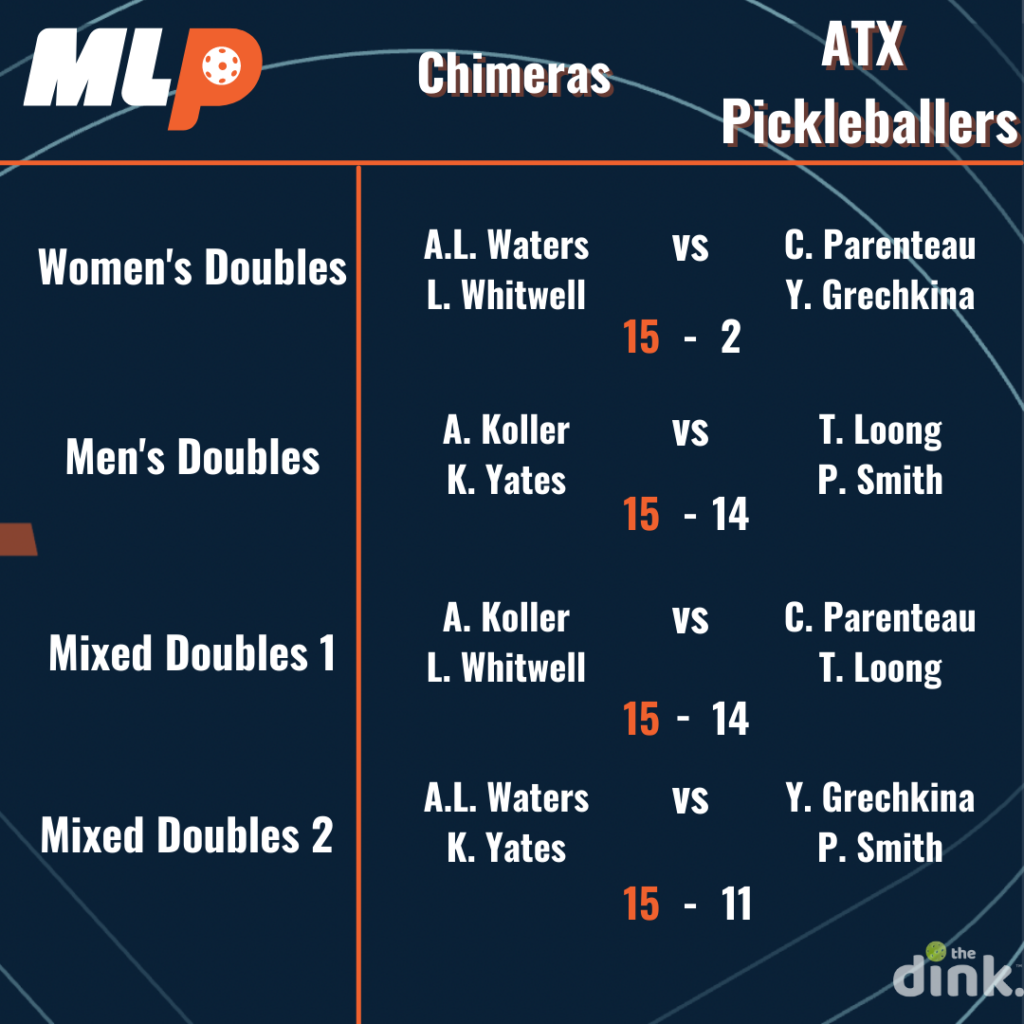 Discovery Warriors vs Pickle Ranchers
This was one of the most shocking matches of the day. A clean sweep from the Discovery Warriors. The first two games were pretty even on paper, the odds would have been close to 50/50. The third game, however, was expected to go to the Newmans. They are one of the best-mixed teams in the game and the team of David & Navratil have almost no experience together.
David and Navratil were on fire in this game and looked great together. Not only did they beat the Newmans but they held them to only four points in the game. The final game of the match was the only one that was close on the scoreboard. It looked like Waters & Daescu were going to close out game four and had a couple of game points to work with. But today was the Warriors' day and they came back to win game four 15-14.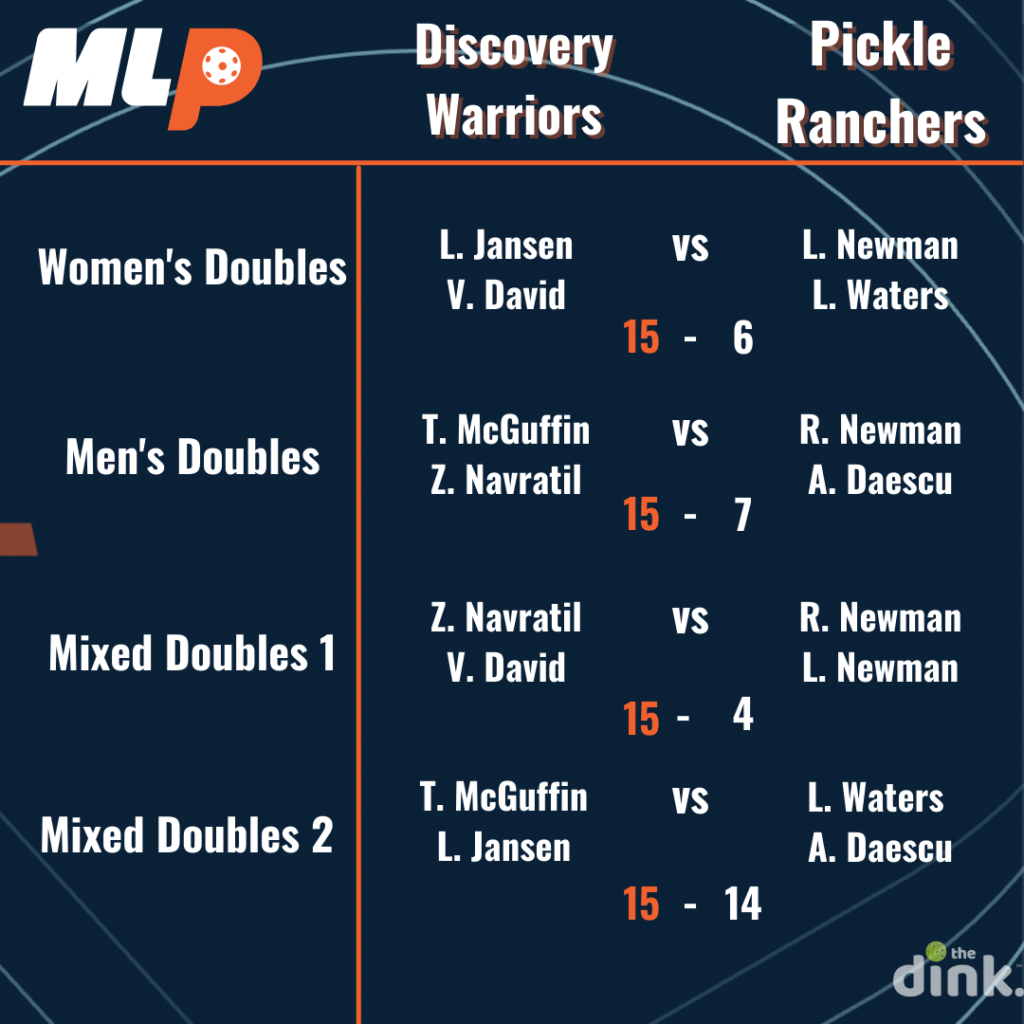 The Lions vs Team Rally
Both of these teams lost their round one matchup so they definitely needed a win. It was the Lions that were able to put a mark in the win column in this one. Johnson and Frazier seemed a little bit off in this match and they dropped all three games they played in. This includes the 15-1 loss as partners against Jay Devilliers and Collin Johns.
The men's doubles field is going to be difficult to get a win in but Johnson and Frazier have been having solid results in tournaments they play together in. Maybe the setting or format caused them to not play their best today. They start tomorrow with Bar & Stone which would be a big win for them.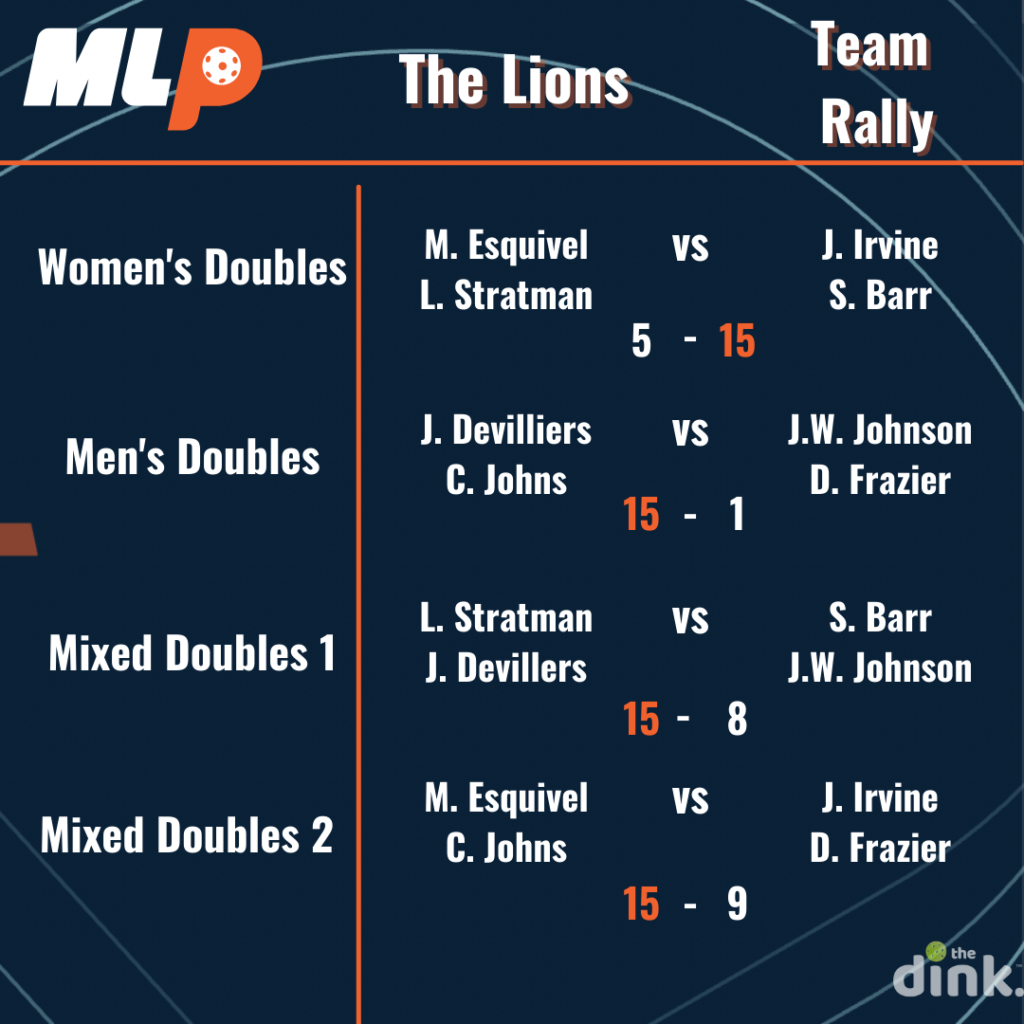 BLQK vs Team Clean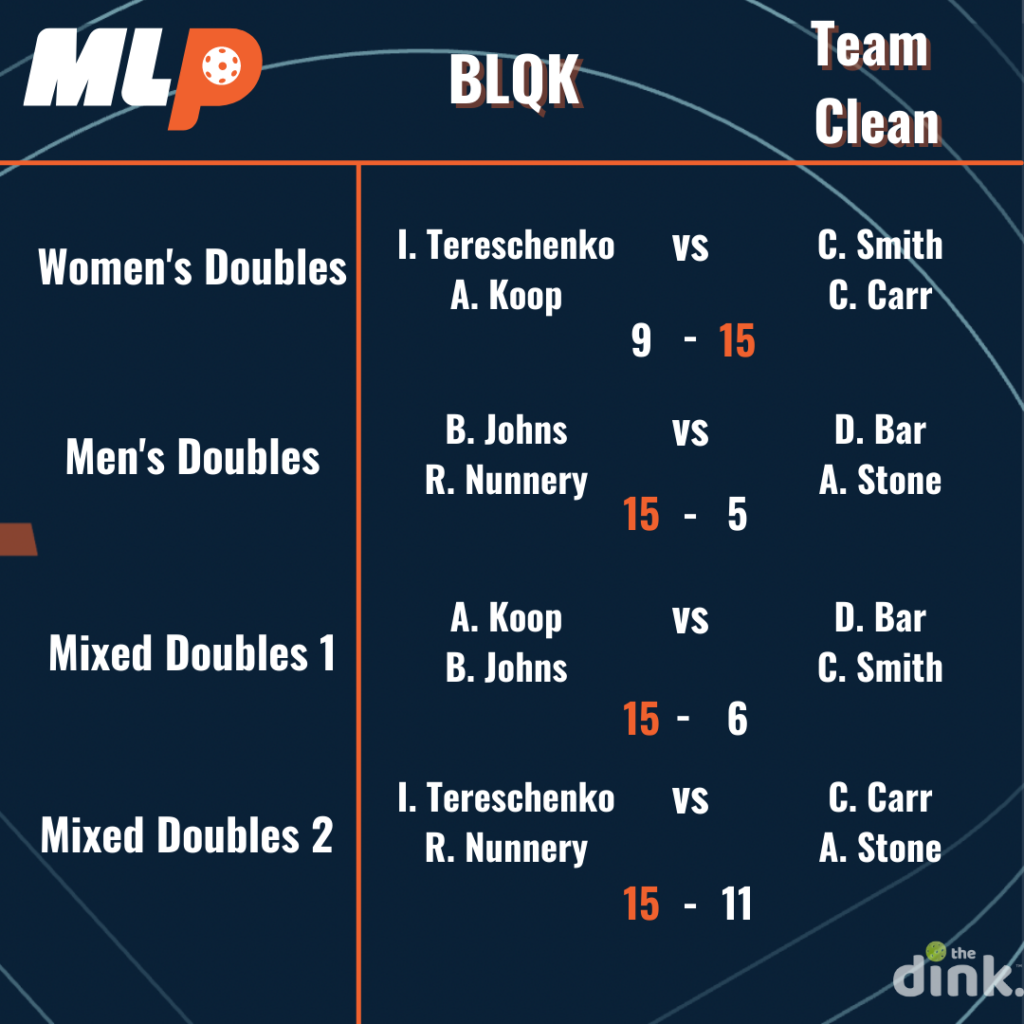 I would say Day One of Major League Pickleball was a total success we saw:
-Catherine Parenteau and Ben Johns, the top two picks in the draft,  square off in doubles and singles
-Two extremely close singles tie-breakers where female players took points of some of the best men in the game
-Lee Whitwell, the 30th pick in the draft went 4-0 on the day and took 5 points off Dekel Bar in singles
-New pairings beat some of the well-established pairings (Zane & Viv over the Newmans, Johns & Nunnery over Bar & Stone)
-There was strategizing and individuals willing to sacrifice their own record for team wins
After a thrilling start, I'm excited to see what tomorrow has in store.
–