Add another gold in the medal count for Alabama! The home state hero Rafa Hewett went back to back and picked up his second gold of the weekend alongside Julian Arnold. On the women's side of things, the number two seeds, Jorja Johnson and Bobbi Oshiro came out in first.
Men's Doubles
The Alabama man put on a show with California native, Arnold, beating Tito Lladro and Jordan Kinney in the gold medal match 6-11, 14-12, 11-3. This match showcased this new style of pickleball, where everyone is in attack mode. The dinking was kept to a minimum and all four players looked for their opportunities to speed the ball up at the non-volley line.

In game two, both teams had a chance at game point, which was also match point for Lladro and Kinney. But, it was ultimately Lladro overhit a speed-up to give the win to Hewett and Arnold. In game three, the eventual winners took control early and cruised to a victory.  
Despite the loss in the finals, Lladro and Kinney had an impressive run by beating the two seeds Gabriel Tardio/Erik Forsythe, fifth seeds Pablo Tellez/Diego Motivar, fourth seeds Casey Cullen/Ryler DeHeart and the three seeds in Anderson Scarpa and Greg Dow.

It was Scarpa and Dow that sent Lladro and Kinney down to the opportunity bracket in the first place, but Lladro and Kinney were able to get their revenge in the bronze medal match, 11-5, 11-8. That left Scarpa and Dow with the bronze.

The two-seeded Tardio and Forsythe are probably leaving this tournament a little underwhelmed with their results. With some big names missing from this tournament, this would have been a perfect time for Tardio and Forsythe to get on the podium. They lost to Marshall Brown and Stephen Bass in the winner's bracket and to Cullen and DeHeart in the backdraw 14-16.

In their winner's bracket, Brown and Bass did an excellent job at isolating Forsythe and keeping the fast twitch Tario away from the ball. Forsythe was a little impatient with the dinking and his opponents were able to capitalize on his untimely and predictable speed-ups.

After beating Tardio and Forsythe, Brown and Bass' winning streak came to a close. They lost to Scarpa and Dow in the winner's and Lladro and Kinney in the consolation bracket.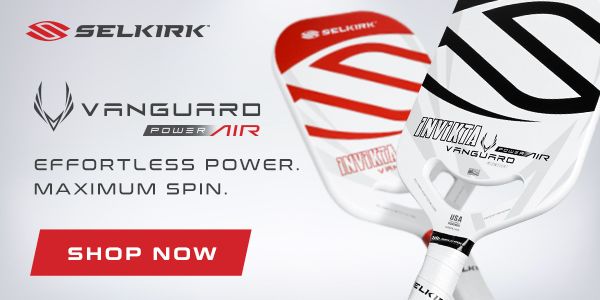 Women's Doubles
Bobbi Oshiro gets her long-awaited second gold medal of the year, winning with Jorja Johnson over one seeds Lauren Stratman and Maggie Remynse. The last time Oshiro got on the podium came in April at the APP South Carolina open with Anna Bright. Oshiro's motto is "I don't always get a medal, but when I do, it's gold."

Johnson and Oshiro's game complemented each other nicely. Johnson acted as the aggressor, electing to constantly pressure her opposition with speed-ups, while Oshiro was more of the backboard, constantly getting balls back into the kitchen. Nevertheless, Oshiro had her aggressive moments too and took advantage of high balls.

Johnson and Oshiro beat the eventual silver medalists in that finals matchup and also in the winner's bracket final. After their first loss, Stratman and Remynse went to the consolation bracket where they beat Alix Truong and Megan Fudge in the bronze medal match, 11-5, 11-9.

The fourth seeds Amanda Hendry and Riley Bohnert, stayed true to their seed number and finished in fourth. Bohnert was coming off an amazing performance at the APP Next Gen event in Dallas last weekend, where she took first in overall points on the women's side of things. She kept that momentum up and had a solid performance in Alabama. Their two losses came against the one seeds and the three seeds. Can't be too mad at that.