It was a historic PPA Texas Open this weekend. In Rockwall, TX, just outside of Dallas, the PPA Tour's best players went to battle. Fans of the PPA Tour were treated to something they have never seen before.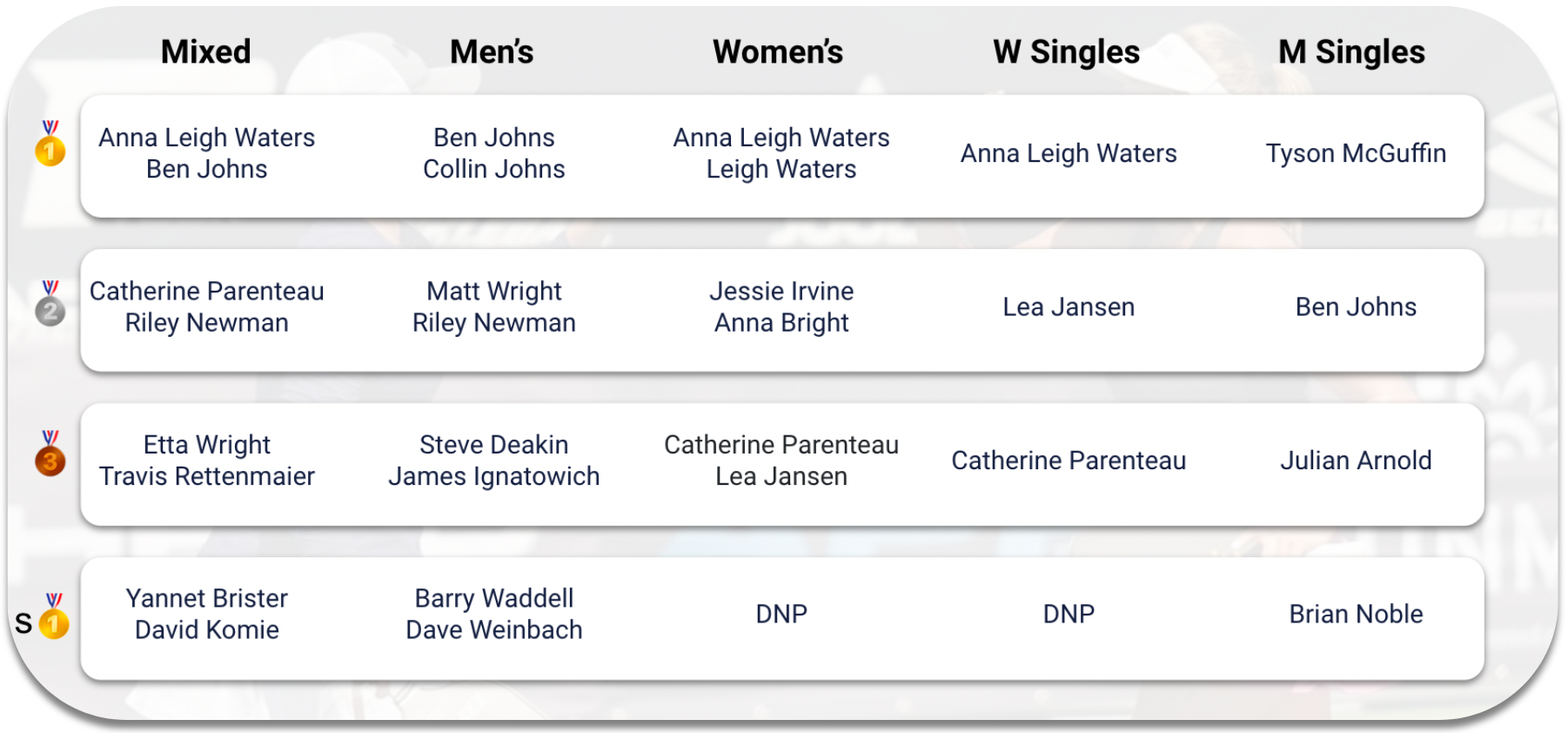 McGuffin Finally Tops Johns
Tyson McGuffin has carried one monkey on his back for nearly three years. Barstool's 'Most Electrifying Man in Sport' constantly reached podiums and played for gold on Championship Sundays. He played for gold, but always finished with silver.
Pickleball's seemingly unstoppable force, Ben Johns, was always always there to meet McGuffin at the mountaintop. Johns had a winning streak in pickleball that we will never see again. And he had a winning streak over McGuffin that felt like would never end. Johns who is about a decade younger than McGuffin even had time on his side.
But this time, here in Rockwall, TX, it was McGuffin's time to shine. McGuffin stole game 1 from Johns. This was no cause for panic. It has happened before, Johns has a reputation for starting slow. He usually comes back strong in games 2 and 3.
But something was different about Sunday. McGuffin mentioned on the PicklePod that his play has become a number one focus. It certainly rang true today. McGuffin came back from 9-7 to squeeze out in the win in two straight games!
Now, on paper, this is just number 2 over number 1, but anyone that has been around the block knows that this win could not mean more to McGuffin.
Don't fret for Ben, he walked away with two gold medals of his own. His first gold came with brother Collin over Newman and Wright. The second was a continuation of the dominant streak from Johns and ALW.
All of the Crowns
Another PPA Tour stop, another triple crown for Anna Leigh Waters. What the 15-year-old has accomplished this year is nothing short of incredible. She battled through a knee injury in match one and still came out on top.
Let's give it up for Mama Waters too. She receives and a majority of attacks and has to play the majority of balls, with the only strategy available to opponents avoiding ALW. She has been incredible in her own right with taking on all challengers.
Rain Delays
The weather was an issue in Rockwall, TX. Big storms rolled in Friday evening moving mixed doubles to a covered court and ultimately delaying the semifinal and backdraw matches.
The bronze medal match for mixed doubles actually led off Championship Sunday. The familiar 3 seed, Irvine & Devilliers would take on the surprise 19th seed Etta Wright and Travis Rettenmaier.
Travis Rettenmaier owns and plays for the Major League Pickleball team Florida Smash. Wright joined the Lions in the supplemental draft. The MLP connection was enough to carry Wright and Rettenmaier not only to the bronze match but through it. They upset the three seeds winning 4-11, 11-2, 11-8.
Return of Deakin
Steve Deakin has returned to the PPA Tour following an extended injury hiatus. Deakin did not have to wait long to find a podium. He teamed up with the young gun James Ignatowich to make a run for bronze this weekend.
It took six massive back draw wins but the combination of youth and wisdom powered the 11 seed all the way to the podium.
Their opponent in the match was actually Travis Rettenmaier and Wes Burrows, the 12 seed. They were putting together a solid Cinderella run of their own taking out Devilliers and McGuffin to reach the medal match.
In Case You Missed It
Oh and in case you missed it. Mark Cuban took in Saturday's festivities. He is the first team owner in the new VIBE Pickleball League and is getting a head start on scouting talent.
After enjoying matches during the day, Cubes took to pickleball Twitter Saturday night.
You can catch most of the top players at Nationals next weekend in Indian Wells, CA. For the first time, we will see a mixed doubs reversal where ALW will team up with Riley Newman and Ben Johns will be partnered with Catherine Parenteau.