Written by: Jaret Petras
Pickleball is one of those games that is just so addicting. Not only to play, but also to watch. Now more than ever, we have the access to watch the elite players challenging each other for championships. These matches are so engaging as a fan, but also can be an educational opportunity to learn from the best players in world.
Coaches and players alike try to analyze these matches to pickup on the new trends of the games. Whether it be the shape of their hips or a new type of serve—even the tiniest details make a difference when it comes to pickleball.
At the same time, pickleball, like any other sport, can be very subjective and it is not always clear why certain actions are taking place. So, I decided to analyze a match through a data-driven approach—to dive into a deeper layer of the game and see what is really going on.
GET THE NEW BEN JOHNS HYPERION PADDLE AT FROMUTH PICKLEBALL. If you snag anything else before you checkout, get 10% off with 10DINK (exclusions apply).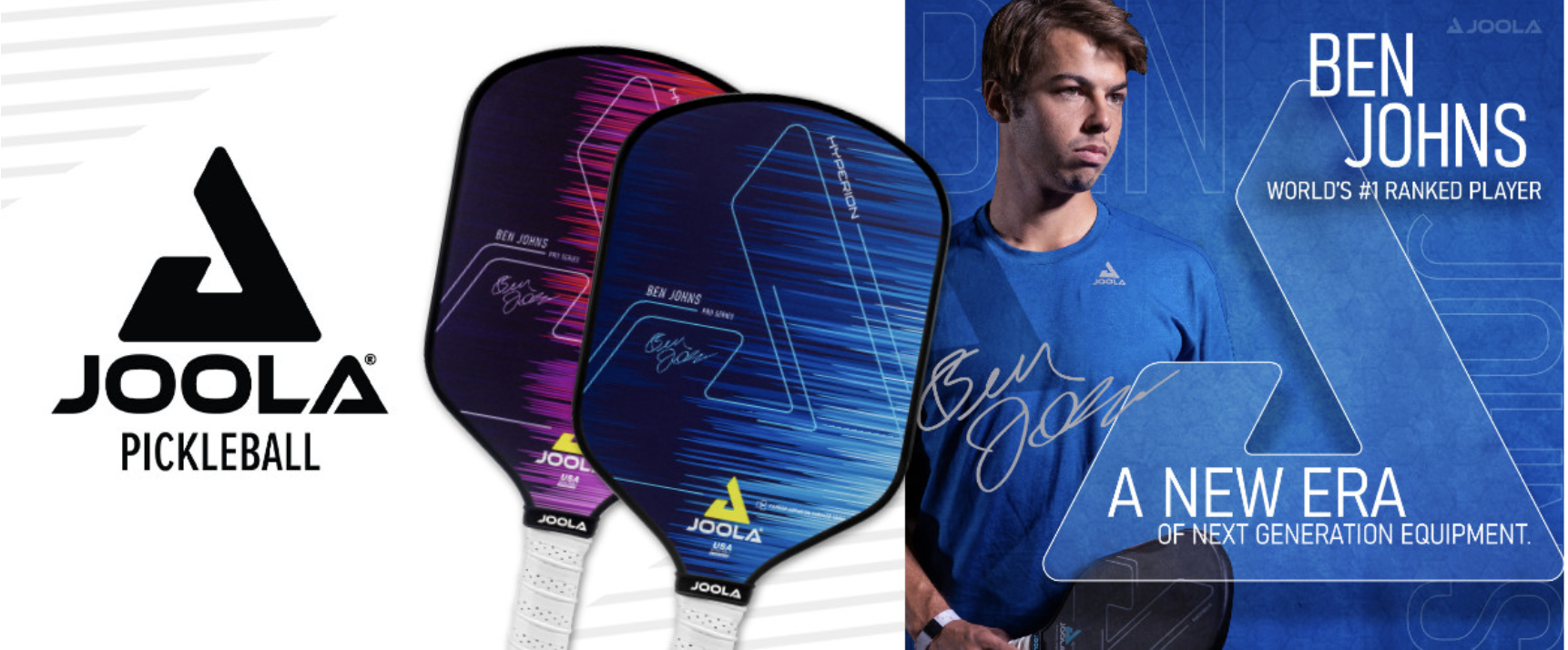 Match Analysis
The match I selected was Ben Johns vs. Tyson McGuffin in the gold medal match of the Rocky Mountain Open. Not only does this match have two of the game's elite players, but as a singles match, I thought it would be very interesting to see how these players strategize against each other, especially since there is no weaker partner to target.
Singles are clearly played very differently than doubles, especially from the tactical standpoint. Because of this, I decided to analyze the data surrounding each players' 3rd shot selection. The findings were intriguing.
The Third Shot in Pickleball
In doubles, a player's most valuable asset is typically the 3rd shot drop as it gives the serving team an opportunity to get to the No Volley Zone without defending an offensive volley.
However, in this singles match, Ben Johns 𝐨𝐩𝐭𝐬 𝐟𝐨𝐫 𝐚 𝐝𝐫𝐢𝐯𝐞 𝐨𝐯𝐞𝐫 𝟗𝟎% of the time and is the favorable shot. Tyson meanwhile drives 75% of the time on his 3rd shot. What was also interesting from this analysis is that both players had a massive preference for their forehands for these 3rd shot drops. 𝐓𝐲𝐬𝐨𝐧 𝐢𝐧 𝐩𝐚𝐫𝐭𝐢𝐜𝐮𝐥𝐚𝐫 𝐡𝐢𝐭 𝐟𝐨𝐫𝐞𝐡𝐚𝐧𝐝𝐬 𝐨𝐯𝐞𝐫 𝟗𝟔% 𝐨𝐟 𝐭𝐡𝐞 𝐭𝐢𝐦𝐞.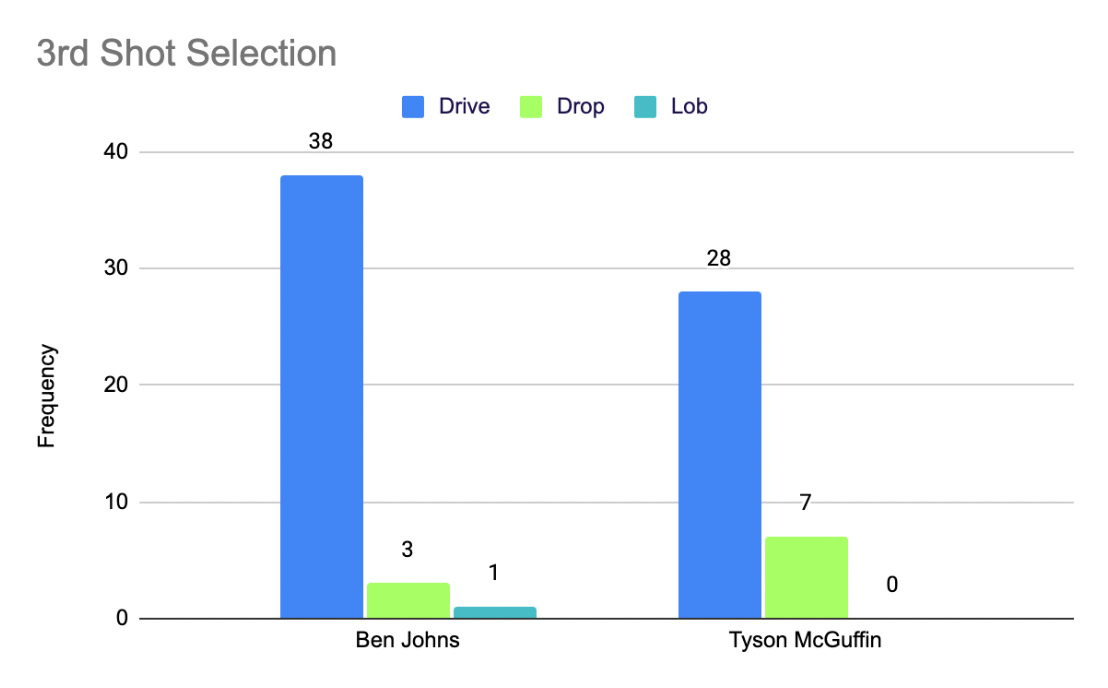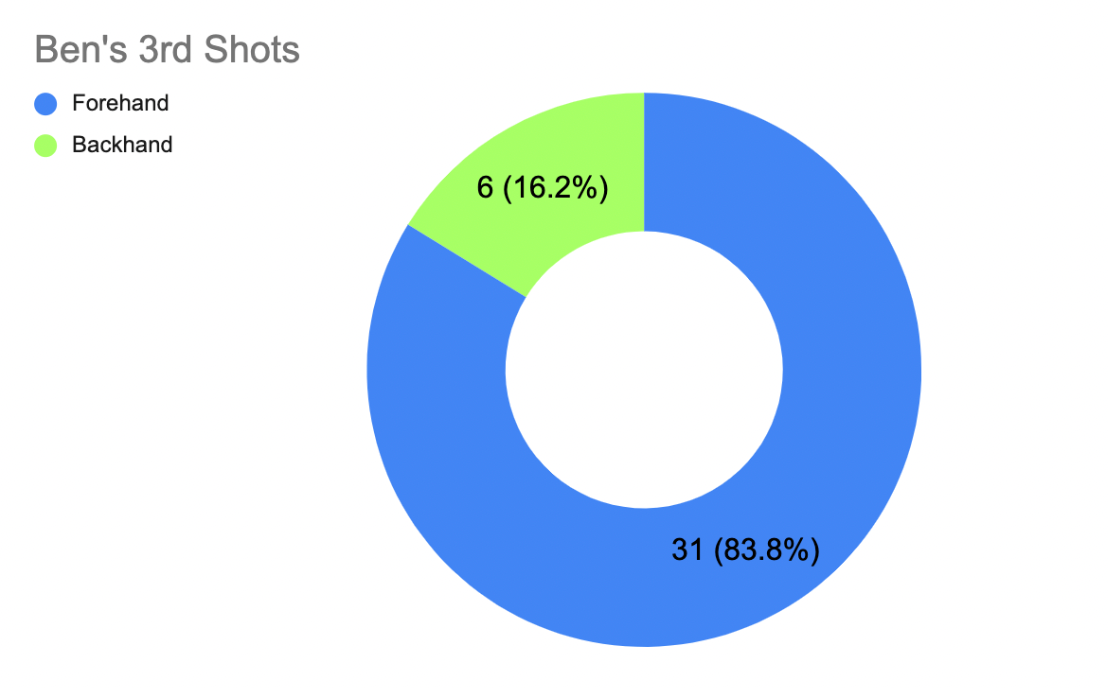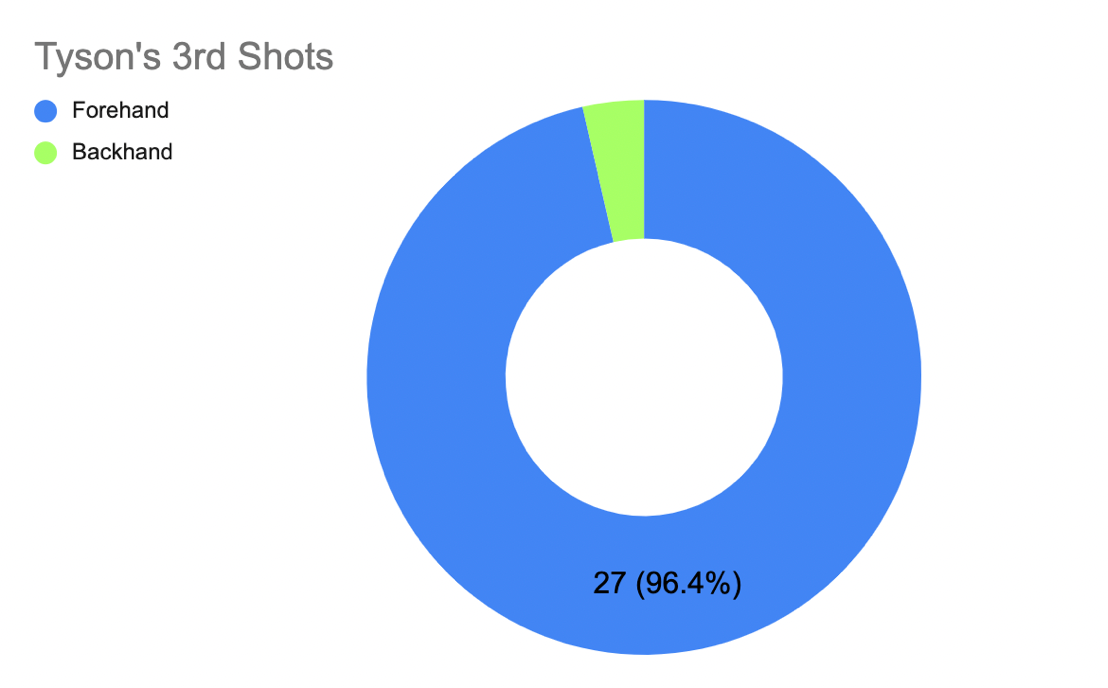 To break this down even further, I decided to look where they decided to hit these third shots based on their court positioning.
What I found to be very interesting is that when Ben is on the left side, he essentially goes either left or right evenly. 𝐇𝐨𝐰𝐞𝐯𝐞𝐫, 𝐰𝐡𝐞𝐧 𝐡𝐞 𝐢𝐬 𝐨𝐧 𝐭𝐡𝐞 𝐫𝐢𝐠𝐡𝐭 𝐡𝐞 𝐠𝐨𝐞𝐬 𝐜𝐫𝐨𝐬𝐬 𝐜𝐨𝐮𝐫𝐭 𝐭𝐨 𝐭𝐡𝐞 𝐥𝐞𝐟𝐭 𝐚𝐥𝐦𝐨𝐬𝐭 𝟑𝐱 𝐦𝐨𝐫𝐞 𝐨𝐟𝐭𝐞𝐧 𝐭𝐡𝐚𝐧 𝐭𝐨 𝐭𝐡𝐞 𝐫𝐢𝐠𝐡𝐭. This is probably because of the angle of the forehand allows him to generate spin going away from Tyson at the net.
Driving Down the Middle
What was even more intriguing is that Ben, 𝐫𝐞𝐠𝐚𝐫𝐝𝐥𝐞𝐬𝐬 𝐨𝐟 𝐰𝐡𝐢𝐜𝐡 𝐬𝐢𝐝𝐞 𝐡𝐞 𝐰𝐚𝐬 𝐨𝐧 𝐧𝐞𝐯𝐞𝐫 𝐡𝐢𝐭 𝐭𝐡𝐞 𝐛𝐚𝐥𝐥 𝐝𝐨𝐰𝐧 𝐭𝐡𝐞 𝐦𝐢𝐝𝐝𝐥𝐞. This is probably because it would make it easy for Tyson to punch it to the opposite side of the court.
However, 𝐁𝐞𝐧 𝐝𝐢𝐝 𝐡𝐢𝐭 𝐭𝐡𝐞 𝐛𝐚𝐥𝐥 𝐝𝐨𝐰𝐧 𝐭𝐡𝐞 𝐦𝐢𝐝𝐝𝐥𝐞 𝟒𝟕% 𝐨𝐟 𝐭𝐡𝐞 𝐭𝐢𝐦𝐞 𝐰𝐡𝐞𝐧 𝐡𝐞 𝐰𝐚𝐬 𝐥𝐨𝐜𝐚𝐭𝐞𝐝 𝐢𝐧 𝐭𝐡𝐞 𝐦𝐢𝐝𝐝𝐥𝐞. I was surprised by this-- but it makes sense at the same time. I am assuming this is because since there is NOT a great angle to punch the ball, he tries to jam his opponent by hitting it hard at the body.
RAPIDLY IMPROVE YOUR GAME OR YOUR MONEY BACK WITH PICKLEBALL MASTER COURSE! GET 10% WITH CODE THE DINK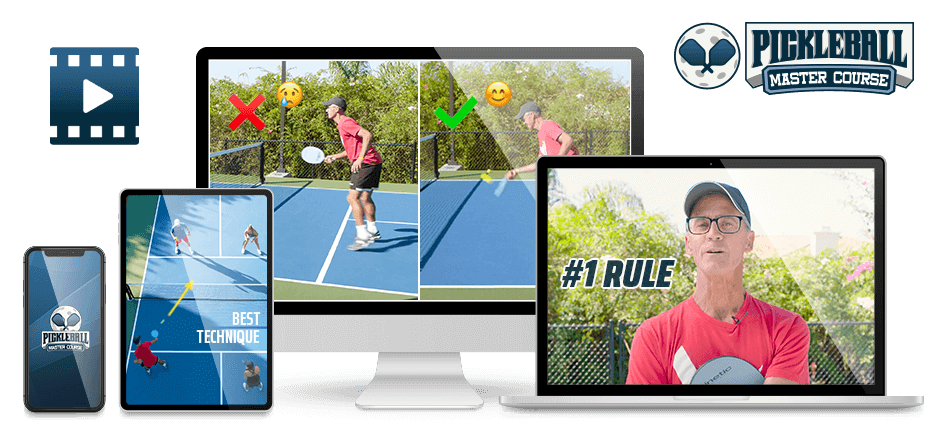 It is also clear that when Ben is positioned centrally, he doesn't like to hit the ball to the left since he only did this 12% of the time. I would imagine this is the case because when all other conditions are equal, most players can reach farther with their forehand and usually deliver a better volley with it too.
I also wanted to look at which stroke he prefers to use based on the location he is hitting from. From the right and center, 23/24 of his shots were with his forehand, showing a clear preference. In addition to that, even when the ball was on his left, he hit over 50% of his shots with his forehand by running around it.
Now Let's Look at Tyson McGuffin
Moving on to Tyson, 33/34 of his 3rd shot drives are forehands.  As a result, both players are planning to drive the ball past the opponent with a huge preference towards their forehand.
Check out Tyson's instructional video on how to get more topspin on your forehand.
From there, the shot placement selection was a tad different for Tyson. Similar to Ben, he never went down the middle when he was on either side. However, when he approached the ball down the middle, he went to the middle only 4% of the time-- where Ben did that 47%. Meaning that this was Ben's favorite shot when in the middle and Tyson's least favorite shot. An interesting juxtaposition.
Perhaps it is also helpful to have that unpredictability as a singles player. It also appears that Tyson prefers to go cross court when he is drawn out to the sides. However, there doesn't seem to be a massive preference instead of going down the line.
In conclusion, it is clear that both of these players have similar strategies. Get the ball to their forehand and apply pressure to the returner on the 3rd shot.
Whether it be a winner or forcing a pop-up, it appears that this is the most effective strategy considering that both players rank so highly in singles play and have so much success at tournaments. From there, it is also clear that both prefer to generate these powerful shots with their forehands.
You can watch the full match and see if you notice these same tendencies.
Takeaways
These elite level singles players take the opportunity to run around a backhand and rely on their forehands, even on the left side of the court.
One big difference between Johns and McGuffin was that Johns will utilize the drive down the middle, while McGuffin very rarely keeps thirds in the middle of the court.
From the right side on the court Johns sent the ball cross court 3x more than down the line. This little morsel is the the type of actionable insight that might help a challenger get closer to the champ.
For more pickleball statistics check out the Pro Pickleball Stats Group on Facebook.