Are you the Head Honcho pickleballer of your city? Only one way to find out...
Introducing Honcho Pickleball League: the premier nationwide amateur league provider. Honcho offers competitive and social league play designed to promote flexibility and efficiency for busy professionals.
With two seasons under its belt and over 100 players currently competing in its flagship Houston league, Honcho has announced its expansion to 9 additional markets for Fall 2023.
Want to sponsor the league? Click here.
Pickleballers have busy lives
One of the most significant obstacles in the pickleball community is the lack of streamlined solutions for coordinating matches and consistent gameplay, particularly as players are busy juggling work, relationships, travel, health and their social lives.
Honcho steps into this role as the much-needed middleman, partnering with local venues to provide consistent foot traffic and to alleviate the burden of booking courts, organizing gameplay, and managing the logistics for players.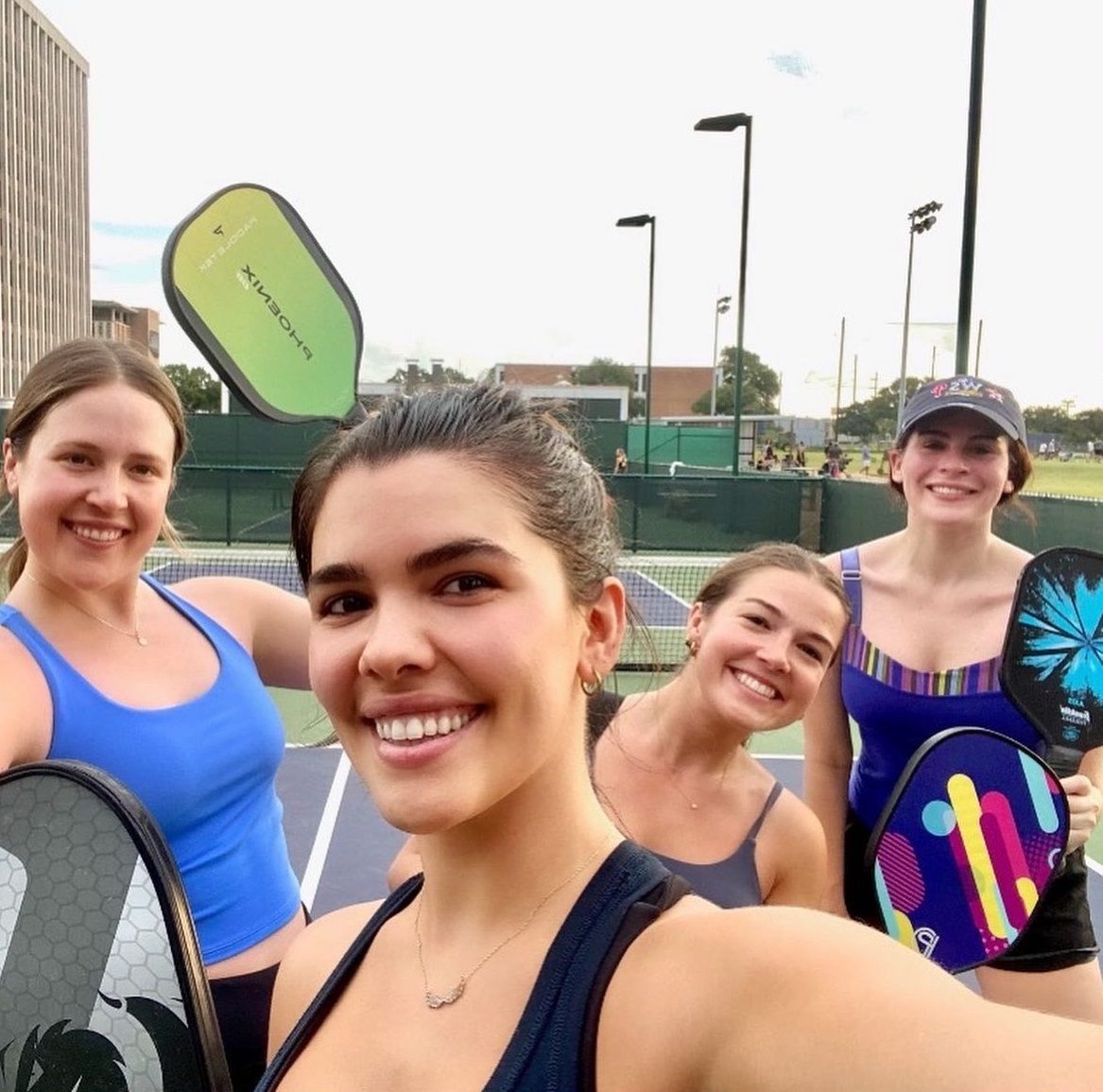 Making scheduling a breeze
Life is busy and unpredictable.
That's why Honcho has introduced a game-changing concept: a hyper-flexible league setting that prioritizes convenience.
Rather than being bound by a fixed schedule, players are given a 7-day window to coordinate with their foursome and submit match scores.
Upon completion of a match, teams report their scores via an advanced league software, where they can also view league standings and more.
Season structure
Honcho Pickleball League combines organization with excitement in a way that elevates the game to new heights.
The league's structure features a 6-week season of gameplay, where each week players engage in matches that can be best-of-three or best-of-five, depending on the foursome's court preference and selection (private or public).
Following the season, the competition escalates during a 2-week playoff period, encompassing championship and consolation brackets that lead to electrifying quarterfinals, semifinals, and finals.
Select matches and finals will be streamed via The Dink YouTube channel, home of pickleball's #1 rated podcast, PicklePod. League updates and results will be featured here on The Dink and across the Honcho and The Dink social media channels.
A vision for expansion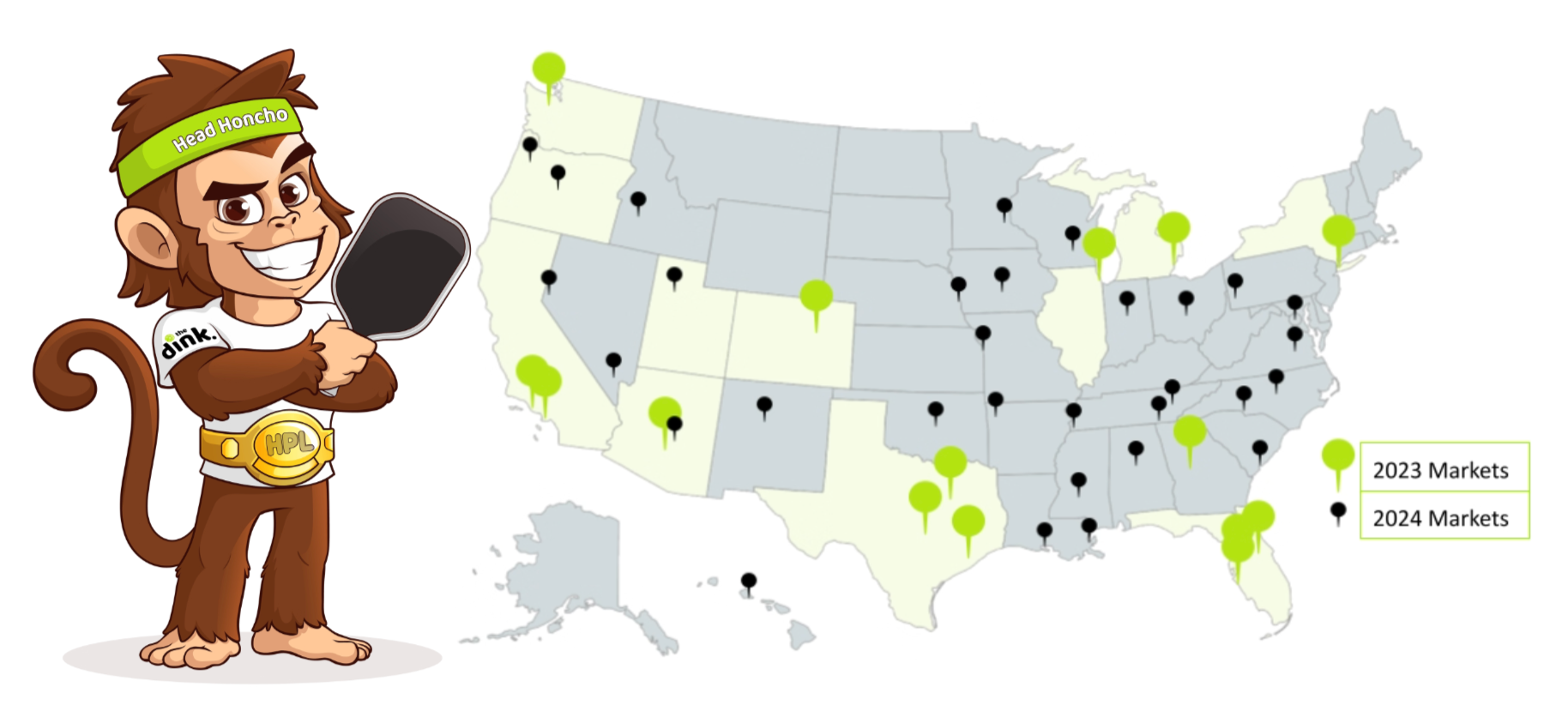 The goal: where there is pickleball, there is Honcho.
By the beginning of Q4 2023, the league will have a presence in 10 total markets. By Q1 2024, Honcho plans to make its mark in 25 markets across the US.
Initial 15 Markets (to be narrowed down to 10):
•Houston (underway, registration open for Fall)
•Austin (registration almost full)
•Dallas (registration almost full)
•Santa Barbara (registration almost full)
•Los Angeles
•Denver
•Phoenix (registration filling up quickly)
•Seattle
•Detroit
•Chicago
•NYC
•Atlanta
•Orlando
•St Petersburg
•Tampa
Honcho exploded in its initial two seasons in Houston, Texas, with a 300% growth rate from season 1 to season 2.
Register here (make sure to enter your city). Don't see your city? Work with us to get yours launched here.
Here's what's on the horizon:
Happy Hours, tournaments, and other fun pickle-focused events
An increase in cash and other prizes as the league expands
Identify the Head Honchos in each city, state and eventually of the US via an invite only National Championship
Grow and establish a network of preferred venues and facilities around the country (facilities can reach out here)
High-quality merchandise that comes complimentary with participant league fees
Related: Rating Yourself in Pickleball | Everything You Need to Know
As Honcho Pickleball League paves its path across the nation, it's redefining what it means to play pickleball.
Say goodbye to rigid schedules and logistical headaches, and embrace a future where the joy of the game takes center stage.
Sign up for Honcho Pickleball League here.
---