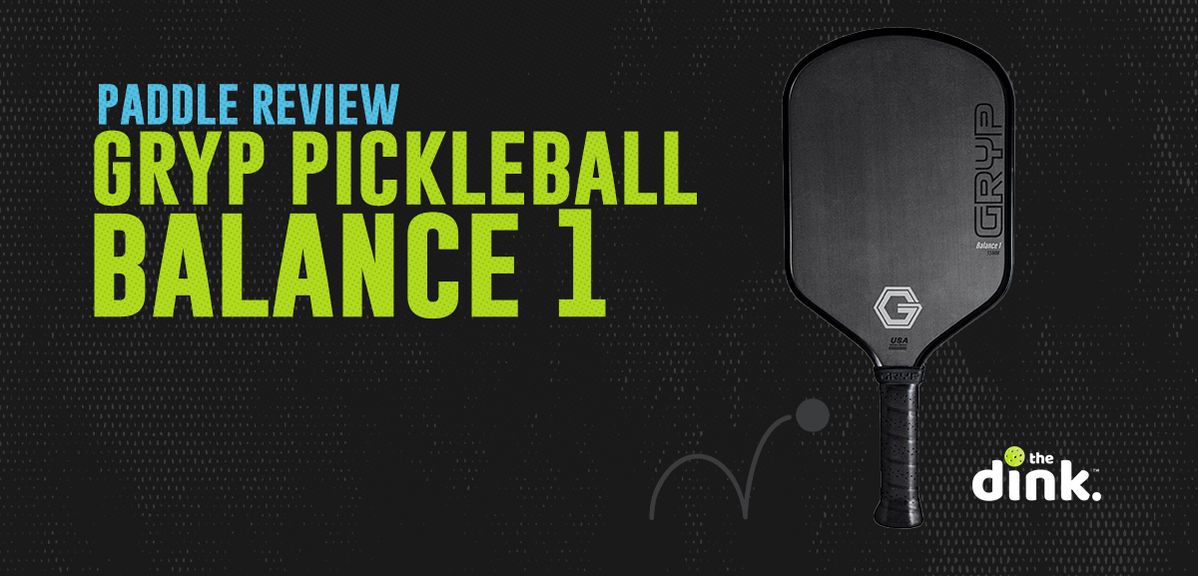 Paddle Reviews
Gryp Pickleball Balance 1 Paddle Review: A Game-Changer in Paddle Customization
When we talk about Gryp Pickleball, we're not just talking about any old paddle company. These guys, Kramer & Randy, are the real deal.
They've gone from sparring on the court to smashing it at the business game, all with paddles in hand.
Their Gryp Pickleball Balance 1 paddle isn't just about winning games—it's about winning fans with its killer spin and grip that just won't quit.
Gryp has evolved from a playful typo to a signature of excellence, pushing the boundaries of what a pickleball paddle can do, all while keeping the spirit of fun alive.
Balance 1 Specs
Weight: 10g weight 8.5 oz, 15g weight 8.7 oz
Thickness: 15mm
Grip Length: 5.5 inches
Core: Honeycomb Polypropylene
Face: T700 Raw Carbon Fiber
Price: $200.00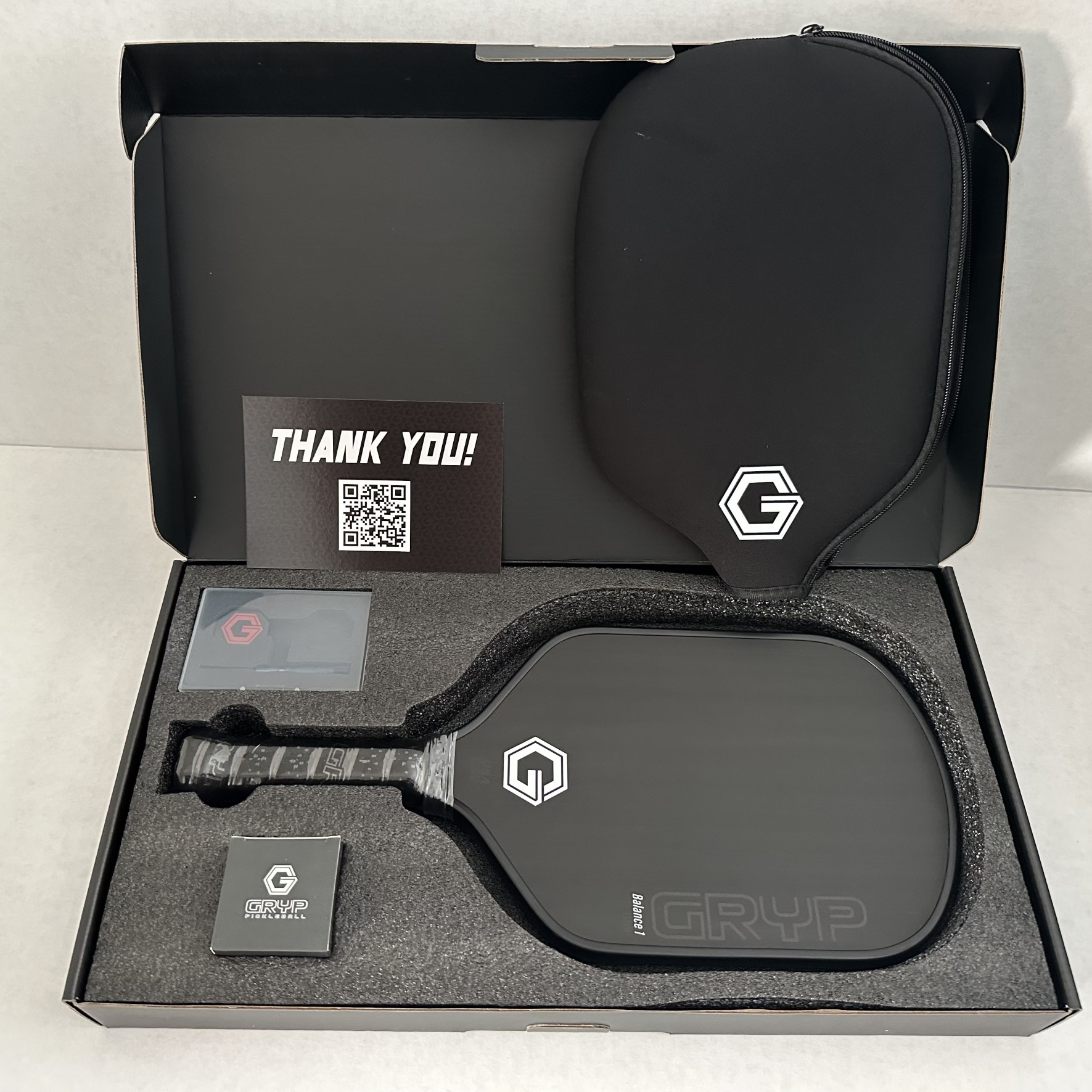 First Impressions
Cracking open the Gryp B1 paddle's box, you get a sleek, stealthy paddle tucked inside a zip cover, making a killer first impression. It comes complete with a Gryp-branded paddle eraser, ensuring your paddle stays looking fresh out of the box after every match.
It also comes with a cool little case that fits all the goods: a mini screwdriver and a couple of Gryp weights, one at 10g and another at 15g, so you can tweak your paddle's weight on the go.
We'll circle back to what those weights can really do for your game in just a bit.
In my hand, the Gryp B1 paddle feels like it means business – all black, super clean, and just the right amount of grit on the surface for that killer spin. The grip fits like a glove, and the handle's got a bit of extra length, giving you a little more to work with without any fuss.
Gryp's got the details dialed in, so you can hit the court running and keep your head in the game, not on your gear.
Design and Construction
The Gryp Pickleball Balance 1 paddle isn't just another piece in the game; it's a testament to thoughtful design and advanced technology.
Featuring the sleek Aero Arc Technology, it allows for swift swings with less drag, while its elongated handle ensures a firm and responsive grip for precise control—even under the most intense playing conditions.
The B1 sets itself apart with a unique handle construction that uses hard plastic wedges instead of the common soft foam, preventing "handle crush"—a breakdown of the grip that can affect play by reducing responsiveness over time.
This responsive handle technology not only enhances performance but also promotes longevity in your paddle's life, ensuring it remains a trusted component of your equipment arsenal.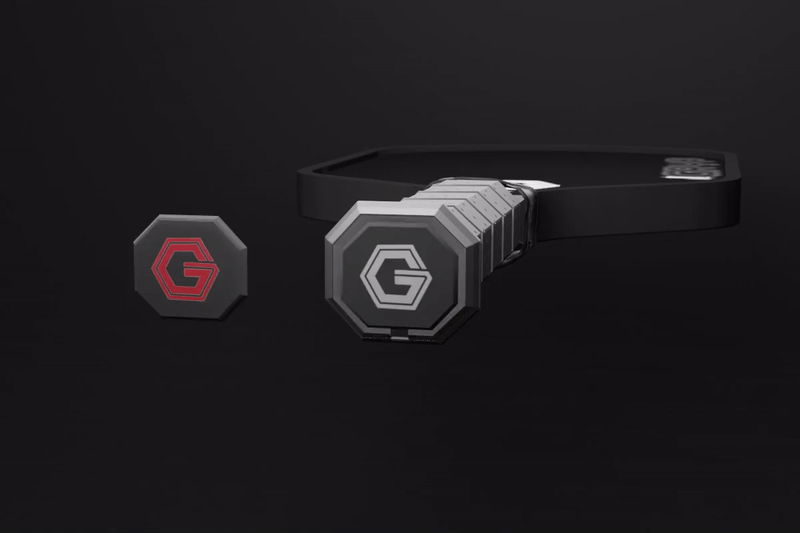 Tailor Your Game
The Gryp Pickleball Balance 1 features innovative Adjustable Weight Technology that allows players to customize their paddle's swing weight for either a power-boosting lighter feel or a control-enhancing heavier sensation.
Swapping the weights is an effortless process:
Use the included mini screwdriver, pushing it up in an upward motion into the end cap's hole, to release the current weight.
Switch in the new weight—either the lighter 10g or heavier 15g option—by pressing it into the same compartment until it clicks into place.
Apply a firm push to ensure the weight is securely locked in for optimal performance.
This cool system doesn't just let you tweak your paddle to play your way; it's also a shout-out to Gryp's dedication to making things super practical and easy for everyone.
Bring your community together with a pickleball potluck.
Looking to smash the ball with all you've got? Pop in the lighter 10g weight and feel the boost in your power shots. But if it's finesse and precision you're after, the heavier 15g is your go-to.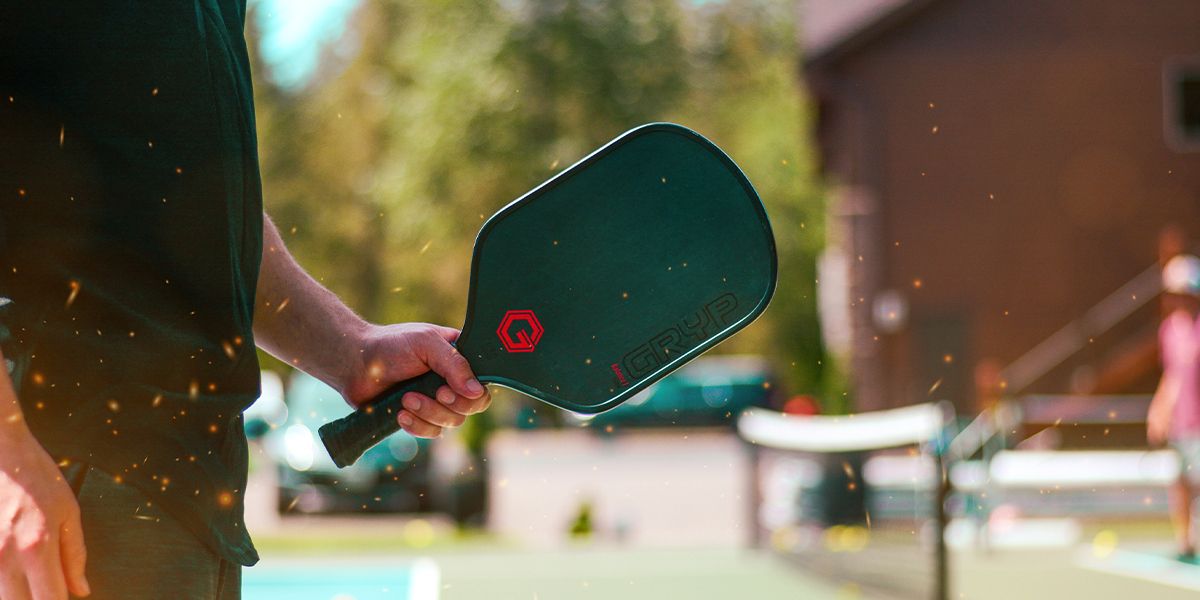 Here's a tip straight from the court: switch up your weights in the warm-up just like a baseball player uses a heavier bat before stepping up to the plate. Start with the 15g weight to get your muscles ready, then switch to the lighter 10g for game time to quicken your pace and snap those winners across the net.
Personally, I stick with the 15g weight during matches. My power game is solid, so I'm all about dialing up my control. Trust me, the extra weight makes all the difference, letting me place my shots exactly where I want them, every single time.
Power, Spin & Control
You're digging the B1 for making customization easy—no more messing with lead tape to get your paddle just right. The Gryp weights are a game-changer, letting you hit that sweet spot for balance and swing weight.
You lean towards the 15g option to lock in on control, and despite the paddle's heft, it's a good kind of heavy, similar to what you'd get if you added weight with lead tape.
When it comes to performance, this paddle sits in the sweet spot of thickness, neither too thin nor too thick, which means you get to hold onto the ball just a tad longer for that killer spin and spot-on control.
And that sweet spot? It's larger than you expected, giving you the freedom to play a power game with precision. Whether you're slamming overheads or in a hands battle, the B1 comes through with a solid performance and exceptional touch.
It's like this paddle was made for making smooth resets and keeping those dinks in check.

Who is this paddle for?
The Gryp Balance 1 is definitely more suited to the advanced player, someone who's crossed the 4.0 skill threshold. Its adjustable weight system isn't just a gimmick; it's a substantial advantage for competitive players who know how to leverage it for improved handling and shot accuracy.
It's this level of detail and customization that marks this paddle as a tool for the tactician on the court.
The Gryp Pickleball Balance 1 is not just another paddle—it's an innovation waiting to revolutionize your game.
Its sleek black appearance may deceive you into thinking it's ordinary, but the game-changing experience it offers is anything but. I encourage every pickleball player to experience the B1 paddle firsthand.
If you're ready to get a GRYP on your game, head over to their website and use code DINK10 for a great deal on your purchase.
See what this paddle can do for your game!
👋
Alina Leontarakis is an experienced 4.0 level pickleball player and PPR certified coach. With nearly two years of dedicated play, she brings a wealth of knowledge and expertise to the pickleball court.
---
For more paddle reviews and the latest in pickleball news, subscribe to The Dink 3X weekly newsletter.