There's a big difference. Oh, no one is here to tell you one is more important than the other, but if you're warming up only to get loose, you're missing out on getting better.
And yes, you can use that one, two or even 10-minute warm-up to get a lot better.
Here are three things you can do to get the most from your warm-up:
Take responsibility
Think about what it would be like if you had to go chase down every one of the balls you hit on the golf driving range. That would be a giant hassle, right? It would be, but you'd certainly take a lot more care and concern for each ball you blasted.
Now try and take that same care and concern and apply it to your pickleball warm-up. And here's the thing: You don't have to tell your friends what you're doing.
Make sure you're not the first to hit the ball in the net. Everyone else is talking about dinner plans or some Netflix show, that's fine, but use this time to loosen up and warm-up. Bend your knees, over-exaggerate watching the ball.
RAPIDLY IMPROVE YOUR GAME OR YOUR MONEY BACK WITH PICKLEBALL MASTER COURSE! GET 10% WITH CODE THE DINK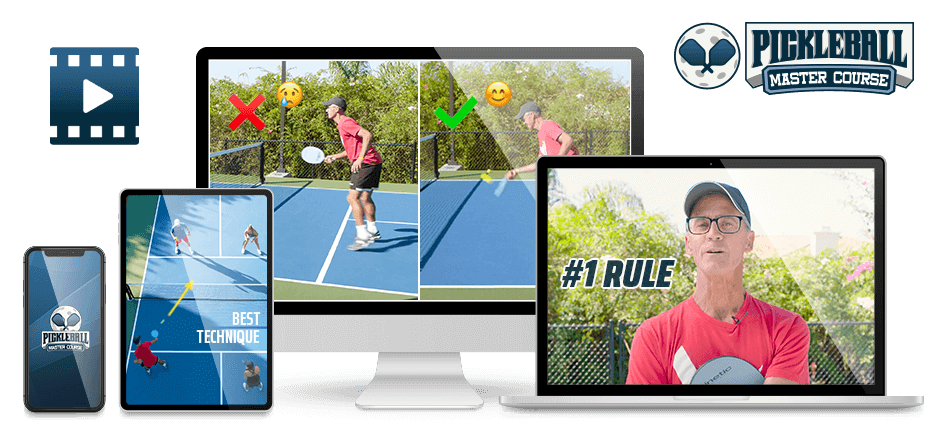 Make sure you're not the first to hit the ball out. No one else is doing this, so play the warm-up as if the score is 10-9.
If you're just hitting with one other person it's easier. If you're hitting with three other people, now things get tougher. Maybe you're having to hit a backhand or maybe you're having to volley more poorly hit shots. Think of it as a challenge. See how many days or sessions in a row you can go without being the first to hit it in the net. Your friends won't know, but you will.
Now see how much better your dinking gets.
Progressive warm-up
This one won't just get you loose, it gets you better. Find a partner and each of you start at the non-volley zone line. Hit a few good shots into the zone. Make sure it bounces. Master this from the line. Now, one of you move back a few steps while the other stays at the line.
The person at the line isn't trying to hit a winner or a smash, but is there to just return the ball back to the other player. The player who is a few steps off the line should hit the ball into the non-volley zone, concentrating on getting the ball to bounce in the NVZ. Do that a few times in a row, then move back a few more steps and repeat. Same thing, only this time you should be at or near the baseline. Hit a few shots into the non-volley zone while your partner feeds the ball back to you. Now move up a few steps and hit the ball into the NVZ and then move up a few more until you're back at the line.

GET 10%OFF  YOUR ACACIA PICKLEBALL SHOES AND MOST OTHER GEAR WITH CODE 10DINK AT FROMUTHPICKLEBALL.COM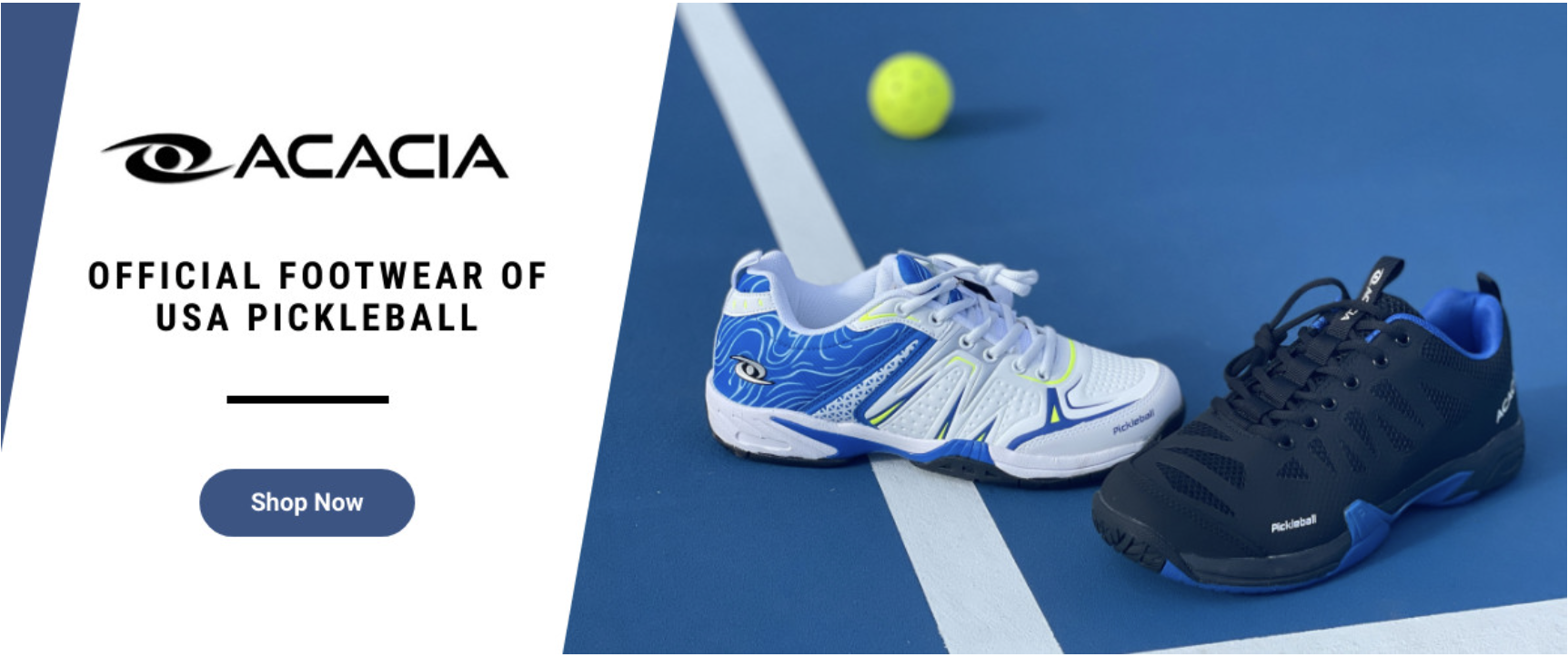 Once both players are back at the NVZ send your opponent back a few steps and repeat the drill, moving further back and then returning all the way up.
This is an exceptional warm up that makes you focus. It's good for moving around and it's also good because it forces you to hit the shots that you will need in the game, focusing on resetting the ball into the NVZ, instead of just batting the ball into the net from the NVZ line.
Keep score
Yes, actually keep score. Play a doubles game. No, not a real game from the baseline, but a real game from the NVZ line. Instead of the baseline being in play, change it up and make anything past the NVZ line an out ball. Get in position and toss the ball over the net to start the rally. You don't want a real serve here, as it's not the point to try and "ace" someone. All other rules apply. Play out the rally and keep score like normal. If the serving team wins a rally, switch sides and go.
This is a great game to not only work on dinking, but to get warmed up before an actual game. You'll be able to practice everything from moving and spacing, you'll get better at avoiding hitting balls that would otherwise be out, Most importantly it's a great drill for playing effective dinks.

SHOP THE LATEST PADDLES ON THE MARKET - THE RILEY AND LINDSEY NEWMAN SIGNATURE PADDLES FROM GAMMA, GET 10% OFF THESE PADDLES AND MORE WITH CODE 10DINK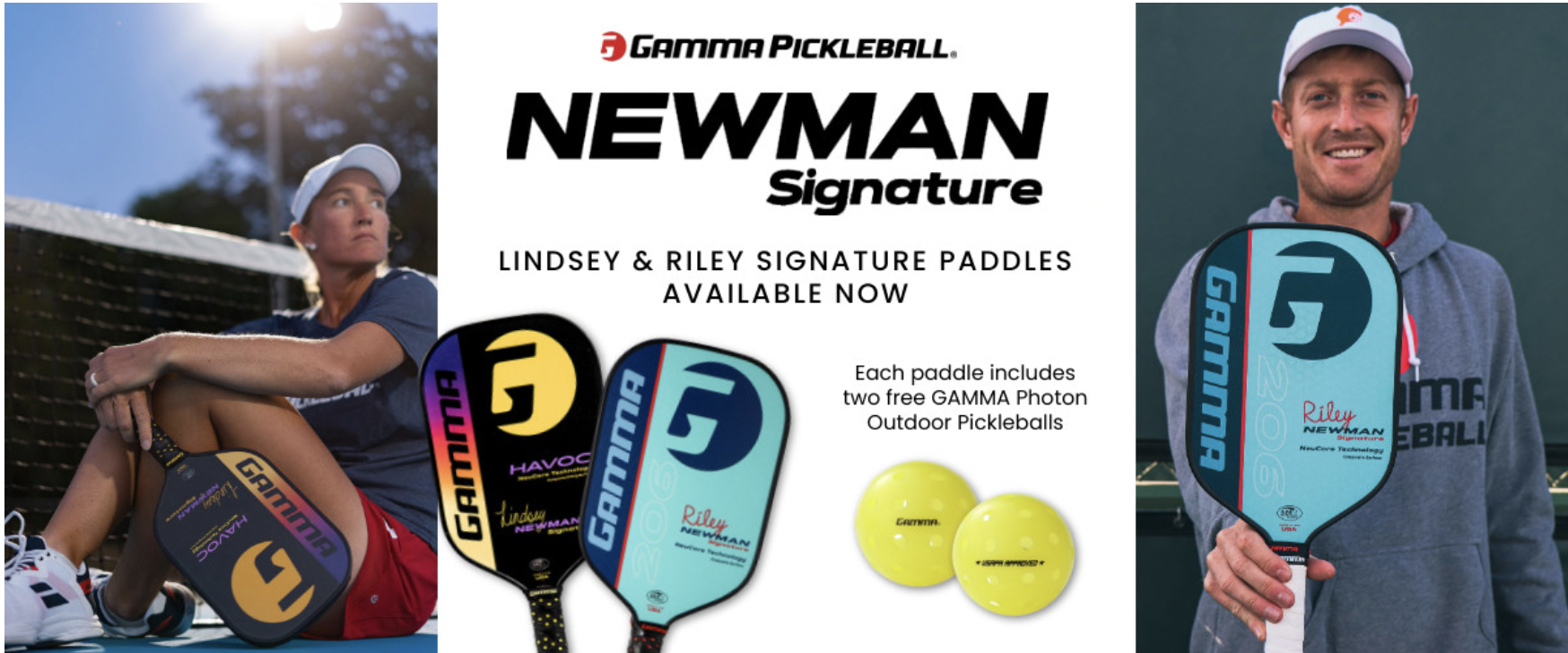 What you will learn is patience and what you'll appreciate is how fast your legs and mind get into "game mode." This is something players at all levels can do before your session really gets going.
It's fun and competitive and a different way to warm up.
Andrew Gilman is the teaching pro at Oklahoma City Golf and Country Club