Both first-time partnerships, team Austin Gridley/JW Johnson and team Irina Tereschenko/Vivienne David, won the winner's bracket final in their respective divisions. That automatically puts them into the gold medal match on championship Sunday at the APP Mesa Open in Arizona. Let's breakdown Saturday's men's and women's doubles action below!

Men's Doubles
The first-time partnership of team Gridley/Johnson took home the winner's bracket final win against fellow first-time partnership, team Spencer Smith/Callan Dawson 11-9, 11-8. While Smith and Dawson couldn't extend that match to a 3rd game, the 2 games they played couldn't have gotten much closer. In fact, Smith and Dawson were up early in the first game, 4-1, then were up 9-5, but couldn't close the deal.

It wasn't so much that Gridley and Johnson got on a roll, it was more that Smith and Dawson couldn't find the shots and sequences to win those last 2 points. After several sideouts and serving opportunities Gridley and Johnson captured the lead and closed it out on the next serve. Gridley had 4 ernes in total that first game, and 3 for winners. The 4th one was on the last rally and eventually led to the Gridley overhead winner.

There was a clear strategy switch for Smith and Dawson entering game 2, as they started to hit heavily to Johnson. They probably felt like Gridley was on fire and didn't want to give him any more opportunities. However, after Gridley/Johnson jumped out to an early lead, Smith and Dawson started playing the court more. Smith and Dawson got down big, 9-2, before mounting a comeback however it was just too little, too late.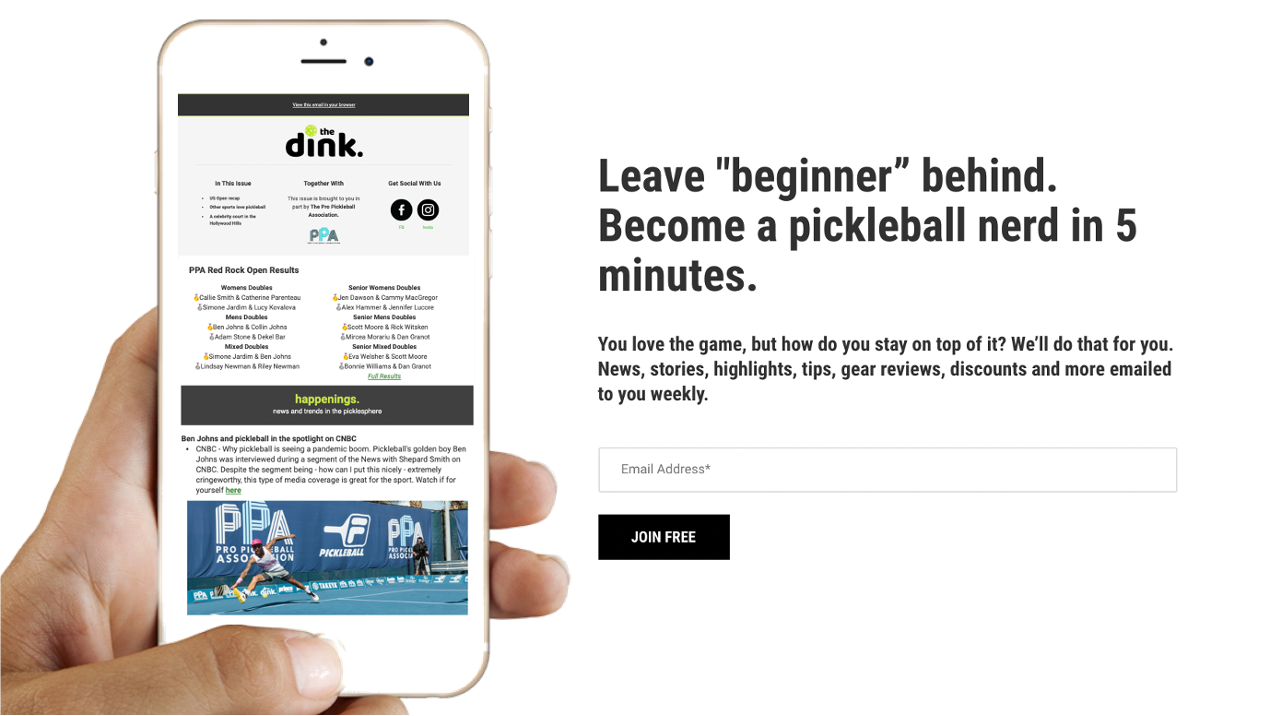 Team Gridley/Johnson worked extremely well on the day. The strategy was to keep Johnson with his forehand in the middle by stacking when on offense and defense. That gave Johnson the ability to control most of the match with his forehand and taking balls in the middle. It also kept Gridley on the right side, where he was able to hunt for ernes.

Team Smith/Dawson will now battle team Dylan Frazier/Zane Navratil in the bronze medal match for a chance to play for gold on Sunday. While Smith and Dawson made it to the winner's bracket final, they didn't have an easy road to get there. In both of their matches prior, they were taken to 3 games. They squeaked by team Wesley Gabrielsen/Erik Lange 11-5, 10-12, 11-4.

They also went 3 games against team Dekel Bar/Adam Stone, narrowly winning 11-7, 7-11, 11-8. Despite this match going to 3 games and despite the 3rd game being really close, team Smith/Dawson were in control. They tried to isolate Stone as much as possible and relied on the consistency of their drop shots and dinks. That style of play got them into the winner's bracket final.

Team Frazier/Navratil are the 3rd team to make it into championship Sunday. After having a first round bye, they beat team Brandon Nsekpong/Shelton Jean Baptiste 11-7, 11-5. That got them into the winner's bracket semi-final where they lost to Gridley and Johnson 11-13, 11-4, 11-4. They then had to battle through the opportunity bracket. They beat team Gabrielsen/Lange and team Nsekpong/Jean Baptiste 15-7, 15-1 respectively.

Hayden Patriquin and fellow young star Wyatt Stone, both pickleball age 17, played in Saturday's doubles action as well. This is after they won 5.0 men's doubles Friday, winning their gold medal match and completing the double dip 17-15. However, they were not as successful Saturday in the pro division, going 1-2 on the day. But definitely keep your eyes out for these rising stars, as they will most definitely make more and more noise in the pro division as the year continues.

GET 10%OFF THE NEW CRBN PADDLE FROM FROMUTHPICKLEBALL.COM WITH CODE 10DINK


Women's Doubles
Tereschenko was on fire today and with the help of her partner David, they were able to beat team Lauren Stratman/Lea Jansen in the winner's bracket final 11-5, 11-4. While the score didn't quite show the close rallies and overall game, it did mimic the consistency that Tereschenko and David had. Simply put, they just kept more balls low and in play, and capitalized on high balls. In addition, Stratman and Jansen had some challenges figuring out who was taking certain middle balls, which disrupted their defense and flow.

In the winner's bracket semi-final, team Tereschenko/David played team Jessie Irvine/Andrea Koop and won 8-11, 11-2, 14-12. In the 3rd game, both teams had match point. First it was Tereschenko/David with a 10-8 lead, then it was Irvine/Koop with a 11-10 lead. Finally, up 13-12, David dropped a third shot and Tereschenko aggressively poached, hitting a winner between Irvine and Koop.

The 1st game was very close, but Irvine and Koop were always in control, keeping a steady 2 to 3 point lead throughout. However, the momentum switched in the second game. Tereschenko came out firing and got an early 4-0 lead. Pretty soon it was 9-2, then 11-2.

That left us with an epic 3rd game showdown. That 3rd game had amazing back and forth action. Both teams had their moments and their chances to cement the win. By the narrowest of margins, Tereschenko and David got it done with Tereschenko's offense and speedups, coupled with David's defense and consistency.

That sent team Irvine/Koop down to the opportunity bracket where they beat team Sarah Ansboury/Corrine Carr 15-4, and team Lee Whitwell/Jorga Johnson 15-12. Despite the loss, it was pretty cool seeing Whitwell throwdown with both Johnson siblings. She played with JW on Friday in mixed doubles and Jorja on Saturday in women's doubles.

Team Stratman/Jansen had a relatively easy run to the winner's bracket final, before losing to Tereschenko/David. They played team Angie Walker/Casey Rogers, winning 11-2, 11-5. Then beat Ansboury/Carr 11-4, 11-8. The second game was definitely closer than the previous games, but they were always in control.

Sunday's Bracket
Sunday's men's action will be the winner of Smith/Dawson vs Frazier Navratil will face Gridley/Johnson. In women's, the winner of Stratman/Jansen vs Irvine/Koop will play Tereschenko/David for the crown.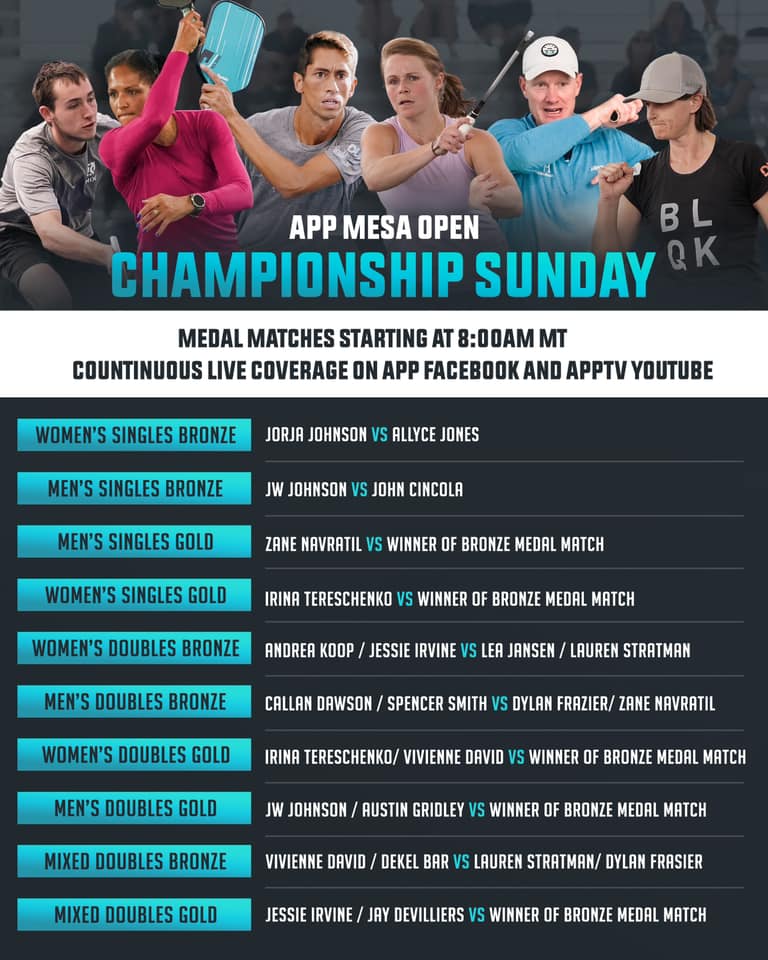 GUARANTEED TO RAPIDLY IMPROVE YOUR PICKLEBALL GAME OR YOUR MONEY BACK! GET 10% OFF WITH CODE THEDINK