Engage has released its new Pursuit ULTRA line of paddles. Given how popular carbon-based pickleball paddles are becoming, we thought we'd summarize the details of their new line here.
According to Engage, they are the only leading paddle manufacturer that can say their products are "made in the USA," from start to finish.
Engage doesn't just assemble their paddles here in the US – they also buy their core materials from US-based companies.
Let's examine Engage's most advanced paddle ever from the inside out.
Interior Features
Uniform Guard Technology includes bonding between the paddle's edge guard and the paddle itself, providing optimal force distribution resulting in a larger sweet spot as well as decreased vibration and sound.
R210 Carbon Fiber is essentially a chemically bonded carbon fiber for enhanced friction between the paddle and the ball, increased surface strength, and a consistent rebound rate for ball control.
Counter Balance Technology lowers the balance point of the paddle closer to the player's hand, allowing for quicker hand speed, lighter paddle feel, less arm fatigue and less chance of "pickleball elbow."
Exterior Features
A Control Pro Black Polymer Core creates a super soft core which controls the rate of paddle compression upon contact with the ball.
Vortex Barrier Edge Technology is Engage's next generation of composite injected into the outer cells for weight distribution and vibration control. This also increases the weight, creating a larger sweet spot.
Variable Flex Technology means the paddle won't flex when swinging slowly, but the faster the swing, the more the paddle will flex. This provides additional power and spin when players need it most.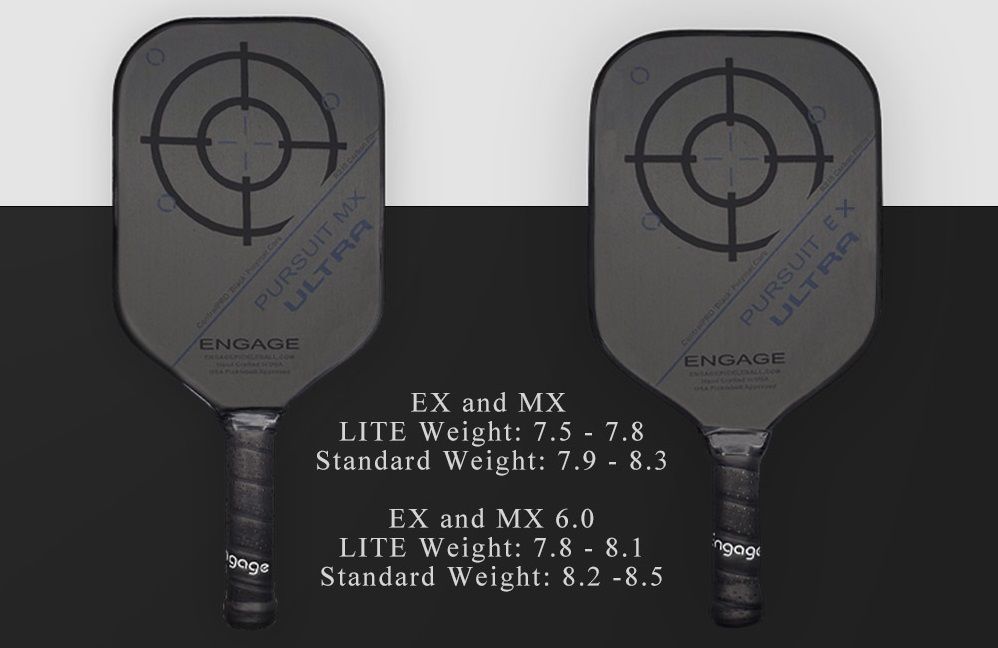 The Pursuit Ultra line comes in the EX model (standard shape for more control) and the MX model (elongated shape for more power). Each model is offered in both the 1/2" and 5/8" core as well as the Lite and Standard weight ranges.
Click here to visit Engage's website and learn more.
---
If you want to keep up with everything pickleball, you've got to sign up for our newsletter. We break news faster than anyone in the game. Subscribe below: