Synopsis: A solid high-level paddle with unique features and incredible spin. Good power with control and a huge sweet spot. Full review by Mark Napartovich.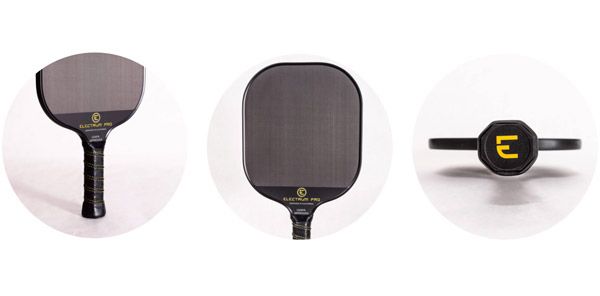 I switched to the Electrum Pro from the Prince Response Pro, and I have no regrets. This was the first paddle that helped me play better the very first time I tried it. Spin is very important to me, as I came from table tennis. Electrum allows you to spin the ball like no other paddle. When driving the ball, I can close the paddle as if it had strings. Unlike other paddles, its surface does not wear off over time.
This completely black paddle also has plenty of power. Usually, I prefer control over power as I'm a natural power player. Electrum has so much control that power is not a problem for me. Just relax, and your nice spinning third shot drop goes right into the kitchen. Blocks at the net feel sharp and precise.  Compared to Prince Response Pro, the Electrum feels softer and more flexible with a huge sweet spot. The balance is neutral, like the Selkirk S2, which makes the paddle quick at the net.