Poaching, or the act of stepping in to return a ball that you'd normally leave to your partner, is a part of pickleball that players would be wise to study.
After all, it's already a part of the pro-level game. We're seeing it make its way into upper-level sectors of recreational play, too.
Mind you, at lower levels, poaching in pickleball typically happens in an unplanned, spur-of-the-moment way (and also commonly results in bad blood between you and your opponent if the poach they take does not result in the intended consequence they meant it to).
In other words: poaching is often a mistake, not a strategy.
No matter what form it takes, a poached ball coming from your opponent can be difficult to return, particularly if you don't see it coming. But at the highest levels of pickleball skill, there is a way to counter what you can't always predict.
In a quarterfinal matchup this past weekend, Anna Bright and Riley Newman put on a clinic on how to neutralize a known poacher.
They faced Megan Fudge and one of the most dangerous poachers in the game, Dekel Bar.
Bar is well known for covering a healthy majority of the court. To keep him on his side of the court, Bright/Newman dumped their third shots on him.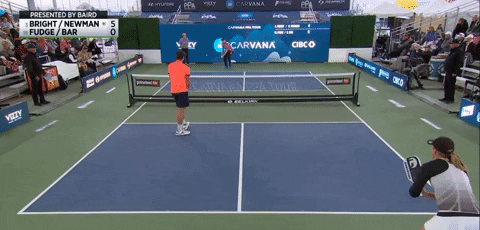 Instead of avoiding Bar, they chose to go right at him. This prevented Bar from setting up shop in the middle of the court.
It also made targeting Fudge with 5th and 7th shots easier. Bar was forced to take more risks to insert himself into dink rallies. He had to overextend, and when he did, it left the backdoor open for clean winners.
So if you're dealing with an overactive partner on your opponents' side, steer into the skid. Try going at them with the third.
Keep them honest from the jump, and it will keep the court open for subsequent shots.
We send our newsletter subscribers valuable pickleball tips like these three days a week. Up your game by subscribing now: