The finals are set for mixed doubles at the PPA Championships in Las Vegas with the fantasy team Catherine Parenteau and JW Johnson playing against the dream team Anna Leigh Waters and Ben Johns. Lindsey Newman returned after an almost two month-layoff to take bronze with her brother Riley Newman over Leigh Waters and Tyson McGuffin.

While this newly formed duo punched their way into championship Sunday, it didn't come without some scares. Their biggest challenge came in the semi-finals against Anna Bright and the lefty Tyler Loong, where they won in three games, 11-3, 9-11, 11-4. Their two wins were pretty dominant, but that one loss definitely exposed their major weakness which was confusion in the middle. And that makes sense for a first-time team, but that is also a deficiency that Waters/Johns will pick up on and exploit.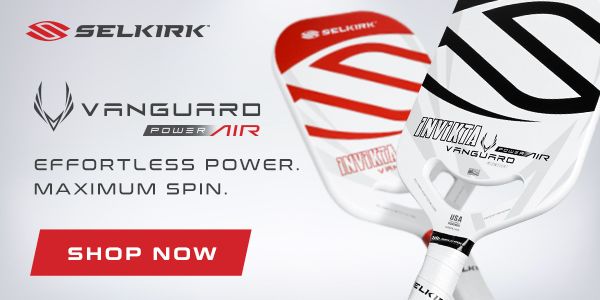 That semi-finals match against Bright and Loong also showed how dominant Bright is on the left side of the court. We have already seen glimpses of it when Bright played alongside Irvine in tournaments, but Friday's mixed action was just another example of Bright being extremely dominant on that side. It also helped that she was playing with a lefty, meaning when they stacked Loong was on the right side with his forehand in the middle, which allowed Bright to stay on the left. While they didn't get the dub, it once again proved how lethal Bright's attacking and diversity from that side is.
With Parenteau and Johnson getting into the finals, both of them will have a chance at a double gold. They secured their first championship bid on Thursday in singles and once again got themselves into the finals in mixed doubles. Johns and Waters are also in the same boat, but will most likely be the favorites in mixed doubles and singles against their counterparts on Sunday.

Waters and Johns looked dominant in mixed doubles. We have talked about it many times before; Johns allows Waters to utilize the best version of herself by covering her mistakes and Waters provides the same benefits to Johns. After their first round bye, they had an easy first matchup and then went through murderers' row.

They beat Vivienne David/Zane Navratil, Smith/Koller and the Newman siblings. They only dropped one game on the day, which came against Smith and Koller. The third game was extremely close at the halfway point, but after the side switch Waters and Johns came out on a mission and took the game 11-6.
In their semi-finals match against the Newmans, Waters and Johns just had to stick to their gameplan. In order for the siblings to win, they would have had to play an absolutely flawless game, which is so difficult against a team that constantly pressures you. While Lindsey's game frustrates many of her opponents with her tenacious defensive, she doesn't provide enough offense to scare Waters and Johns.

However, against almost every other team, Lindsey doesn't need offense. Her defense coupled with Riley's poaching, hands and offensive prowess are usually enough to get wins. That is exactly what they did on Friday. When they got sent to the opportunity bracket, they beat Parris Todd and Dylan Frazier and Leigh Waters and Tyson McGuffin for the bronze.

Speaking of Todd and Frazier, they threw down an incredible performance and just narrowly missed out on some hardware. This team hasn't played much with each other, but showed that they are worthy adversaries in the mixed game. With Frazier and presumably Todd going back to the APP tour in the future, they will certainly threaten JW Johnson and whoever is mixed partner is.

Another exciting team was Yana Grechkina and Hayden Patriquin, who made some noise in the consolation bracket by staging a big win against Smith and Koller. Grechkina recently took her first PPA pro medal by way of mixed doubles about two months ago in Ohio with Thomas Wilson. Since then, the division has been put on notice regarding Grechkina's evolving mixed doubles game. Not to mention Patriquin's advancement in mixed doubles, which recently saw him claim his first pro mixed doubles gold at the APP Sacramento Open two weekends ago. They eventually lost to the veterans Leigh Waters and McGuffin.

Some teams that surely were poised for a deeper run were two-seeded Irvine/Devilliers and three-seeded Lucy Kovalova/Matt Wright. Irvine/Devilliers have gotten into a groove in the past few tournaments and have been consistent medalists as of late. Kovalova and Wright on the other hand have been struggling the last few months and haven't gotten on the podium in the same amount of time.

It's especially bizarre for Kovalova and Wright as they both are still on top of their games in gender doubles. Kovalova is constantly threatening for gold medals against the Waters, while Wright is going the same alongside Newman in men's doubles. They lost to Parenteau/Johnson in the winner's bracket and Maggie Brascia/James Ignatowich in the backdraw.

Irvine/Devillers lost to Bright/Loong in the winner's bracket, 11-6, 11-1, which was a bit of a surprise. Then they lost shortly after that in the loser's bracket in an extremely tight match against Todd/Frazier.
Gender doubles kicks off tomorrow. Don't miss a full day of action and save room for Championship Sunday with 5 elite level pro matches.