The APP is back in the Sunshine State with back to back weekends of tournaments, starting with the So Cal Classic at Bobby Riggs Racket and Paddle in Encinitas, California. The club, named and founded by tennis legend Bobby Riggs himself, boasts the Bobby Riggs Tennis Museum along with 20 dedicated pickleball courts.
This tournament follows a 3-day format with the winners of each pro division being decided on the same day that event starts. In other words, this isn't a championship Sunday format. The pro tournaments will start with mixed doubles on Friday, gender doubles on Saturday and singles Sunday to close it out.
You can watch this tournament via the live Youtube and Facebook streams. For now, let's get into each division, going in the same order they will be played in.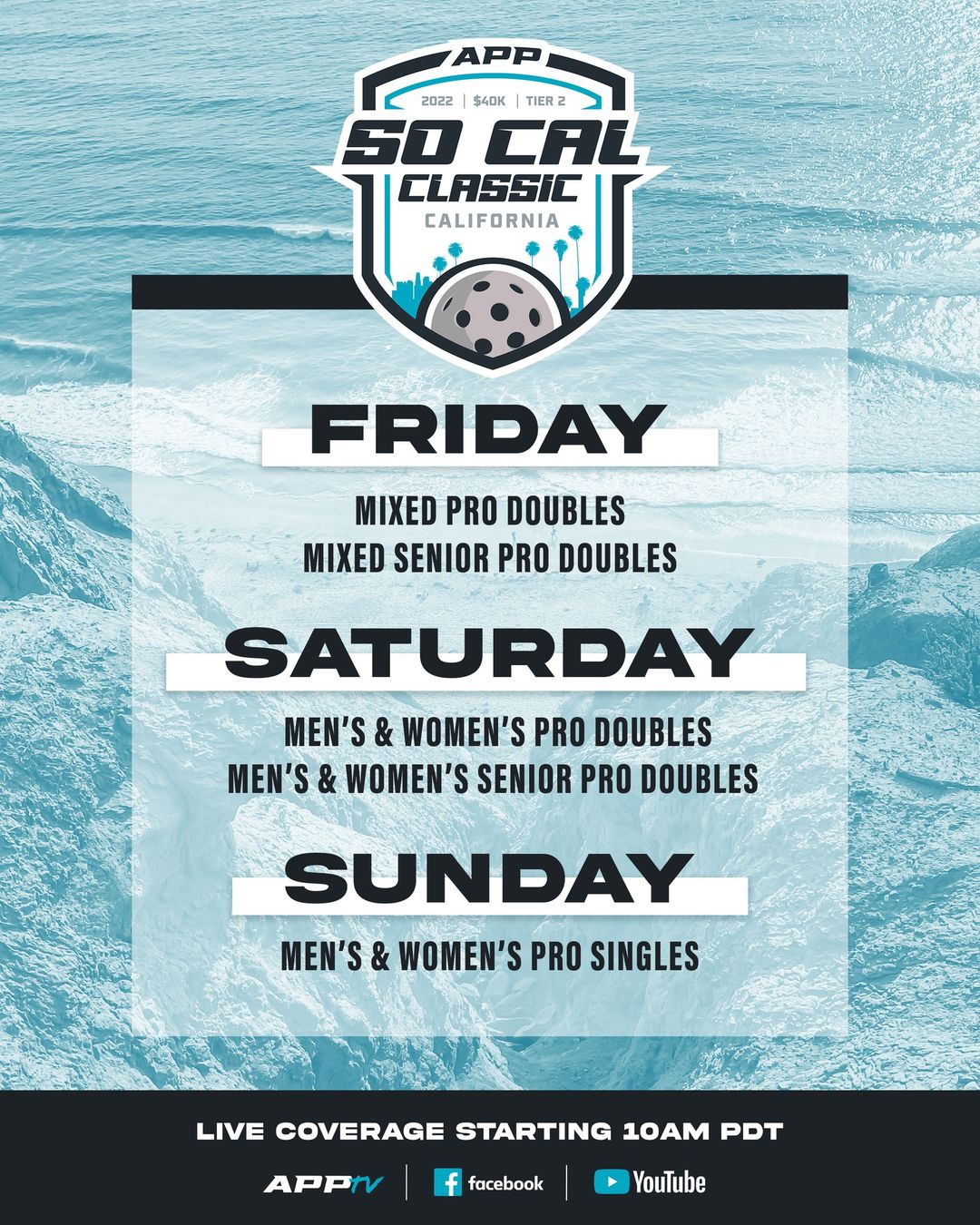 Mixed Doubles
This 24-team division is stacked with some of the best teams in the nation, along with some amazing local talent looking to make a name for themselves. There are 3 teams that stand out above the rest: JW Johnson with frequent partner Lee Whitwell, Dylan Frazier playing with Jorja Johnson and Julian Arnold playing with California native, Lauren Stratman.
With that being said, I think James Ignatowich, a 22-year-old and former Vanderbilt tennis player, teaming up with Anna Bright are certainly the dark horses in this division and can definitely shake up my top 3. However, this is Ignatowich's second time playing pro mixed doubles, and his first time playing with Bright.
Outside of those 4 teams, team Rob Cassidy/Mary Brascia, team DJ Young/Maggie Brascia, and Gabriel Tardio and Regina Franco Goldberg are all poised for a deep run.
Top 3: JW Johhnson & Lee Whitwell; Dylan Frazier & Jorja Johnson; Julian Arnold & Lauren Stratman


Men's Doubles
The clear favorites in this division are JW Johnson and Dylan Frazier. From there, a lot of teams will be fighting for those 2 remaining spots on the podium, that is if Johnson and Frazier don't get upset.
I definitely have my eyes on Jeff Warnick and his partner Matt Goebel. Warnick is coming off an electric performance with Wes Burrows last weekend against #1-seeded Matt Wright and Riley Newman, taking them to 3 games. We have only seen Goebel once this year, but we have to go back to August of last year to see him in his last legit pro tournament at the Tournament of Champions. It will be interesting to see what kind of form Goebel comes in this weekend.
I also like team Gabriel Tardio/Rob Cassidy, team Julian Arnold/Hayden Patriquin and team Chuck Taylor/Rafa Hewett.
Top 3: JW Johnson & Dylan Frazier; Julian Arnold & Hayden Patriquin; Jeff Warnick & Matt Goebel

Women's Doubles
This 12-team bracket features an excellent mix of established pros and amazing local talent. The clear favorites in this division are Anna Bright and Jorja Johnson, followed by Lee Whitwell and Lauren Stratman. From there, it could go many ways.

Susannah Barr and Parris Todd, Regina Franco Goldberg and Michelle Esquivel, along with the Brascia sister's will all be vying for a spot on the podium. I'm going to pay special attention to southern California duo Cierra Gayton-Leach and Genie Erokhina. It will be Erokhina's first pro women's doubles tournament, but she has tremendous skill to back up the challenge.
Top 3: Anna Bright & Jorja Johnson; Lee Whitwell & Lauren Stratman; Parris Todd & Susannah Barr

Men's Singles
Without Navratil in the lineup, the question becomes who will take over as the king of APP singles? There is a good chance that Johnson will grab that spot as he is often battling Navratil in the finals. In addition, he is coming off a PPA gold medal in singles against Tyson McGuffin. Johnson has a great chance of coming into singles Sunday threatening for the triple crown, so watch out.

However, Johnson will have to go through a stacked bracket including singles specialist Federico Staksrud, Julian Arnold, Dylan Frazier and youngsters Hayden Patriquin and Gabriel Tardio. Staksrud has been consistently placing in singles and we should expect him to get on the podium once again. That leaves 1 remaining spot for everyone to fight for.

Top 3: JW Johnson; Federico Staksrud; Julian Arnold
GET 10%OFF  YOUR ACACIA PICKLEBALL SHOES AND MOST OTHER GEAR WITH CODE 10DINK AT FROMUTHPICKLEBALL.COM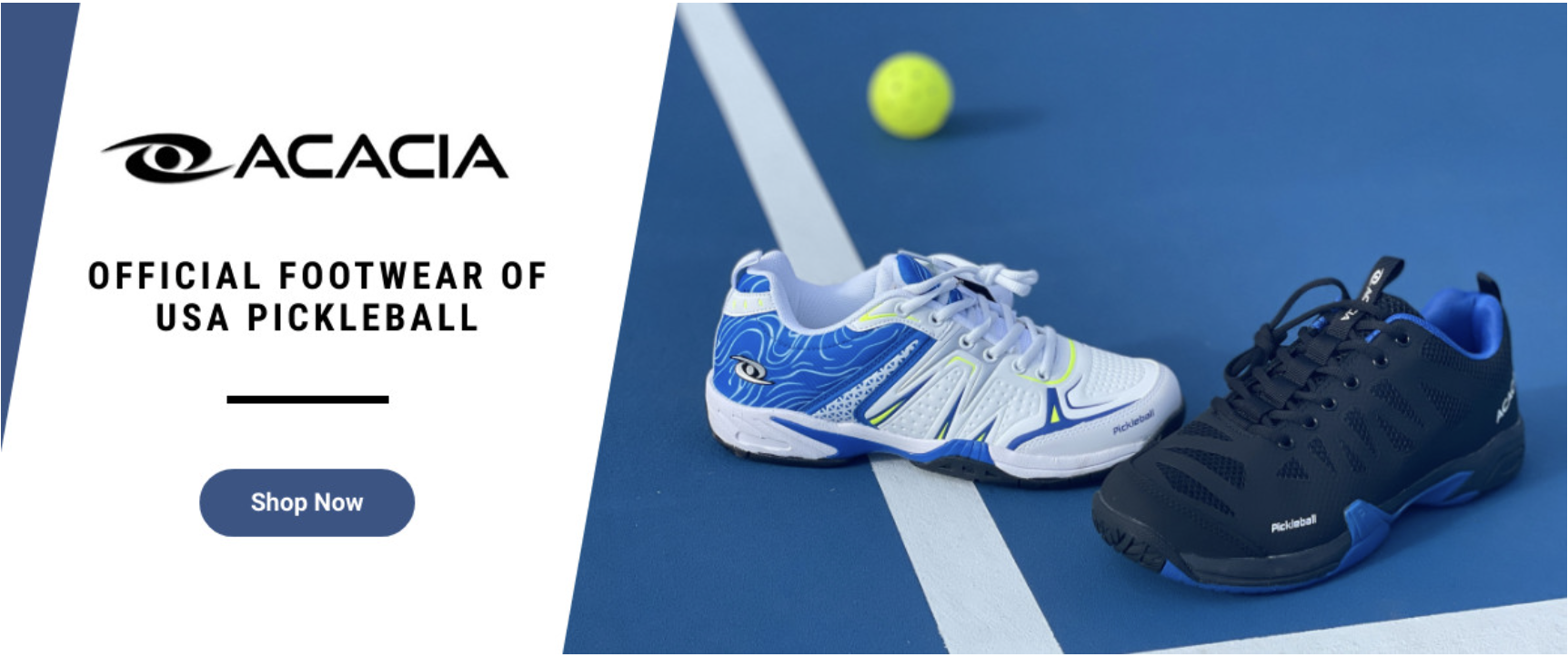 Women's Singles
Todd is taking a break from singles after winning in epic fashion against Anna Leigh Waters last weekend, opening up the field for a new singles queen. While Bright and Johnson are surely favored to end up 1 and 2 in the tournament, watch out for Stratman, who has been improving her singles game.
In addition, I am paying special attention to 2 local products: Erokhina (as previously mentioned in women's doubles) and Lacy Schneemann. Word on the California streets is that these ladies have been drastically improving their singles game and can definitely make a deep run in this bracket.

Top 3: Anna Bright; Jorja Johnson, Lauren Stratman

Weather
As it currently stands, all 3 days are expected to be in the high 60s to low 70s, with Friday and Saturday being partly cloudy. The Sunshine State will follow its namesake on Sunday with clear skies. All 3 days are expected to feature 5-10mph winds intermittently throughout each day. If it can stay below about 13mph it shouldn't affect the gameplay too much. Sunday will also be a great day to see the ocean from the pickleball club, so if you're there in person, definitely look westward.