Men's doubles: 🥇Austin Tchikatilov & Eli Bertram 🥈Jack Foster & Hercilio Cabieses 🥉Ethan Jauschneg & Porter Barr
Women's doubles: 🥇Taylor Crabtree & Sarah Williams 🥈Bella Nelson & Ava Kusmider 🥉Lauren Mercado & Rainbow Ciampini
Mixed doubles: 🥇Riley Bohnert & Austin Tchikatilov 🥈Ivy Tschetter & Porter Barr 🥉Elly Smith & Eli Bertram
Men's singles: 🥇Austin Tchikatilov 🥈Spencer Lanier 🥉Jack Foster
Women's singles: 🥇Riley Bohnert 🥈Ivy Tschetter 🥉Rainbow Ciampini

Points Results:
Men's points:
900 Austin Tchikatilov
660 Jack Foster
600 Eli Bertram
570 Spencer Lanier

Women's points:
620 Riley Bohnert
600 Ivy Tschetter
450 Sarah Williams
400 Rainbow Ciampini
**The Next Gen series, while it sticks to the traditional APP tournament format, includes a point system. Points are awarded at the end of each day and totaled up at the end of the tournament. The top five finishers from the men's and women's side in points get in on the prize money.
Austin Tchikatilov dominated the APP Next Gen in Dallas over the weekend, taking a triple crown along with $2,500. His mixed doubles partner Riley Bohnert walked away with a double and came out with the most points in the women's field.

Jack Foster took second in points, earning a silver and a bronze medal
Ivy Tschetter was second in women's, getting two medals of her own
Porter Barr narrowly missed out on some 💰coming in sixth place overall

Tschikatilov used all of his 6'5 wingspan in doubles by taking over the middle and in singles to track down balls that seemed unreturnable. That led the 22-year-old to a triple crown, winning all three events he entered: mixed doubles, men's doubles and singles. In mixed doubles, he teamed up with the women's first place winner in points, Bohnert to beat Tschetter and Barr in the finals 11-5, 4-11, 12-10.

The Florida-native then played with the men's third place points finisher, Eli Bertram in men's doubles, where they beat Jack Foster and Helio Cabieses in the finals. The winner's bracket winners in Tschikatilov and Bertram lost their first two games in the gold medal match, which forced them to win the tiebreaker to 15 for the gold.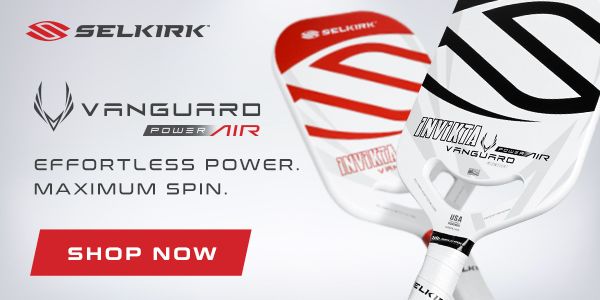 While Bertram showcased a well-rounded game, he forced many mishits with his patented spin serve. He did a great job at disguising it before he served, so the returner didn't know if the ball was going to spin left or right upon contact with the ground.

In singles, Tchikatilov beat the eventual bronze medalist in the winner's bracket final and the eventual silver medalist in the finals. The Selkirk Sports-sponsored player encountered his toughest match against Foster, losing the first game 4-11. But, he battled back in the next two games, winning both of them, 11-5.
Women's Game
Our women's first place points winner, who also walked away with $2,500 got her second gold medal in women's singles, defeating Tschetter in straight games in the gold medal match. The 17-year-old from Louisville, Kentucky has an extremely smooth singles game. She's able to hit passing shots with both her backhand and forehand, making her extremely deadly from both sides of the court.

That leaves the remaining women's doubles gold medal to Taylor Crabtree and Sarah Williams, who snagged the victory over Bella Nelson and Ava Kusmider. That win was huge for both ladies as it got them enough points to land within the top five of the leaderboard, guaranteeing them some prize money.

Rounding out the women's side of things was Rainbow Ciampini, who finished fourth in the overall points. She came out with two bronze medals: one in singles and one in women's doubles. She played with Lauren Mercado in doubles and had an epic win in the fourth place match against Tschetter and Olivia Sutton, 16-14.